Electric vehicle maker Tesla's entry into Malaysia not only impacts the EV space but also encroaches into the traditional internal combustion engine (ICE) vehicle market. Meanwhile, having enough charging points is still crucial for a wider adoption of EVs in Malaysia, analyst said.
Tesla's competitive price is disruptive to the (ICE) and electric vehicle (EV) market in Malaysia, according to Affin Hwang Investment Bank.
"Tesla's pricing strategy in Malaysia is competitive for two primary reasons. Firstly, the D2C model allows Tesla to bypass traditional dealership systems, reducing costs and streamlining the sales process. Secondly but most importantly, Tesla could price its Model Y competitively without worrying about cannibalizing its existing product lineup," analyst Afifah Ishak wrote in a note on Monday (July 24).
Most EV brands from the other manufacturers, are priced higher than their internal combustion engine (ICE) counterparts, she said.
Besides, she noted that existing EVs brands in Malaysia are priced significantly higher than in international markets, while Tesla's prices on the other hand are remain more comparable.
"Ultimately, we believe that Tesla's presence will not only impact the EV space but also encroaches into the traditional ICE vehicle market, given the Model Y's price points, which pitches it against popular models in the C segment and D segment range," the analyst added.
Affin Hwang: Tesla is looking at making an impressive impact in Malaysia
Last week, Tesla made a significant impact in Malaysia with the launch of its highly competitive Model Y vehicle, priced from MYR199,000 ($43,523) to MYR288,000 ($62,988) for different variants, which drew a favorable crowd and is expected to garner impressive bookings, Afifah said.
According to her, the EV race in the country was initially stimulated by government tax breaks announced in Budget 2022, including duty exemptions and road tax waivers until December 2025. However, the real catalyst for the EV frenzy was the support from Peneraju's Global BEV (Battery EV) program, enabling Tesla to adopt a Direct-to-Consumer (D2C) model by bypassing the requirement of franchised Approved Permits (AP).
Kenanga Investment Bank Research expects Tesla likely to be well-received due to the Model Y's price competitiveness against competitors in the same segment.
"We believe the famed EV is likely to be well received domestically. However, we do not expect it to pose a meaningful threat to the local automotive industry over the immediate term as more than 70 percent of vehicles sold locally carry a price tag of less than MYR100,000 including close to 40 percent under the MYR50,000 mark, although we do see it potentially giving internal combustion engine (ICE) SUVs of Berjaya Auto Bhd a run for their money, subject to charging infrastructure becoming more widely available in Malaysia," analyst Wan Mustaqim Wan Ab Aziz wrote in a note on Friday (July 21)
According to him, the Model Y is competitively priced against its closest competitors in the compact SUV segment (excluding China-brand EVs).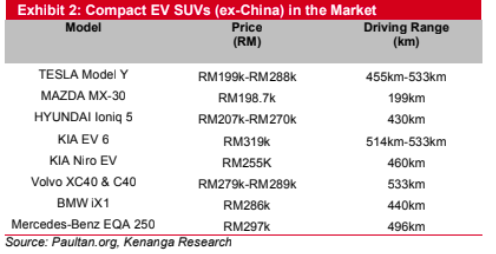 The first delivery of Model Y is expected in the first quarter next year (1Q24) from its Shanghai Gigafactory with an estimated pre-booking units of more than 2,000 units, with up to 4,000 units per year (average waiting period about 6 to 8 months). Its next model to be launched is Tesla Model 3, which could be priced competitively at MYR150,000 ($32,805) with a driving range of 438km.
According to Wan Mustaqim, Tesla's entry is also expected to boost EV-related technology transfer.
"Tesla's presence in Malaysia is expected to create skilled and better- paying job opportunities for workers in the BEV segment and increase the participation of local companies in the Tesla ecosystem, both domestically and globally and further, to strategically leverage on Malaysia electrical and electronics ecosystem to make Malaysia the preferred investment destination for technology related to low-carbon mobility," he said.
Tesla Malaysia roadmap unveiled that a comprehensive development plan for experience centre, service and support, and charging infrastructure in the country, aimed at delivering a seamless Tesla ownership experience and building an EV "supercharger" network (currently 10 chargers with at least 50 Superchargers within three years and at least 30 percent usable by other brands).
Meanwhile, TA Securities analyst Angeline Chin said it is still unclear if Tesla will set up any local assembly facility in Malaysia or source local EV parts and components.
"Should this happen, it can expedite the development of the EV ecosystem in Malaysia and increase consciousness of sustainability, in our view," she wrote in another research note on Monday.
Kenanga Research: ICE will still be in dominance
Tesla operates on a direct-to-consumer sales model without involving the use of dealers. All bookings are made online while Tesla experience centres function as physical showrooms and delivery centers, Kenanga's Wan Mustaqim noted.
"With more than 70 percent of automotive total industry volume (TIV) vehicles sold priced less than MYR100,000, and close to 40 percent at less than MYR50,000 mark, it is still far from being an affordable price range to fully replace ICE vehicles, despite the Tesla EVs' attractive pricing, and low financing rate, he said.
"From the lack of EV charging stations to the lack of a holistic strategy in building up a robust EV ecosystem, ICE will still be in dominance," he wrote in a note.
Challenges in ramping up charging hubs
The analyst also said he believes the challenges faced in ramping up charging hubs could be a hindrance for potential buyers of electric vehicles looking for out-of-town long drive.
Apart from financial support, Gentari (a subsidiary of Petronas) has been able to ramp up its charging station installation capacity due to its access to the chain of Petronas stations owned by Petronas Dagangan nationwide, where it can readily put up charging points at strategic locations.
However, there are speed bumps hampering the expansion of the charging network of which Gentari listed land acquisition, the tedious process of obtaining various local authorities' approvals to set up a charging hub, and having sufficient energy to power up the charging points, Kenanga's Wan Mustaqim noted.
"Nevertheless, the underlying issue remains the lack of a holistic strategy in building up a robust EV ecosystem that will encourage the adoption of EVs, building up of technology and talent, and the related industries," he said. While there are numerous issues to tackle before Malaysia can drive on the EV track, having enough charging points is the crucial first step, he added.
"There are only about 1,000 charging stations available at present, compared to the Ministry of International Trade and Industry (MITI) expectation of 4,000 charging points by the end of this year. Under the Low Carbon Mobility Blueprint 2021−2030, the government aims to install 10,000 public charging stations by 2025 (1,000 DC chargers, 9,000 AC chargers).
The need for more charging stations is made more urgent with the increasing number of electrified vehicles registered in Malaysia, the analyst pointed out. Currently, there are already more than 100,000 electrified vehicles which include over 10,000 EVs, 80,000 petrol-electric hybrid vehicles and 2,700 diesel-electric hybrids, Wan Mustaqim wrote in the research note.
Tesla to invest in Malaysia, boosting the country's sustainable mobility