Today's ever-present digital presence means you're always on and always connected. With the Covid-19 pandemic, communication has changed the way you meet a potential client or a business contact. In the past, it was common to exchange business cards but today that process has expanded to the digital world — starting with LinkedIn and a digital business card.
It provides a direct line of communication and 24/7 access to your contacts. This has redefined the way networking happens in remote and hybrid work environments. It has now become the norm to connect beyond verbal interactions and text messaging.
The digital world makes our work lives so much more efficient and productive – and now we have the ability to replace a simple burden like business cards with a simple, better way to connect with people. The question is how safe it is to be connected all the time, even with a business card? Can you control privacy settings with unwanted connections?
Overexposure to the internet and the perils of it
Discovering the utility of digital business cards over print means being conscious of how and when your information gets shared digitally.
Technology has made it easier to now filter those unwanted connections during networking and ensure people have consent before their data is shared. According to IBM, personal customer information (such as name, email, and password) is included in 44 percent of data breaches.
As more people are becoming aware of the risk of their personal data being accessible on the internet, there is a greater concern to ensure that their personal data does not fall into the wrong hands.
With a digital business card, security is what makes or breaks the transition for users to move from physical to digital. They can customize their privacy settings, such as showing or hiding contact information, forbidding access from search engines, retrieving contact information (VCF), and more.
With an increasing number of data leaks at risk, there's an added layer of security to ensure it is not breached and all private information, such as login credentials, and private messages are encrypted.
Bringing analytics to networking
Imagine meeting 1,000 prospects and knowing that 40 percent of them had visited your LinkedIn account – these insights tell you that as a professional you should focus more content or output on your LinkedIn profile to generate leads. The real-time insights of these data are invaluable and add an interesting dimension to how business cards are treated in today's setting.
These figures are essential for business owners, freelancers, HR, marketers, and other people in charge of crucial decisions. Business owners may utilize the statistic to assess their personal branding exposure. If you are in human resources, you can use this data to evaluate a salesperson's performance. A salesperson might evaluate the analytics data and choose which communications application to use for communications.
For professional marketers, they can use the analytics to determine which social media platform they should focus on. The detailed and categorized reporting of how many times a card is opened, website, and other URLs are clicked in the card to get detailed statistical analytics drastically transforms the way businesses and individuals connect with their potential clients.
Professionalism in the gig economy
The freelancing world has seen significant growth over the last 36 months. From the global pandemic to the rise of remote work, there are an estimated 1.2 billion freelancers around the world (nearly 1/3 of the total global workforce).
As freelancers don't have a physical workplace, they mostly rely on digital methods to get work and find clients. With this, we will see a prominent rise in the usage of digital cards which provide an easy avenue for these people to share what services they offer professionally.
These cards are easily adaptable to their needs. As work continues to evolve with changing jobs and roles, it makes sense for them to have a digital version of their most up-to-date card to make it easier to customize their current roles and offerings at that moment in time.
The future of networking and digital business cards
Just because the world is moving into a digital age, this does not mean that physical interaction and communication are a thing of the past.
We will see more people meeting up and finding ways to connect electronically to stay in touch and pursue professional activities. After all, the digital business card is a smartphone-enabled business card and people can freely exchange information when they meet by just simply tapping their phone or scanning a QR code.
Networking still contains the essence of informality, camaraderie, and casualness of in-person meetings but the added ease of having a digital business platform on the side keeps things relevant as technology evolves. With the global digital business card market valued at S$337.39 million ($240.28 million) by 2027, according to Market Research Future (MRFR), digital business cards are expected to emerge as the primary form of exchanging contacts in the long run.
---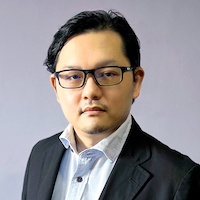 Eric Lim is the Founder of Scard.
TechNode Global INSIDER publishes contributions relevant to entrepreneurship and innovation. You may submit your own original or published contributions subject to editorial discretion.
Ascend Vietnam Ventures prioritizes FinTech, blockchain, EdTech, Future of Work, Saas as Vietnam tech sector enters 'Golden age' [Q&A]