Web traffic for Southeast Asia (SEA)'s top 10 e-commerce platforms increased by a notable 64 percent between the third quarter of 2019 and second quarter of 2022, a report showed Tuesday.
According to iPrice's Map of E-commerce first half report, during this period, Singapore-based Shopee consolidated its position as the leading regional e-commerce platform.
The marketplace recorded an impressive 142 percent growth in web traffic, increasing from 167 million sessions / month in the third quarter of 2019 to over 400 million sessions / month in the second quarter of 2022.
This compares to Lazada whose web traffic dipped over the same period, from 156 million to 135 million sessions / month.
Although Shopee dominates SEA's regional e-commerce scene, several local marketplaces also experienced rapid web growth over the period.
Whilst smaller in scale, platforms such as Orami and PG Mall both bettered Shopee's web traffic growth rate.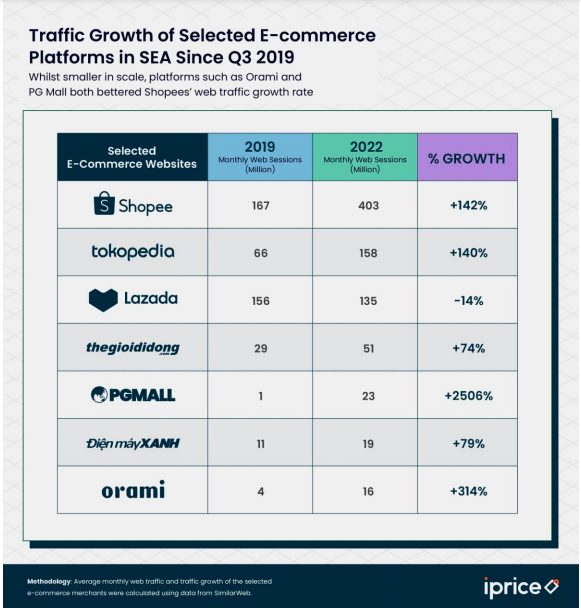 Indonesia's Tokopedia platform has also shown significant growth in web traffic over the period, to become the region's second largest e-commerce platform with 158 million sessions / month in the second quarter of 2022. This despite operating in only a single market.
The growth in Tokopedia's traffic was supported by its merger with multi-service technology platform, GoJek, a move which may yet prove a major milestone in Indonesia's e-commerce development.
Whilst e-commerce companies often see Apps as their most important channel, iPrice analysis indicates traditional web accessed via a browser remains important.
Much of the e-commerce platforms web traffic growth occurred during the first half of the period, during the initial wave of the COVID pandemic, as countries across the region adopted strict restrictions on physical movement and opportunities for trips to physical retail stores were limited.
At this time, consumers across SEA had little choice but to fulfil their shopping needs online.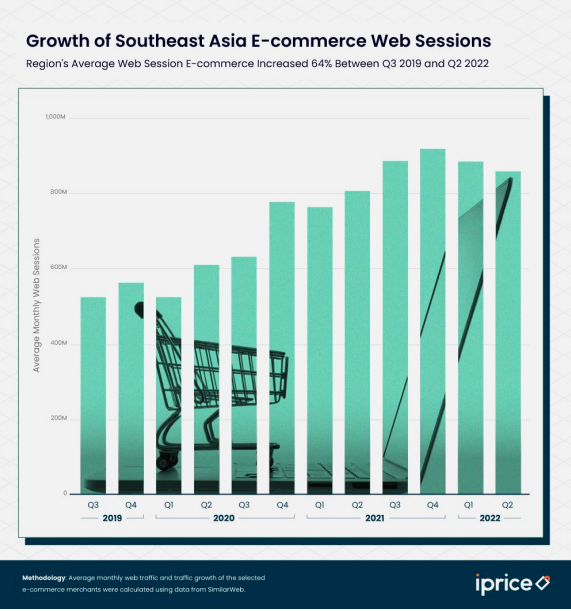 Rather than falling back to earlier levels on the release of lockdown restrictions, e-commerce web traffic has remained high, suggesting 'traditional web' accessed via browsers is far from outdated.
Whilst the web channel has shown strong growth over the last three years, there are signs – such as the increasing proportion of users going direct to an e-commerce website and shorter time spent in each shopping session – which indicate this channel may be maturing.
On average, the proportion of SEA web users who go directly to e-commerce platforms has increased by 10 percentage points over the last three years.
In July 2022, 58 percent of web shoppers in the region accessed their preferred web shopping platform directly, compared to 48 percent in December 2019.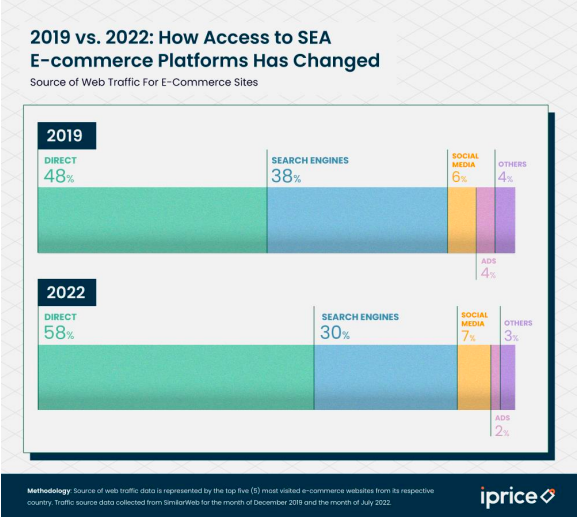 The increase in direct visits can be seen as a sign of the development of strong e-commerce brands and the maturing of user behaviour.
Meanwhile, users are more experienced with the e-commerce platforms than they were three years ago, and more comfortable accessing platforms directly.
In addition to a higher proportion of web users going direct to their preferred web platform, iPrice analysis also shows consumers spending less time during each shopping visit.
As of July 2022, online shoppers spent an average of five minutes on an e-commerce site in a single visit. This compares to December 2019, when the average visitor spent almost 10 minutes on a site, a fall of close to 50 percent.
Looking at individual markets, the fall in the time spent during each visit varies between 30 percent in Malaysia and 60 percent in Indonesia.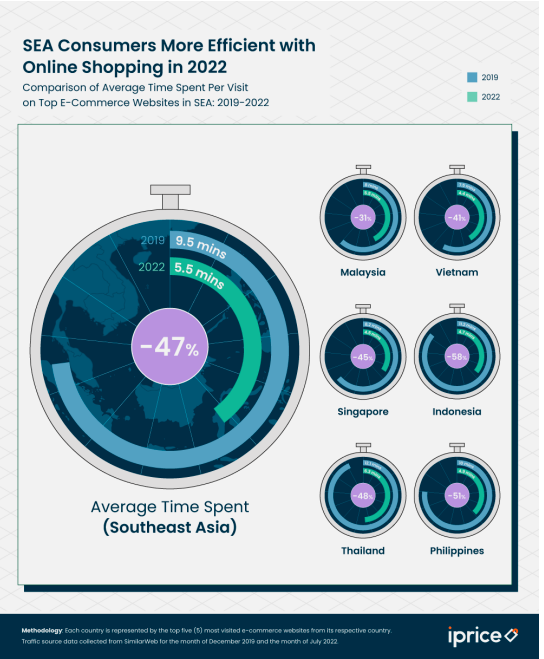 The reduction in time spent in each visit is a further sign of the sector maturing.
This may be due to the 'novelty effect' of e-commerce fading with consumers spending less time browsing large catalogues and taking a more functional approach to their online shopping by visiting a site to make a specific purchase.
It may also due to consumers are now more familiar with the online shopping experience, and simply need less time to search products, find information, and navigate the buying journey.
This reduction can also be linked to heavy investments by e-commerce companies in the quality of their platforms, from improved user experience (UX) and user interface (UI) features to richer, more dynamic content. Many larger platforms are no longer simply product catalogues, but "lifestyle partners", providing useful information and personalized recommendations.
Improvements in internet infrastructure, including the adoption of higher performance smartphones and the accelerating roll-out of 5G across the region, have also contributed to a more effective e-commerce ecosystem enabling faster, more efficient shopping experiences.
Whilst on average almost 60 percent of SEA online shoppers visit their preferred platform directly, iPrice analysis shows a sizeable proportion of e-commerce shoppers – of between 20 percent and 50 percent depending on the market — starting their journeys on a search engine.
In some markets, such as Vietnam and Thailand, the proportion of users who start on a search-engines has actually increased by close to 10 percentage points over the last three years.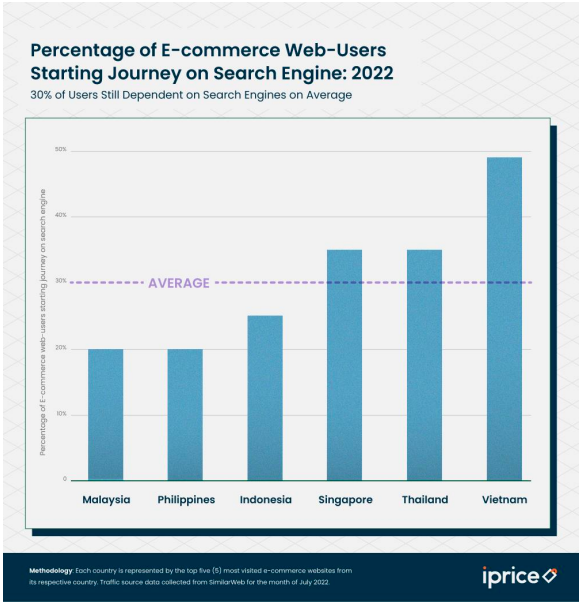 According to iPrice, this segment of users may be less brand loyal and more price conscious. As such, they will tend to begin their online shopping with a broader search, to help compare prices and product offerings from several merchants.
This data could alternatively reflect the growth of the e-commerce user base in SEA, and the inexperience of the new users with online shopping platforms.
These users, who are not yet 'fluent' in the e-commerce experience, rely on product keywords in search engines to access merchant platforms.