The latest report from Facebook & Bain Company has proven that the "new normal" resulted in new purchasing habits which boosted digital consumption. The e-commerce sales in Southeast Asia are estimated to nearly double to $254 billion at the end of 2026.
While it is expected that digital spending will continue to expand amidst the pandemic, how much will SEA's e-commerce companies grow as we're entering the year-end sales period?
An e-commerce aggregator, iPrice Group, analyzed the most visited e-commerce platforms in Southeast Asia to predict where the market is heading towards and what exciting developments we can expect from the year-end shopping frenzy.
Here are 3 key predictions on the success of Southeast Asia's e-commerce industry for the rest of the year:
Online growth will be off the charts
The pandemic-induced digital shift is enhancing online consumption even more than last year. Data shows that the overall web visits of online shopping platforms across Southeast Asian countries remained positive in the 1H 2021.
With more than an average of 4 million web visits from January to June in 2021, the number has increased by 31 percent compared to the same period in 2020.
The Philippines experienced the most surge by 73 percent, followed by Indonesia (41 percent), Malaysia (34 percent), Singapore (10 percent), Thailand (9 percent), and Vietnam (7 percent).
The top two Singapore-based companies, Shopee and Lazada, experienced an increase of web visits by 56 percent and 10 percent in 1H 2021 compared to the same period last year.
The surge was probably driven by its constant marketing initiatives to supply value-driven shoppers during the new norm with flash sales, Ramadhan sales, 6.6 sales, and others.
In 2020, iPrice Group saw that the overall web visits grew at 26 percent from 1H to 2H 2020 across all 6 countries. As such, the company forecasts that the total average web visits will grow even more for the remainder of 2021.
Therefore, online marketplaces will potentially receive an additional average of 690 thousand visitors or more across the region, given that there are many upcoming year-end sales.
Influencers will continue to drive success to online sales
From footballers to Korean artists as brand ambassadors, along with recent partnerships with Jackie Chan and Hyun Bin, Shopee and Lazada sparked consumer hype as we're entering the year-end shopping sales.
iPrice Group tracked the social sentiments of the latest 9.9 campaigns. Using this data, the study uncovers which campaign is the most successful.
Jackie Chan's endorsement has the highest engagement per article. The campaign collaboration with Chan for 9.9 sales has over 59 articles published online while there were 53 articles written about Hyun Bin's endorsement.
However, the number of articles doesn't draw a full conclusion. Hence, the study also investigates consumers' reactions towards these partnerships. Who seems to be the more loved brand ambassador?
Observing the 3,800 social reactions that were recorded, Hyun Bin has the highest number of 'love' reactions (79 percent), along percent 'wow' reactions from its partnership with the giant e-commerce company, Lazada.
Similar success was seen with the kung fu legend's collaboration. Jackie Chan's endorsement was received with 62 percent 'love' reactions, 21 percent 'haha' reactions, and 17 percent 'wow' reactions. It looks like the social sentiments towards these two ambassadors have been positively received by people, according to the data.
It's clear to see that influencers play an important role in driving excitement for the upcoming sales period. Thus, key e-commerce companies have enough incentive to involve influencers in their campaigns. But does this mean that they will increase the amount of consumer spending during year-end sales?
Steady increase of consumer spending year-over-year
Given the uncertain COVID infection rates, consumers will continue to stay at home and consequently forego holiday travels and family get-togethers.
More time spent at home means more opportunities for online shopping. iPrice foresees that Southeast Asian consumers would probably spend an average of $40 on e-commerce by the end of the year.
The prediction is made by examining the average consumer spending across online marketplaces in the 1H 2020 and 1H 2019. iPrice found that there was an increase of 26 percent in average consumer spending in 2020 when consumers spent about $32.
Most purchases will be directed towards the categories of sports and outdoor, home improvements, and electronics.
Lastly, even if consumer spending won't increase as predicted, online retailers can still expect far more online web visits to their platforms this year.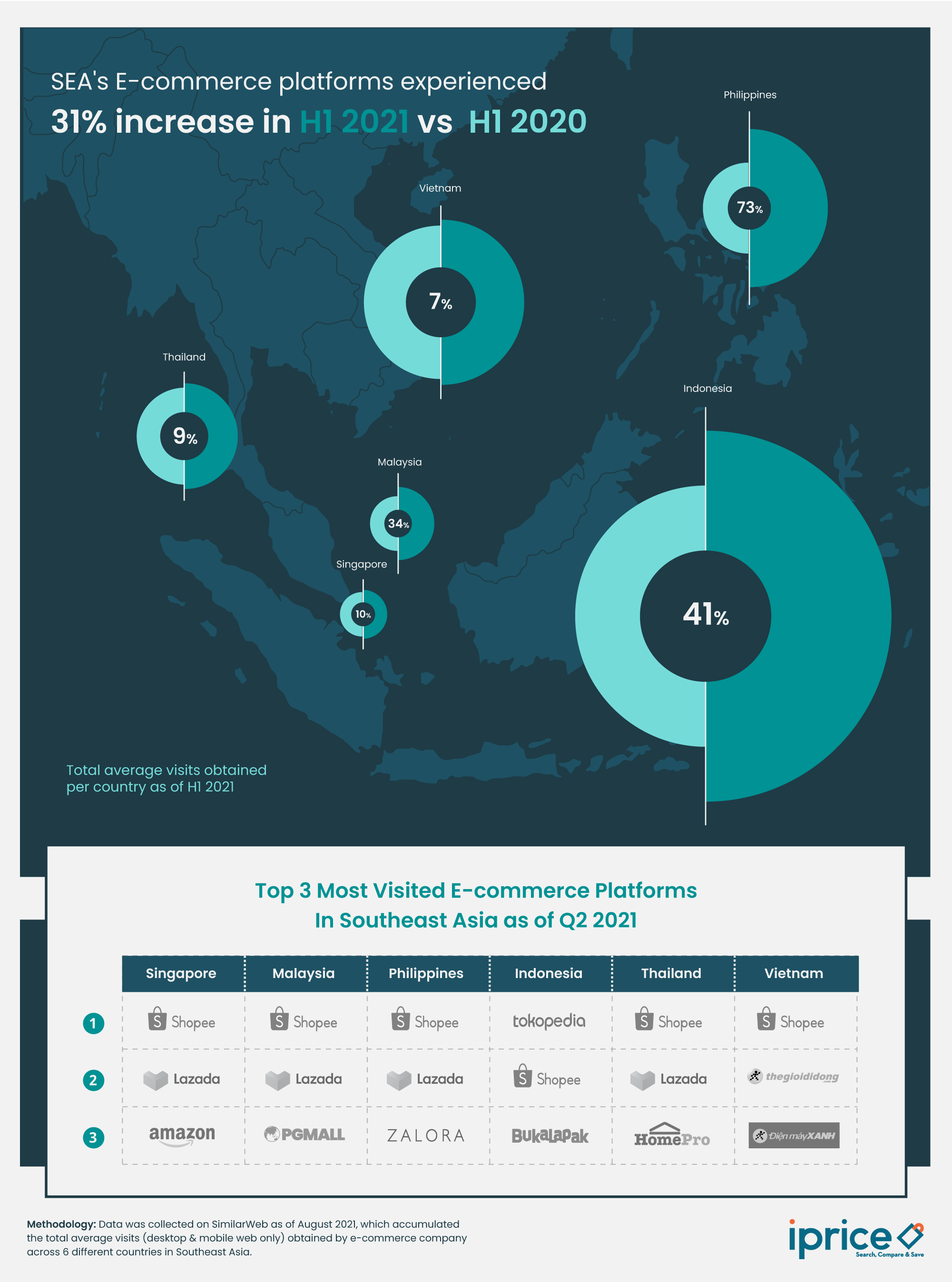 Methodology
The web visits data was collected from SimilarWeb as of August 2021, which accumulated the total average visits (desktop & mobile web only) obtained by e-commerce companies across 6 different countries in Southeast Asia. Data on social sentiment was taken using Buzzsumo by inserting keywords such as 'Jackie Chan' OR 'Jackie Chan Shopee' 'Hyun Bin' OR 'Hyun Bin Lazada' on  September 2, 2021.
---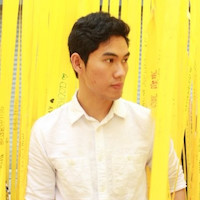 Deridian Nurhalim is a Senior Content Marketing Executive at iPrice Group. He is a market watcher who loves spotting emerging trends in any topics pertaining to the digital economy in Southeast Asia.
iPrice Group is Southeast Asia's leading online shopping companion. With a mission to bring a greater level of transparency, convenience, and trust to the e-commerce market across Southeast Asia in order to help people save money, the company today operates in seven countries across Southeast Asia namely Malaysia, Singapore, Indonesia, Thailand, Philippines, Vietnam, and Hong Kong. Currently, iPrice compares and catalogs 6+ billion e-commerce offers from more than 2 million sellers, attracting more than 35 million monthly visits across the region. iPrice currently operates under its own brand iPrice and through various partnerships with leading apps, such as SmartPay (Vietnam), Boost (Malaysia), GoRewards (Philippines), Home Credit (Indonesia), Visense (Singapore), Robinsons Rewards (Philippines), and Boost (Malaysia).
TechNode Global publishes contributions relevant to entrepreneurship and innovation. You may submit your own original or published contributions subject to editorial discretion.
Featured image credits: Pexels