Editor's note: TechNode Global's reporter attended the Vingroup Elite Vietnam Tour 2022
---
In the early days when Vietnamese conglomerate VinGroup announced it wants to become a car maker, not many were taking the group seriously.
"The email we sent to a spare part supplier ended up in the trash mailbox," VinFast Global Chief Executive Officer Le Thi Thu Thuy said at the welcoming dinner of Vingroup Elite Vietnam Tour 2022, while cruising along Ha Long Bay, Vietnam. The supplier later had a second thought and replied to the email which was initially sent to the thrash mailbox. "Within 18 months, our manufacturing plant is up and running. She said at the welcoming dinner on cruise at Ha Long Bay, Vietnam. "They have become our supplier now," she quipped.
Established in 2017, VinFast is a unit of Vietnam's largest conglomerate Vingroup, chaired and founded by the country's richest man Pham Nhat Vuong. Besides electric car, VinFast also manufactures e-scooters and e-trucks. Vingroup started as a property development company in Vietnam in 2001, after Pham sold the food processing company he started in Ukraine. Vingroup's business include retailing, education, and hospitality.
Established in 1993, Vingroup is the largest private conglomerate in Vietnam, with a total capitalization of $35 billion from three publicly-traded companies (as of November 4, 2021). It currently focuses on three main areas: technology and industry, services, and social enterprise.
Knowing that EV is the future of the automobile industry, VinFast is also quick in finalizing the decision to stop manufacturing gasoline cars to purely focus on EVs. And it plans to sell these EVs to the Americans and Europeans before expanding in other neighboring countries in Southeast Asia.
"Our focus right now is still the US. We are very focused on North America and Europe," VinFast Global Chief Executive Officer Le Thi Thu Thuy told reporters after a test drive session in Nha Trang, Vietnam, in early July. She said VinFast is in the midst to look for suitable location to build another manufacturing plant in Germany.
VinFast announced in mid-July the simultaneous opening of the first six VinFast Stores in California. VinFast plans to open more than 30 stores in California, while also exploring expansion to other states across the US. It will compete with traditional carmakers and startups with its two all-electric SUVs (VF8 and VF9) and a battery leasing model.
Vingroup has invited media (mainly from Europe), business partners and influencers to Vietnam, ahead of its opening of VinFast stores in the US. The VinGroup Elite Vietnam Tour 2022 includes a visit to VinFast manufacturing complex in Hai Phong and test driving sessions of its EV at VinPearl's resort in Nha Trang. TechNode Global is one of the invited media representatives.
The carmaker has also received a $1.2 billion incentive package from the State of North Carolina for its EV manufacturing project in the US. The VinFast's manufacturing facility will be built at the Triangle Innovation Point in Chatham County, North Carolina with a total investment of about $2 billion in the first phase. Covering an area of 2,000 acres, with two main areas: electric cars and buses production and assembly, and ancillary industries for suppliers, VinFast's factory is designed to reach the capacity of 150,000 vehicles per year.
Meanwhile, in Europe, VinFast announced in June its plan to open more than 50 VinFast Stores across Germany, France and the Netherlands. VinFast also announced in January it is looking for an EV production site in Germany.
In early September, VinFast officially hosts the German premiere of its all-electric SUV models VF 8 and VF 9 at this year's IFA Berlin, the oldest technology industry event in Germany. From August 31 to September 6, at the event, German and European consumers can experience in-person VinFast's premium EVs and integrated smart technologies for life and learn about product info, services, financial solutions, and incentives offered by VinFast in the German market.
On Sept 10, VinFast delivered the first batch of 100 VF 8 all-electric sport utility vehicles (SUVs) to local customers in Vietnam.
VinFast also said it plans to export the next batch of approximately 5,000 VF 8s headed to the United States, Canada, and Europe from November. The first international customers are expected to receive their vehicles as early as December 2022.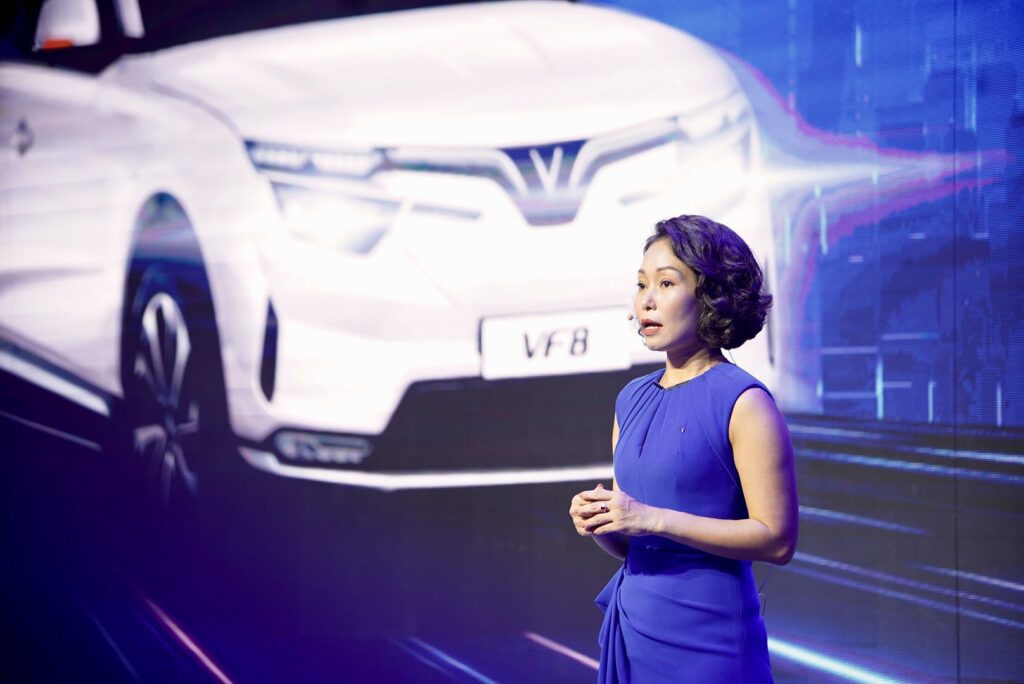 Global EV market to reach $803B by 2027
VinFast's move to build a global EV brand and go full force to sell electric cars comes at a time when the automotive industry is racing towards EV.
The global EV market worth $162 billion in 2019 is projected to reach $803 billion by 2027, Allied Market Research forecasts. According to advisory firm McKinsey, the tipping point in passenger EV adoption occurred in the second half of 2020, when EV sales and penetration accelerated in major markets despite the economic crisis caused by the COVID-19 pandemic.
Europe spearheaded this development, where EV adoption reached 8 percent due to policy mandates such as stricter emissions targets for OEMs and generous subsidies for consumers.
New regulatory targets in the European Union and the United States now aim for an EV share of at least 50 percent by 2030, and several countries have announced accelerated timelines for internal combustion engine (ICE) sales bans in 2030 or 2035, McKinsey wrote in an article last year. "Consumer mindsets have also shifted toward sustainable mobility, with more than 45 percent of car customers considering buying an EV," the firm added.
Nearer to home in Southeast Asia, competition is heating up as Indonesia and Thailand are aiming to become regional EV hub. Both governments have announced policies and initiatives to further boost the development of EV in their respective countries.
Southeast Asia has seen its EV market taking off as carmakers from China and South Korea plan to start production in the region. According to Nikkei Asia, Hyundai Motor has begun full-scale production at its new EV factory in Indonesia in March, China's SAIC-GM-Wuling Automobile has also unveiled a new mini EV slated to start production in Indonesia by the end of the year.
Chinese EV maker BYD debuted its ATTO 3 electric vehicle in Singapore early of the month. The firm will gradually enter Southeast Asian market to provide more environment-friendly vehicles, Global Times reported. Another Chinese carmaker Great Wall Motor (GWM), which started selling EVs in Thailand last November, also announced the establishment of a subsidiary in Malaysia. President Joko Widodo reportedly said he has had discussions with Tesla CEO Elon Musk on how the EV-maker can build end-to-end facilities in Indonesia although nothing has been confirmed.
VinFast, on the other hand, is taking a different approach. It wants to build a global EV brand. Besides its manufacturing complex in Hai Phong, Vietnam, VinFast will build a plant in US, and planning another one in Europe. It is set to make history as the first car brand from Southeast Asia to build manufacturing plant in the US and Europe.
VinFast's ambitious plan to build a global brand could help the country to build an auto manufacturing sector and help to develop a modern and sustainable economy. This is in line with Vietnam government's aspiration to become a high-income country by 2045. The country also aims to grow in a greener, more inclusive way, and has committed to carbon neutrality by 2050, according to the World Bank.
Uphill task entering US, European markets
In the US, besides the industry's leader Tesla, VinFast will have to compete with a variety of established automakers which have been rapidly expanding their presence in the EV market—including GM, Volkswagen, Ford, Honda, and Hyundai. There are also other new EV entrants which include Fisker, Rivian, Polestar, among others.
"If we can make it in the US and Europe, Germany especially, we can make it in UK and Australia." Shaun Calvert, VinFast deputy CEO in charge of manufacturing, told a group of media at VinFast manufacturing complex as he explained the rationale for VinFast to focus on the US and European markets.
"We think that the EV market right now is very small. Businesses as well as individual customers, they all want to move to EV. The EV market is going to grow very, very quickly and we would like to be part of the of the markets in the future. We know that it's very challenging," Thuy said.
But she said VinFast will focus on providing affordable, premium quality products and excellent customer service to win the hearts of its customers. "Our mission is very focused on selling and manufacturing good quality cars."
"We're already present in Germany, France and the Netherlands. The next stage would be Scandinavia and the rest of the European continent, including UK as well," Thuy added.
In a few years' time, VinFast has grown from building rebadged BMWs to manufacturing EVs. VinFast also works with many partners in ensuring the good quality of its products. The VF 8, for example, was largely designed by Italian car design firm Pininfarina. Its electric cars are with batteries from Samsung and the dashboard displays by LG, according to earlier reports. It also introduced battery subscription plans in a bid to provide consumers with a wide range of flexibility.
Besides the backing of VinGroup, VinFast's team also include former executives from automotive firms such as BMW, Ford, Renault, GM, Tesla, earlier reports showed.
It is worth noting that VinFast has wanted to build a global car brand from day one. Global football star David Beckham was invited to unveil its first two vehicles at the 2018 Mondial de l'Auto in Paris.
A spokesman for Vinfast said they appointed Beckham as the spokesperson in a bid to "cash in on his popularity", according to earlier reports. "The strategy was to show what it takes competing at the highest level internationally, on the global stage, and David Beckham seemed to fit the bill," Mirror reported in 2018.
Funding plans
While VinFast's initial public offering (IPO) plan has been temporarily put on hold due to market uncertainty, the company has looked into other financing options.
"We have plan for an IPO and we have planned for no IPO. We have private fundraising and all that as well, so we are okay. We will go for an IPO only if it's a good one," Thuy emphasized.
Besides a $1.2 billion incentive package from the State of North Carolina, VinFast announced in July it has signed international financing agreements with Credit Suisse and Citigroup to raise $4 billion capital for its expansion in the US. Each agreement has a minimum financing value of approximately $2 billion which could include debt or private placements of equity.
It was reported in April that VinFast's Singapore-based holding company had filed for an IPO with US securities regulators, looking to raise about $2 billion from the offering.
Founded in 2017, VinFast began to manufacture gas-powered cars in 2019. VinFast will stop manufacturing gas-powered cars by the end of August. The firm owns an automotive manufacturing complex that boasts up to 90 percent automation in Hai Phong, Vietnam. Capacity is 250,000 cars annually.
So far, Vingroup and Pham has invested $6.6 billion in VinFast, according to Thuy. Vingroup holds about 51 percent stake in VinFast while Pham owns the remaining 49 percent.
Only time will tell if VinFast could achieve a huge success as a global EV brand. But VinFast has achieved major milestones and made history for Vietnam's nascent automotive industry.
Vietnam's VinFast to focus on US, European EV markets before expanding in Southeast Asia