Editor's note: TechNode Global's reporter attended the Vingroup Elite Vietnam Tour 2022 (sponsored)

---
Vietnamese electric vehicle (EV) maker VinFast will focus on the United States and European EV markets before expanding in Southeast Asia as it prepares to switch to become a full EV maker and start selling its electric SUVs in these two markets, its top executive said.
Expansion into neighboring countries within Southeast Asia will come at a later stage, although the EV maker has already started its market research in the region.
"The one that we are interested in is the Philippines," VinFast Global Chief Executive Officer Le Thi Thu Thuy told reporters in Nha Trang, Vietnam. "Our focus right now is still the US. We are very focused on North America and Europe. But then we've also started planning."
Currently, within Southeast Asia, VinFast's electric cars are only available in its home country, Vietnam.
"But it's not the immediate focus for us, because we have a lot to do for North America and EU," Thuy said, when asked about the timeline to launch its electric cars in the Philippines.
In September last year, the Philippines' House of Representatives approved the final reading of House Bill 10213, otherwise known as the Electric Vehicle Industry Development Act, according to media reports. The approval is seen as an important milestone in the country's pursuit to become a hub for EVs. The Act also serves to support the development of a national policy and regulatory framework to increase the uptake of EVs in the country.
VinFast, the only homegrown car maker in Vietnam, announced in mid-July the simultaneous opening of the first six VinFast Stores in California. VinFast plans to open more than 30 stores in California, while also exploring expansion to other states across the US. It will compete with traditional carmakers and startups with its two all-electric SUVs (VF8 and VF9) and a battery leasing model.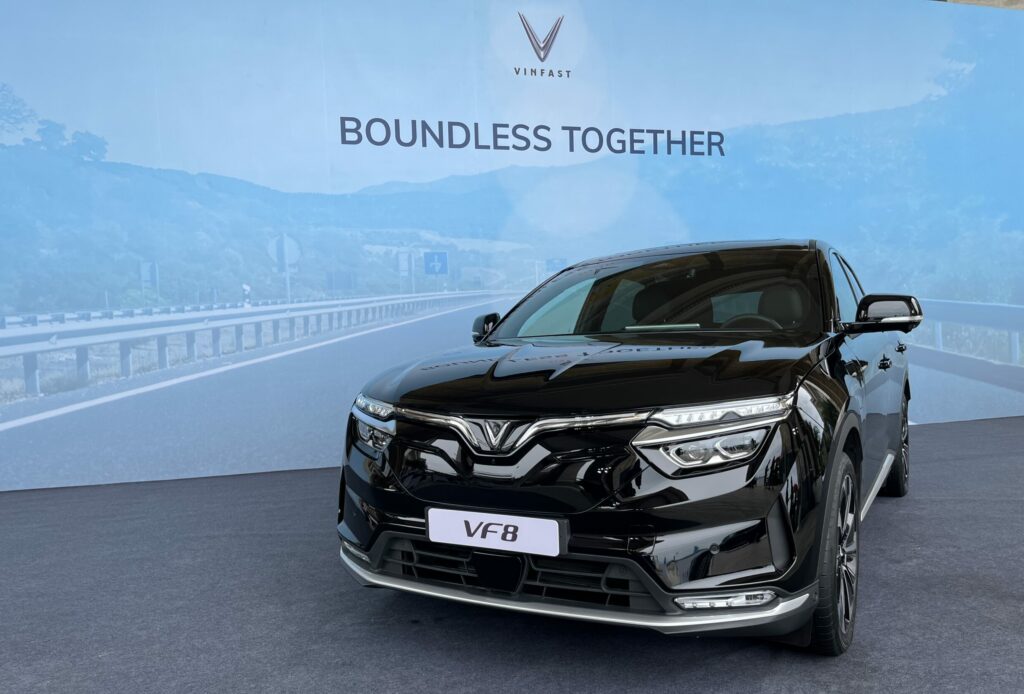 The carmaker, backed by Vietnam's richest man Pham Nhat Vuong, has also received a $1.2 billion incentive package from the State of North Carolina for its EV manufacturing project in the US.
The VinFast's manufacturing facility will be built at the Triangle Innovation Point in Chatham County, North Carolina with a total investment of about $2 billion in the first phase. Covering an area of 2,000 acres, with two main areas: electric cars and buses production and assembly, and ancillary industries for suppliers, VinFast's factory is designed to reach the capacity of 150,000 vehicles per year.
In Europe, VinFast announced in June its plan to open more than 50 VinFast Stores across Germany, France and the Netherlands. VinFast also announced in January it is looking for an EV production site in Germany.
Nearer to home, Southeast Asia has seen its EV market taking off as carmakers from China and South Korea plan to start production in the region. According to Nikkei Asia, Hyundai Motor has begun full-scale production at its new EV factory in Indonesia in March, China's SAIC-GM-Wuling Automobile has also unveiled a new mini EV slated to start production in Indonesia by the end of the year.
Chinese EV maker BYD debuted its ATTO 3 electric vehicle in Singapore early of the month. The firm will gradually enter Southeast Asian market to provide more environment-friendly vehicles, Global Times reported. In the same month, another Chinese carmaker Great Wall Motor (GWM), which started selling EVs in Thailand last November, also announced the establishment of a subsidiary in Malaysia. President Joko Widodo reportedly said he has had discussions with Tesla CEO Elon Musk on how the EV-maker can build end-to-end facilities in Indonesia although nothing has been confirmed.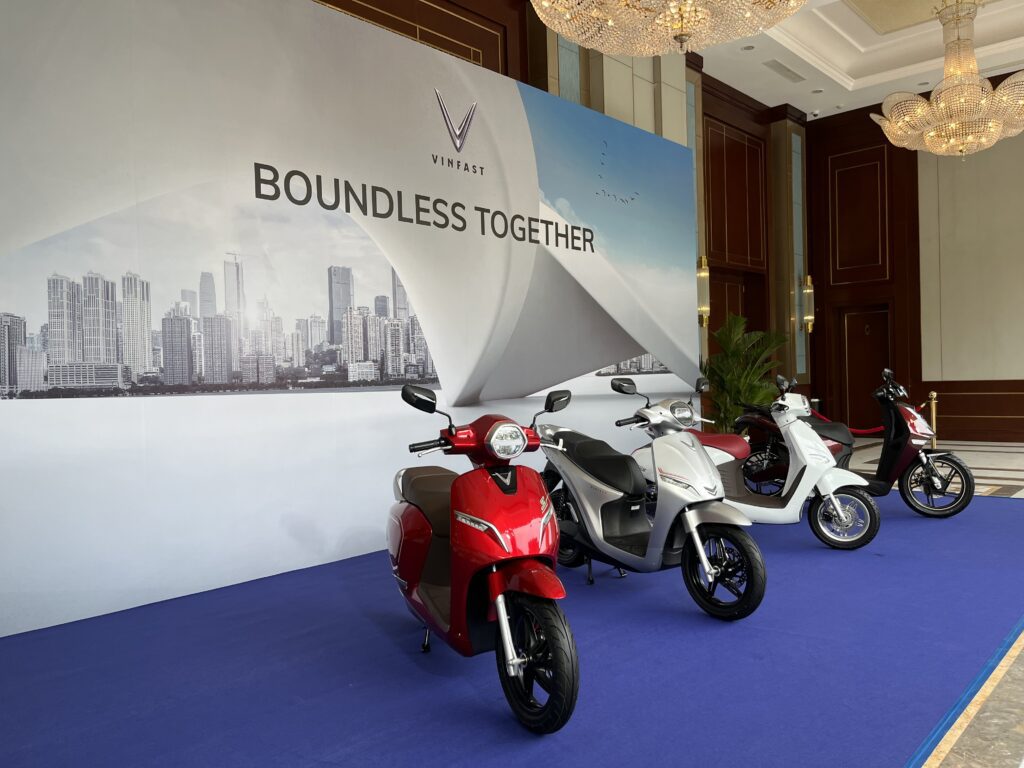 VinFast currently provides an ecosystem of EV products in its home country of Vietnam, including e-scooters, electric buses and electric cars, charging station systems and green energy solutions.
"I think Southeast Asia is pretty fragmented. You need to look at the different markets differently because [there's] left-hand drive, right-hand drive, the economy and everything is different," said Thuy, who is also Vice Chairwoman of VinFast's parent company, Vingroup. "You cannot generalize Southeast Asia [as a whole]."
Vingroup has recently invited media (mainly from Europe), business partners and influencers to Vietnam, ahead of its opening of VinFast stores in the US. The VinGroup Elite Vietnam Tour 2022 includes a visit to VinFast manufacturing complex in Hai Phong and test driving sessions of its EV at VinPearl's resort in Nha Trang. TechNode Global is one of the invited media representatives.
The firm owns an automotive manufacturing complex that boasts up to 90 percent automation in Hai Phong, Vietnam. Capacity is 250,000 cars annually.
Thuy: We will go for IPO only if it's a good one
On its initial public offering (IPO) plan, which has been temporarily put on hold due to market uncertainty, Thuy said the company has also looked into other financing options.
"We have plan for an IPO and we have planned for no IPO. We have private fundraising and all that as well so we are okay. We will go for an IPO only if it's a good one," she said at the greet and meet session after a test drive.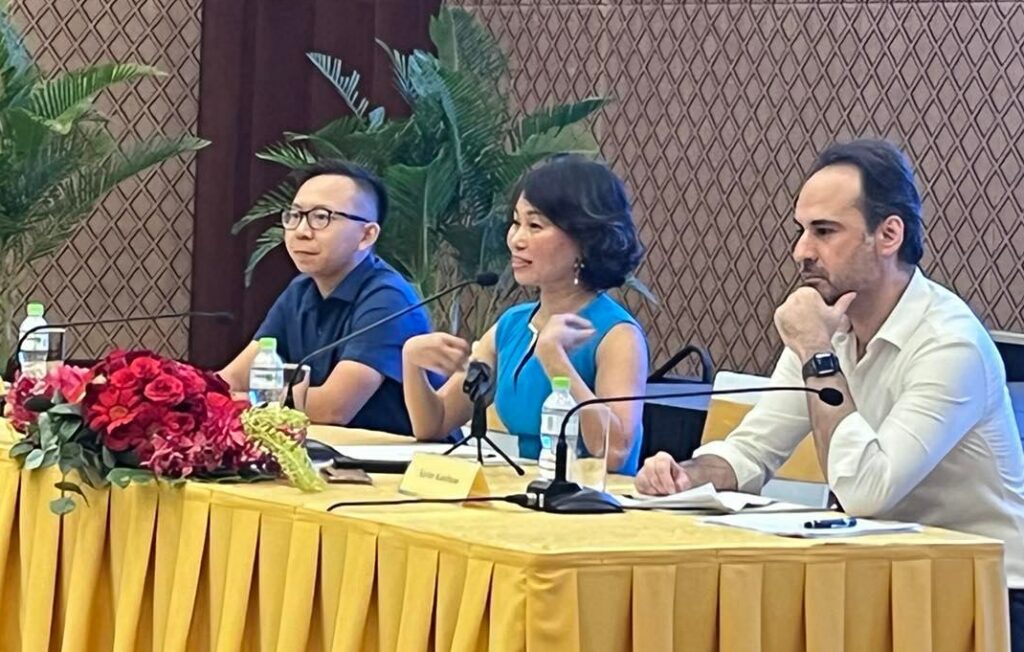 VinFast announced in July it has signed international financing agreements with Credit Suisse and Citigroup to raise $4 billion capital for its expansion in the US. Each agreement has a minimum financing value of approximately $2 billion which could include debt or private placements of equity.
Quoting sources, Reuters reported in April that VinFast's Singapore-based holding company had filed for an IPO with US securities regulators, looking to raise about $2 billion from the offering.
A year ago sources said Vinfast was considering an IPO that could value the company at about $60 billion. But that valuation "looks stretched" in current markets, the person familiar with the matter told Reuters then.
Founded in 2017, VinFast began to manufacture gas-powered cars in 2019. VinFast will stop manufacturing gas-powered cars by the end of August, Bloomberg reported. The firm owns an automotive manufacturing complex that boasts up to 90 percent automation in Hai Phong, Vietnam. Capacity is 250,000 cars annually.
So far, Vingroup and Pham has invested $6.6 billion in VinFast, according to Thuy. Vingroup holds about 51 percent stake in VinFast while Pham owns the remaining 49 percent.
Established in 1993, Vingroup is the largest private conglomerates in Vietnam, with a total capitalization of $35 billion from three publicly-traded companies (as of November 4, 2021). It currently focuses on three main areas: technology and industry, services, and social enterprise.
Vietnam's VinFast plans to open more than 50 stores in Europe