Stripe, a financial infrastructure platform for businesses, has teamed up with Vertex Ventures Southeast Asia & India (VVSEAI) to launch a program supporting early-stage tech founders across Southeast Asia and India with their next stage of fundraising. The program is also supported by other notable VC firms such as Sequoia, Qualgro, and Openspace Ventures.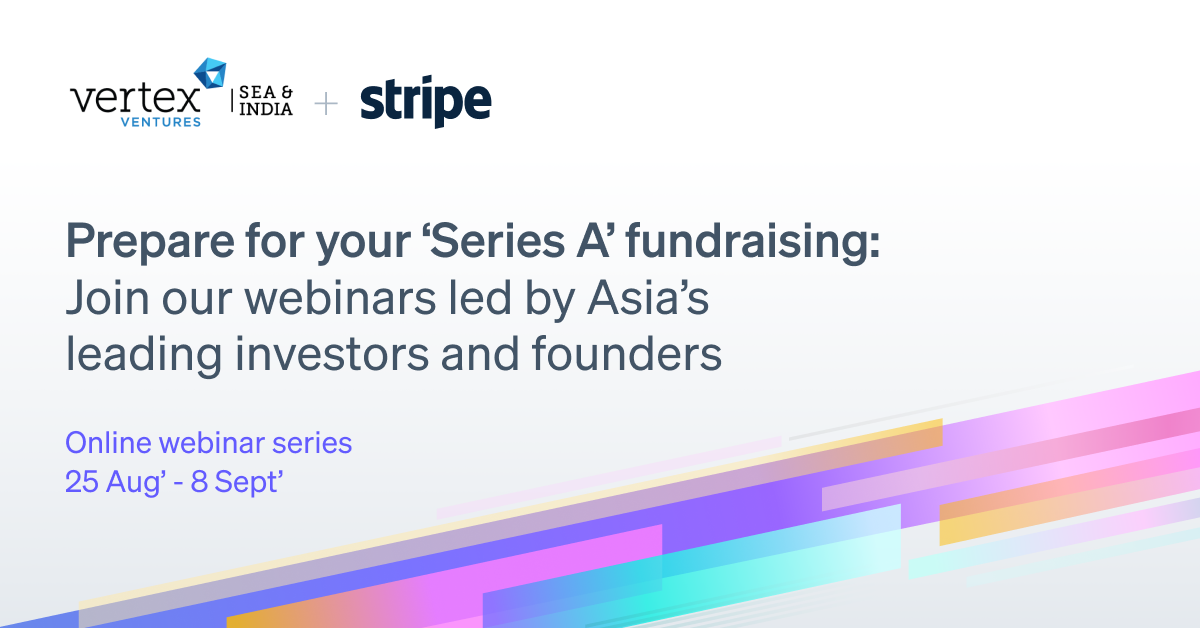 The three-part webinar series takes place between 25th August and 8th September 2022. It brings together leaders from top investment firms and seasoned startup founders, who will share insights on the following:p key metrics for fundraising, market expansion planning, and how to hire at scale. This inaugural program aims to support over 400 early-stage founders across SE Asia and India region. Interested founders across SE Asia and India may sign up for the webinar before 25 August 2022.
This program is the first project from the partnership between VVSEAI, an early-stage VC fund known for its investments into unicorns such as Grab, and Stripe, and the two companies are aiming to develop more initiatives such as a dedicated mentorship program to support founders in the challenging economic climate.
"We are pleased to work with Stripe in this meaningful program. Over the past three decades, Vertex has worked with founders through the ups and downs of the business cycles and helped them strategize and come out stronger. Amidst this current climate, we will continue to do our part to support the ecosystem. Part of our ongoing efforts to support the community also include providing rent-free hot desks at our coworking space, Technopreneur Circle," said Joo Hock Chua, Managing Partner, VVSEAI.
VVSEAI has been investing in high-growth start-ups seeking their first round of institutional venture capital funding across Singapore, India, Indonesia, Thailand and other emerging hubs of innovation across the region. It has a long and strong track record of investing in early-stage startups and building champions like Grab, Patsnap, 17Live, Nium, FirstCry, Licious, AsianParent, Validus, Warung Pintar, and others.
Millions of companies—from the world's largest enterprises to the most ambitious startups—use Stripe to accept payments, grow their revenue, and accelerate new business opportunities. Founded in 2010 by Irish brothers Patrick and John Collison, Stripe aims to increase the GDP of the internet.
My first chapter in VC — my observations, mistakes and learnings