Two super apps Vietnam's MoMo and Indonesia's Gojek announced Monday a strategic partnership, which will see MoMo become the first e-wallet to be integrated in the Gojek app in Vietnam.
Gojek and MoMo will combine the technological strengths and wide-reaching ecosystems of the two platforms, aiming to accelerate the use of cashless payments and provide a safe, fast, and convenient payments experience for consumers, both parties said in a statement.
Through this partnership, MoMo will support the millions of Gojek users across two and four-wheel ride-hailing services (GoRide and GoCar), online food delivery (GoFood) and logistics (GoSend), providing the option of using the MoMo e-wallet to pay for Gojek services, in addition to the existing payment methods of bank cards and cash.
As Gojek continues to expand its suite of products and services, MoMo will also gain access to a growing pool of customers.
According to the statement, the introduction of e-wallet MoMo is part of Gojek's strategy to offer users more payment options on its app, following the launch of its card payment feature last year.
The partnership will enable Gojek to tap into MoMo's ecosystem of over 31 millions users, while meeting the needs of Gojek users who wish to have more payment options, especially with the rising shift to contactless payment during the COVID-19 pandemic.
"More than 31 million people in Vietnam use MoMo today, and by integrating the e-wallet into Gojek's ecosystem, we will be able to offer an enhanced payment experience to consumers. Through this partnership, we also hope to help Gojek's driver and merchant partners reach more customers, increase their income and recover from the pandemic," said Nguyen Ba Diep, Co-Founder and Senior Vice President of MoMo.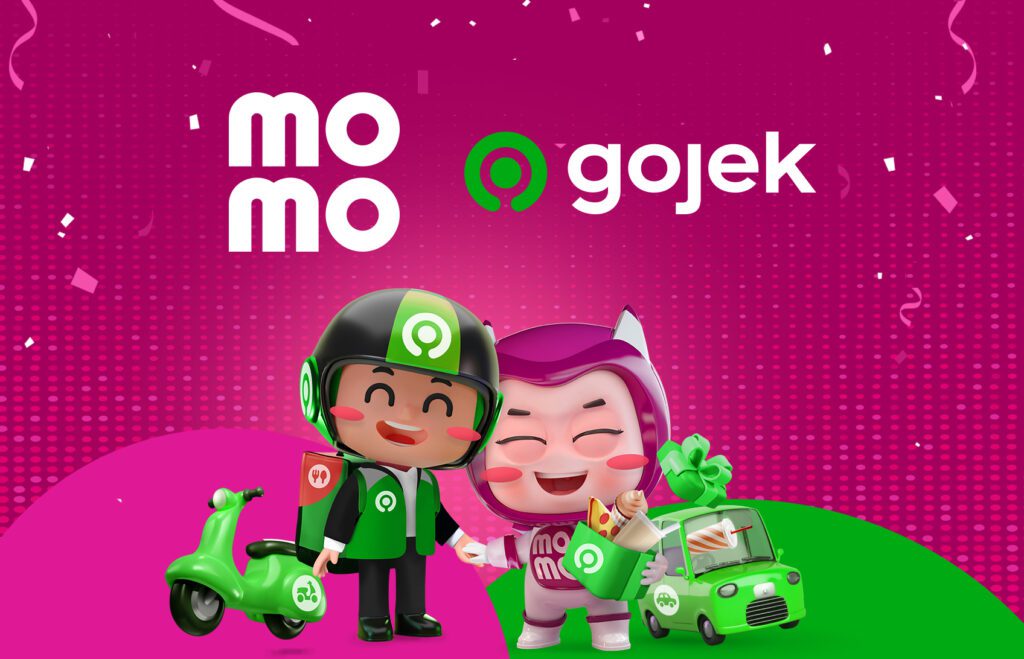 The usage of e-wallets for payments has been growing in Vietnam due to its convenience, speed, and low cost. Contactless payment also enables greater safety for users when transacting, especially for high frequency transactions such as food delivery, transport and logistics. With the integration of MoMo, Gojek consumers in Vietnam will be able to access a popular payment method that is also safe and easy to use, with top-ups for MoMo's wallet available through a wide variety of online and offline channels.
"At Gojek, we are always looking for ways to work with our partners to bring more benefits to users. Our partnership with MoMo represents the first time Gojek is collaborating with a Vietnamese tech company, building on our complementary business strengths and a shared commitment to improve lives through technology. Through the integration of MoMo's e-wallet on Gojek, our users will have more payment options to choose from when paying for Gojek services, providing a more seamless, convenient, and safe experience on our platform,
"We look forward to continuing to work together with MoMo to promote cashless payments in Vietnam, so that more Vietnamese people can enjoy the benefits of digital payments," said Duc Phung, General Manager of Gojek Vietnam.
Gojek is Southeast Asia's leading on-demand platform and a pioneer of the multi-service ecosystem model. It is founded on the principle of leveraging technology to remove life's daily frictions by connecting consumers to the best providers of goods and services in the market. The company was first established in 2010 focusing on courier and motorcycle ride-hailing services, before launching the app in January 2015 in Indonesia. Since then, Gojek has grown to become the leading on-demand platform in Southeast Asia, providing access to a wide range of services from transportation, to food delivery, logistics and many others.
In 2021, Gojek also united with Tokopedia to form GoTo, the largest digital ecosystem in Indonesia. As of September 2021, Gojek's application has been downloaded more than 221 million times by users across Southeast Asia. Gojek is dedicated to solving the daily challenges faced by consumers, while improving the quality of life for millions of people across Southeast Asia, especially those in the informal sector and micro, small and medium enterprises (MSMEs).
MoMo is a super app platform in Vietnam which aims to improve the life of Vietnamese people and merchants by using technology to give them access to superior, simpler and affordable financial solutions and daily services. Its super app platform is trusted by millions of users and merchants for its ease of use, product design, and compelling ecosystem of partners. It has over 1,600 employees and is head quartered in Ho Chi Minh City with offices in Hanoi and Danang.
Gojek and TBS Energi Utama form joint venture to accelerate the development of Indonesia's two-wheel electric vehicle ecosystem