The pandemic has taught us to understand the role of buildings overnight — what kind of space are we living to work and move through now? It has also created an impact on how important real-time data and decision-making are at every level of society, especially within the built environment and PropTech sector.
According to data firm CB Insights and a report from Wall Street Journal, PropTech funding reached record highs in 2021 with $9.5 billion worth of investments which reflects the current global priorities for the real estate sector to leverage technology for meeting occupant satisfaction, operational efficiency, and environmental goals.
Owners and asset portfolio managers of commercial real estate want to reiterate the value of traditional workspaces, and the hospitality industry is on the hunt for technology solutions to better support guest experiences in a pandemic world. In 2022, buildings will be putting plans to action, and the investment landscape for PropTech is projected for continued growth.
Why now?
Our current real estate systems are collapsing on all fronts. There is a lot of uncertainty about labor costs, work setup, raw materials, supply chains, and talents.
Increasingly, sustainability and climate consciousness are becoming necessary factors in decision-making. Last year, COP26 saw the largest number of observers and protesters of any of the conferences, totaling over 100,000 people calling for dramatic and immediate change.
PropTech is a valuable tool to give people more power and visibility into their consumption habits. Having insights into their energy usage in real-time allows for strategic and data-driven decision-making while being accountable for how their actions impact our environment.
This is not only happening at a consumer level but at an investor level too. Investors are increasingly aware of where their money goes, what impact that has, and how that affects the planet.
For instance, Swiss bank UBS has noted that investors are beginning to demand companies to show their commitment to fighting climate change. As a result, financial instruments linked to sustainability will form the next phase in the evolution of green fundraising, specifically across Asia.
With the rise of Gen Z entering the workforce and leading operations or driving decisions, a generational change is occurring within the PropTech industry. Younger people are entering the building operations, engineering, and facilities management industries and, having grown up in the digital era, are prioritizing digitalization and data over antiquated, time-consuming, manual processes.
According to McCrindle, Gen Z will make up 27 percent of the workforce by 2025. Consequently, property management companies need to pursue digital investment to maintain their competitive edge.
In the post-COVID era, the biggest thing is how can we get people back into buildings and that is a top priority right now, not just for the real estate owners and operators, but also for the major tenants that are thinking about how they're going to get their workforce back into the buildings.
The three megatrends that will shape our built environment in 2022
The real estate sector could potentially suffer the same fate as the oil industry if there's not enough action taken to become climate neutral. With the usage of technology and growing awareness of ESG (Environmental, Social and Corporate Governance), the built environment is in for a change. Here are three megatrends where there will be an opportunity to create sustainable solutions.
Indoor air quality
As COVID-19 restrictions begin to wane around the globe, the focus for companies everywhere is getting people back into the office. Tenants are beginning to demand landlords and owners to provide accurate, transparent, and real-time data about indoor air quality to determine whether it is safe for them to return to work.
Environmental sensors can provide information about the number of occupants within a space, as well as levels of particulate matter in the air, helping to optimize tenant experience, health, and comfort levels. As a result, managing air quality metrics within your building operations is going to be a main priority in 2022.
ESG reporting
ESG reporting and investing saw a steep upwards trajectory in 2021, as public attitudes and investor demands shifted towards increased conscientiousness for environmental and social factors. Again, this was accelerated by the pandemic, and many firms now consider ESG reporting as front and central when establishing corporate purpose.
This is set to continue in 2022, with 50 percent of global asset owners currently implementing ESG data/analytics into their investment strategy by 2025.  Furthermore, research from PwC shows that institutional investors in Europe expect ESG and non-ESG products to converge and, from next year, 77 percent of these institutions to stop buying the latter.
As the world shifts towards a more sustainable mindset, the need for transparent and accurate ESG data will become increasingly popular and necessary within the PropTech space.
Data-driven intelligence
During the pandemic, data-driven intelligence and machine-learning technologies have proven valuable for the real estate industry, giving owners, investors, and occupants a quick but detailed synopsis of their property and lease portfolios.  As businesses were forced to close their doors, landlords and tenants needed fast and accurate information about their energy consumption.
The use of data analytics is expected to continue and expand in 2022, including helping with sustainability efforts. Energy efficiency can be greatly improved through the collection and analysis of data. With the help of algorithms derived from analytics, this information can modify systems to reflect the desired temperature, air quality, and energy usage during office hours, thus optimizing tenant experience and, if no one is in the office, ensuring energy is not wasted.
If 2021 is the year of deliberation and experimenting with solutions, 2022 is the year to act and implement solutions for businesses to manage energy efficiency, automate their building operations and reduce carbon emissions.
---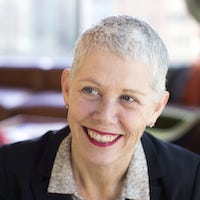 Deb Noller is a dynamic leader who brings more than 20 years' experience in technology, sustainability, and commercial real estate to her role as Co-Founder and CEO of the Switch Automation team. She helps large enterprises apply technology for more efficient business operations, resulting in millions of dollars in cost savings for Fortune 100 companies. Deb loves cycling, strong coffee, and mentoring young women in the tech industry.
TechNode Global Insider publishes contributions relevant to entrepreneurship and innovation. You may submit your own original or published contributions subject to editorial discretion.
PropTech boom is driven by data, says WeMaintain's Byron Fuller in a discussion on IoT, green tech & engineering [Q&A]