GreenArc Capital is an AI-driven impact investment FinTech helping to close the UN SDG financing gap. Specializing in private credit/lending markets with a focus on climate action and financial inclusion, it has developed an accredited impact measurement & management solution that goes a step further than ESG risk mitigation.
With the goal of tackling inequality, economic disparity, and environmental devastation, GreenArc Capital uses AI technology and big data to measure, report and verify the positive and negative outcomes of financing on society and the environment, providing an assessment of true sustainable development. Its solution aims to help financial institutions and enterprises measure and maximize the contribution of their business towards creating a positive social impact.
"As investors change their investment models and expand their product offerings to reflect the growing sustainability trend, GreenArc's Impact Solution can provide the digital tools required to help institutions create impact at scale," says Rony J Palathinkal, Co-Founder and Chief Executive Officer of GreenArc Capital, in a TechNode Global Q&A.
The company is a winner at the Startup Awards – GreenTech & SustainableTech category of the ORIGIN Innovation Awards 2021.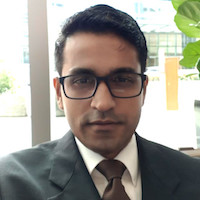 What are the trends driving innovation in the Asia Pacific region today? How relevant are sustainable practices in the context of these trends?
Sustainability in financial services is at a pivotal juncture, with client demand driving growth and setting global industry trends. The implication of this demand is the need for better integration of sustainability and impact data to reflect the outcomes on beneficiaries and/or the environment and meet client expectations with innovative products.
Technology is a necessary foundation to establish a competitive advantage in ESG and impact analysis, with more data sources becoming available and greater differentiation amongst the data. Processes that are able to leverage the use of technology and data, and combine this with the contextual nature of sustainability, will drive more robust impact analysis and achieve scale.
A key focus is taking a data-driven approach to sustainable practices, and this is where innovative systems are leading the way by bringing greater accountability and credibility to processes, improved productivity, and more effective decision making.
What are three key challenges that businesses face in the context of sustainability?
The sustainability sector, including sustainable finance, ESG investing, green finance, and Impact investing have seen record inflows in recent years, with investors demanding greater accountability and moral responsibility from the products they consume and the investments they make.
However, with this expected rise in demand for greater sustainability from business and investments, challenges exist not only in sourcing and deploying capital to a credible supply of green and impact investments, products, and businesses, but crucially, what is missing is the need for a robust and standardized impact/ESG measurement system comprising of the tools required to assess and report the impact of investments and business practices.
This addresses 3 key challenges that currently plague the sustainable finance sector:
Greenwashing by providing credible and transparent sustainability-related data;
Overcoming the myriad of different standards and metrics in the market by using a standardized, industry-aligned framework;
Removing the barrier of building in-house resources and expertise on sustainability practices
Kindly share GreenArc Capital's strategies in addressing such challenges or enabling your partners to navigate these?
GreenArc is the only fintech firm offering an accredited impact measurement SaaS module for debt investments, e.g. financing, lending, and credit products. Our solution enables the integration of sustainability and impact data to reflect the real-world outcomes on the environment ane society.
With the aim of bringing standardization and transparency to impact management, our solution goes further than traditional ESG risk analysis to measure real sustainable development in society and help institutions with their impact objectives. Using insights gleaned from impact and ESG data, we help institutions identify strengths and challenges with regards to their sustainability practices, and enable them to direct more financing towards segments of the population that maximize sustainable growth.
How do you define impact? What would you describe as "success" in your field or area of interest?
Our aim is to use AI-driven analytics to help close the UN SDG financing gap by using data to drive more finance towards true sustainable development. We define success by how well our impact management solution helps institutions drive more financing towards products and solutions that are aimed at having a positive impact on society and/or the environment and capturing the resulting change created in the beneficiary's lives.
If utilizing insights from our data and analytics leads to a positive societal or environmental change from the use of financing or investments, then this is our impact and success.
Can you share some interesting data or case studies from your portfolio or partners that are a good example of how technology can bring about impactful change amid today's business environment?
As an example, we have been appointed the impact analytics partner of an agri-finance consortium led by MUFG bank, to provide impact measurement and reporting in order to identify how and where social and environmental impact can be created through financing projects and resources. Our digital dashboard collects data pertaining to key impact themes, including gender equality, diversity and inclusion, fair compensation, governance, carbon emissions, and environmental practices.
Accessing this data through our technology platform helps them create more sustainable products and direct financing towards where it can achieve the greatest impact with regards to their social and environmental objectives. This example shows how we can help financial institutions develop or transition their product base to be impact/ESG orientated and meet stakeholders' increasing sustainability requirements in an efficient and credible manner.
UN's Siddharth Chatterjee on importance of sustainability in business [BEYOND Virtual]