Professor Sir Richard Henry Friend, FRS, Chairman of the VinFuture Prize Council, shares with us his insights on science and innovation in the context of the inaugural VinFuture Prize, which was awarded on January 20, 2021 in an event livestreamed on TechNode Global and other channels.
"I think that world is still there to be discovered. As we make progress with our technologies, we will discover more," Sir Richard tells TechNode Global.
"All the exciting examples turn out to have an unexpectedness about them. It wasn't a linear process towards the end. And that's how science should be," he adds.
Professor Sir Richard Henry Friend, FRS holds the Cavendish Professorship of Physics at the University of Cambridge. He is Director of the Winton Programme for the Physics of Sustainability and of the Maxwell Centre. He is also a Tan Chin Tuan Centennial Professor at the National University of Singapore and serves as Chairman of the Scientific Advisory Board of the National Research Foundation (NRF) of Singapore. In addition, he is one of the principal investigators in the new Cambridge-based Interdisciplinary Research Collaboration (IRC) on nanotechnology and co-founder of Cambridge Display Technology (CDT) and Plastic Logic.
Owning more than 20 patents and having written or co-authored over 1,000 prestigious scientific publications worldwide, Professor Sir Richard Henry Friend, FRS is one of the most influential physicists in the world. He also serves as the Council member of many prestigious global prizes.
He and his group have developed polymer-processing techniques for conjugated polymers and demonstrated non-linear electronic excitations through electrical and optical measurements. He is credited for the first construction of MOSFET (Metal Insulator Semiconductor Field Effect Transistor) with polyacetylene as the active semiconductor; the demonstration of novel mechanisms of operation with novel behavior; and the first construction of the efficient, large-area, polymeric semiconductor LED's (Light Emitting Diodes), based on polyphenylene-vinylene.
His research on OLED has been used to develop flat screens, scroll screens, and motion screens for the future with the most well-known application of his research being the OLED TV. His work has also been applied to develop polymer field-effect transistors, light-emitting diodes, photoelectric diodes, optical pump-proof tubes, and direct-printed polymer transistors.
With a world-renowned reputation and numerous achievements in both research and teaching, Professor Sir Richard Henry Friend, FRS was elected as a Fellow of the Royal Academy of Engineering (FREng) in 2002. His notable honors and awards include the IEE's Faraday Medal in 2003, the Honorary Doctorate from Heriot-Watt University in 2006, the Institute of Physics Katharine Burr Blodgett Medal, Prize with Dr. David Ffye in 2009, and the Millennium Technology Prize for the development of plastic electronics in 2010. He was knighted for "Services to Physics" in the 2003 Queen's Birthday Honours List.
What are the trends currently driving innovation in Vietnam? What is the relevance of this in a larger context, for instance in Southeast Asia or a global perspective?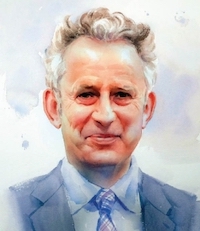 Vietnam is a country changing very quickly. The educational system is very strong. The quality of the students, both men and female, is very high. The opportunities to create innovation across sectors of the economy, which are new to Vietnam, are so present. The new electric cars from Vingroup, for example, take the whole world by surprise. All of that needs smart people making innovations. That's what's needed. And I see Vietnam as a rising power, because of its smart people.
What are three key challenges facing technologists and innovators in this post-pandemic environment? How about the practical considerations in addressing these challenges?
The three challenges are infectious diseases, global warming, and the advancement of broadly artificial intelligence in a way that is for the common good. There is a risk that it will be used for less good purposes. Globally, we need to understand that we need to know how to use it for the right reasons.
I think what is coming to those three is that the whole world needs to move together. The one that I know most about is climate change. And it's very impressive that Vietnam is making commitments towards zero carbon by mid-century, even though that will be a hard transition. And the commitment to go to zero carbon is a big journey but finding out how to develop, invent and deploy these new energy technologies is a challenge for all nations and those who start early will win.
The VinFuture Prize has a vision to "catalyze meaningful change in people's everyday lives through tangible and highly scalable improvements in areas such as productivity, prosperity, connectivity, health, safety, environment, sustainability, as well as their overall happiness." How would you characterize the impact of such change?
We've done very well. And I think the hard work done by the team here has paid off. We have a very large number of fantastic nominations. We must reach out as broadly as we can around the world. I think we have a good structure. And we have a great team. So I'm very confident that we had a great first year and we have the foundation for a great future.
We need to put out stories. We need role models. We need examples that everyone knows about of what is possible. We need to remember that the journey may not start in the direction towards the goal that turns out to be the goal. We need to be able to spot opportunities and be able to take risks. We need to be able to move quickly when the opportunity is there.
If we look at the story of the mRNA virus vaccine is a beautiful example of that. None of our three winners was trying to make a vaccine. They were looking for other end goals. What they had got was a core technology that turned out to be deployable in other directions. And that is very, very common that often the journey is a decade or two decades. So where people start out the final opportunity wouldn't be known about.
Can you share some interesting data or case studies from your portfolio that are a good example of how technology can bring about such impactful change?
I can talk about my own work, which has been on molecules and the behavior of semiconductors. We actually did one of the core pieces of work that underpins how OLED displays work, which is very exciting. It's been commercialized actually almost 30 years after the original breakthroughs. Actually, we can turn it round. And it looks very exciting for better solar cells. Now, you could say that we don't need OLED displays, although they're very nice for phones. But we do need better technologies for solar cells. And it's the same underpinning science.
How do you see the environment for innovation in the medium term? How about the long-term?
There is a tendency to think that because a lot of science has been done, there is less to discover. That's never been the case yet. And we keep being very inventive. And I think the opportunities today are as exciting as they ever have. But I think in the past, it was perhaps just some isolated parts of the world where we were able to do it. Now it is where there are well-educated young people across the whole world and I think Vietnam is going to be a great power.
Winners of prestigious $4.5M Global Sci-Tech VinFuture prizes announced