During the 2015 United Nations General Assembly, 17 interlinked global goals were laid out with the intention of achieving a "better and more sustainable future for all." These serve as a blueprint for peace and prosperity for everyone throughout the world and into the future. The journey towards achieving these goals is filled with challenges and requires genuine global partnership. Also, it significantly helps to take advantage of technology and innovation to ensure efficiency, reduce difficulties, and accelerate action.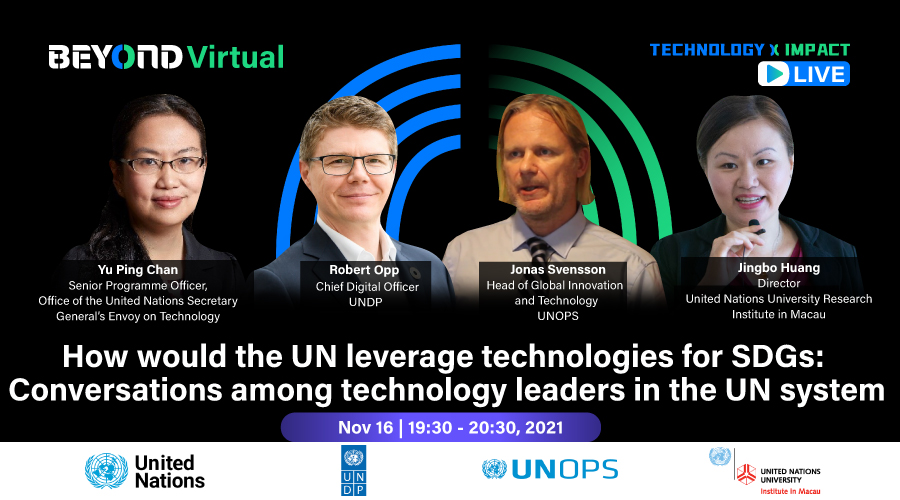 This November 16, 2021 session of Beyond Virtual was participated by the following panelists:
This session brings together three current officials of the United Nations to discuss the ways that technologies can be harnessed to advance sustainable development goals. Panelists representing the UN Secretariat, United Nations Development Program (UNDP), and the United Nations Office for Project Services (UNOPS) share their insights on how technology and innovation can facilitate the accomplishment of the UN sustainability goals.
Here are some of the most notable points shared in the panel discussion:
Technology has a transformative impact on the achievement of SDGs. Around 230 million digital jobs will be created in Sub-Saharan Africa in 2030, generating $120 million dollars in revenue.
However, even with the growth of the digital revolution, many are still left behind. Around a third of the world's children do not have access to education (during the pandemic) because they lack access to an internet connection. Technology is not only transformative in view of the SDGs, but it is a solution in addressing basic needs such as health and education.
The UN system plays a vital role in enabling people to harness technology to improve their lives and address various challenges. The UN does not only help in enabling access to tech and innovation. It also helps address new risks and challenges for many such as cybercrimes and abuses on women and children committed through the internet.
The UN, through the UNDP, is working to remain relevant in addressing various challenges by partnering with governments and communities across 170 countries to help them identify the ways they can better support their achievement of the SDGs.
The UN helps communities take advantage of new technologies including blockchain and advanced analytics, acknowledging that there is still a lot to do in closing the digital divide.
Technology should also be applied to the building and maintenance of infrastructure to become more efficient, responsive to the needs of the present while being sustainable and enduring. Also, it is important to develop and test new technologies that can more effectively and efficiently address existing and approaching problems.
The UNDP implemented digital projects like new e-commerce platforms to reach those in the informal sector of the economy and allow them to continue operating and surviving. One example of this was the UNDP's partnership with the e-commerce firm Jumia in Uganda to help thousands of farmers and traders in doing business in the midst of pandemic-induced strict government policies on public activities.
The UNOPS has rolled out an innovation center program that combines different skills from different countries and markets to create crossovers projects. An example of this is the establishment of an AI startup that specializes in the prediction of landfall for the Sargassum seaweed (a health risk). The UNOPS serves as a platform for attracting people and solutions to come up with innovations and helpful applications of technology to pursue sustainability.
The Office of the UN Secretary-General Envoy on Technology has been bringing together stakeholders, member states, UN agencies, as well as private sector firms, NGOs, as well as the civil and technical society to undertake high-level thematic discussions to come up with solutions to problems and challenges while stimulating new technology creation and innovation.
Different agencies and offices of the United Nations are working together to enable a more coordinated global and coherent approach in building digital capacity and matching resources and needs.
"It behooves us to make sure that technology is fundamentally an enabler to achieving the SDGs. Our experience with COVID has made us realize how digital technology is ubiquitous to our lives, but many people are left behind by the digital revolution." – Yu Ping Chan

"The general strategic direction here is that we need to really work on closing the digital divide and promoting inclusive digital ecosystems worldwide that leave no one behind. In other words, we actually say we want to create a world in which digital is an empowering force for people and the planet." – Robert Opp

"We are going hopefully for a UN-wide adoption of (technology and solution) testbeds, so we can move as a whole to implement solutions wherever they are needed rather than waiting for others to do that."  – Jonas Svensson
---
Watch the panels across the week here. Click to check out the FULL virtual programs.
To access all our BEYOND Virtual prime content, register a FREE account now. You will receive an email confirmation and signup guideline before the online sessions.
BEYOND Expo on-site event will be held on December 2 to 4, 2021 at the Venetian Macao Convention and Exhibition Centre. See you there!
BEYOND Virtual talks about growing capital markets with Global Investors predictions, evolution of Family Offices & accelerating into a SPAC-tacular era … Going from online to offline Dec 2-4