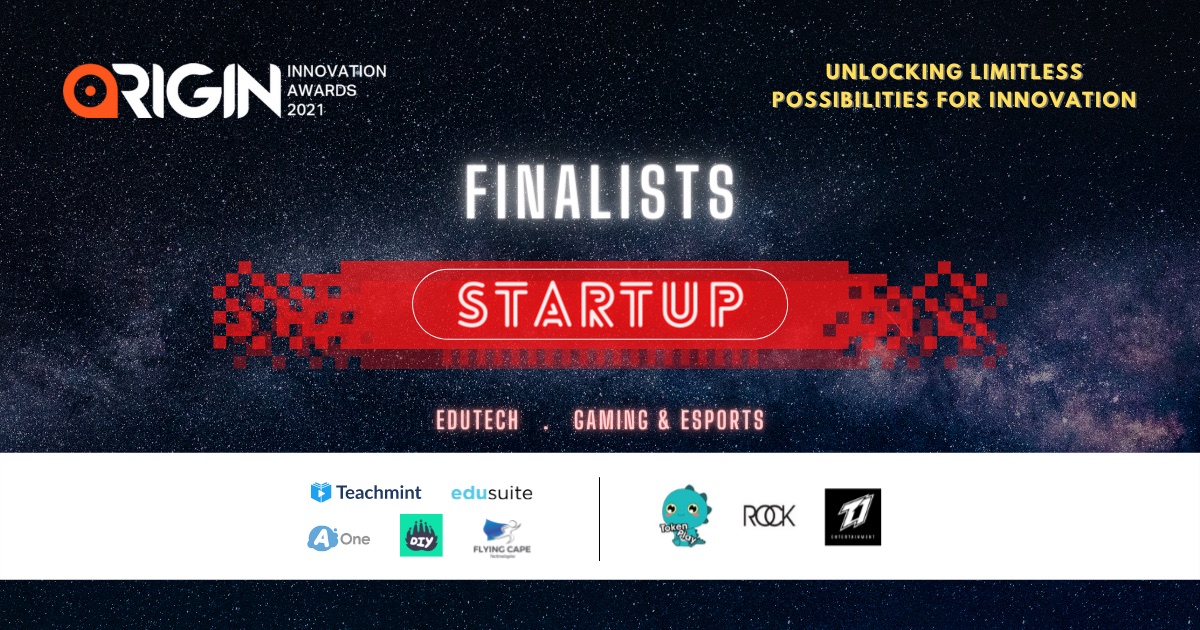 We are thrilled to announce the finalists of the Startup Finalists – EduTech and Gaming & Esports for the second edition of the ORIGIN Innovation Awards.
The ORIGIN Innovation Awards recognizes outstanding startups, corporate innovators, and movers and shakers in the Asia Pacific region poised for growth. The awards celebrate the spirit of innovation and entrepreneurship, and also seek to inspire the dreamer in all of us.
We'd like to express our deepest thanks to everyone who participated. All the nominations are truly inspirational, and we would like to congratulate everyone for your efforts and nominations.
Nominations for the ORIGIN Innovation Awards began on June 15 and ended on September 15, 2021. The eligible nominees for the Startup Awards were put up for judging and public voting from September 16 to October 31, 2021. Final decisions about the awards were made by a committee of advisors, informed by the public voting.
Together with the all-star advisory team, TechNode Global spent close to two weeks evaluating every nomination and determining the finalists. The ORIGIN Innovation Awards advisory committee is made up of representatives from AppWorks, BeeNext, Cocoon Capital, Cyberport, Golden Gate Ventures, Gobi Partners, Innoven Capital, Kairous Capital, MDI, Qiming Venture Partners, Rakuten Capital, Sistema Asia, True Digital Park, and ZWC.
Here are the finalists for the Startup Awards category in EduTech and Gaming & Esports:
EduTech
Edusuite's AI-driven technology will analyze the data and resources of Colleges and Universities so that school administrators, faculty and students can optimize resources and make smart decisions. Edusuite was born with the realization that through Smart Algorithms and AI, our system will be able to cut months of planning, coordination, and work while minimizing the risk of human error. All of this is in the spirit of developing a well-thought-out system for all schools, at a fraction of the cost.
Flying Cape is a Singapore-based EdTech company which seeks to help students all around Asia to Learn it Smarter. It currently has a booking website (Compass) for tuition and enrichment classes, and the company's aspiration is to make mass-personalized learning a reality for this generation of students. All its classes are Best Price Guaranteed.
A winner at the 2020 ORIGIN Innovation Awards, Flying Cape has pioneered Singapore's very first All-you-can-Learn Class Buffet, making a wide selection of classes available to students from just $75 (3 classes) and $99 (5 classes) with the aim of enabling parents to expose their children to a wider variety of classes and also allow the less privileged segment of society to benefit from the vibrant enrichment scene.
Kyt Technologies has acquired and merged with DIY, an online learning community empowering kids to learn new skills. DIY's subject matter spans the spectrum of science, tech, art, music, building, and engineering, covering a range of topics from Digital Art to Cryptology to Piano to Minecraft. The company believes that creativity can be at the core of learning anything and so any skill can be a gateway for family time and helping kids get ready for careers of the future. Over 700,000 families have registered to use DIY.org's website and mobile app to meet others who share their interests, explore more than 160 skills and 3,500 projects, earn badges for their achievements, and productively engage with an exclusive OTT platform with shows curated just for kids.
AOne is a B2C marketplace and B2B school SaaS software for local classes in Southeast Asia, starting with Malaysia. The company believes "anyone can teach, everyone can learn,"​ with the mission to connect anyone who likes to teach with anyone who likes to learn. The platform focuses on three branches of services: (1) AOneSchool, a school management software for any learning centers, kindergartens, academies & schools, (2) AOnePay, automated monthly fee collection solution for learning centers, (3) AOneMarketplace, an online marketplace for local classes & lessons.
Teachmint Technologies is India's largest online teaching platform and one of the fastest growing EdTech startups. Teachmint offers a mobile-first video-first experience that enables teachers to create a digital persona of every classroom out there.
Teachmint was sstarted to address the big technology-infrastructure gap in teaching and learning with the sole aim to significantly increase teaching efficiency, reduce costs and increase the student base for existing teachers. In addition to existing teachers, Teachmint is supporting new individuals to create teaching businesses from scratch across domains like K-12 tutoring, test prep, and extra-curricular learning.
Gaming & Esports
Amate Pte. Ltd. is the creator of TokenPlay, an NFT-based web game that supports game publishers to reach more users. Token Play promises to create an ecosystem with a variety of games. In particular, Token Play points, gaming fees are converted by TOP coin and valuable, so users can sell it on the web.
Mining, staking, voting and NFTs are the premier functions of Token Play, promising to bring the best experiences of token play for users.
R.O.C.K Co., Ltd or Republic of Creative Korea R.O.C.K has produced the creative products from the beginning of the world's first 'USB storage device' to the 'Wireless USB(UWB)'. It is constantly moving forward to become a leading company with creativity in the world.

Tier 1 Entertainment is the undisputed gaming and esports entertainment leader in Southeast Asia. It is well-embedded in the content distribution and gaming world, having built its success by developing a robust business model and making the company the the top tier destination for new and established gaming talents. Tier 1 is a venture-funded company with investors from all around the world.
---
Learn more about ORIGIN Innovation Awards here. Stay tuned for more announcements in the coming weeks.