Vietnam-based loyalty and analytics platform Society Pass (SoPa), which started trading on NASDAQ last week, is eyeing merger and acquisition (M&A) opportunities in Indonesia and the Philippines, two of the fastest-growing internet economies in the region.
"We want to replicate our success in our target markets and our ongoing aggressive M&A initiatives in the pipeline. We are particularly interested in Indonesia and the Philippines as our next growth markets for acquisitions," Founder Dennis Nguyen told TechNode Global in an interview after the firm started trading on NASDAQ on Nov 9.
The firm is keen to pursue acquisitions in categories that augment its loyalty point ecosystem, as well as e-commerce and online travel. Prior to its IPO, SoPA announced in June it has acquired the e-commerce platform Leflair.
Indonesia's 2021 Gross Merchant Value (GMV) is expected to reach $70 billion – a 49 percent year-on-year (y-o-y) surge, underpinned by a 52 percent growth in e-commerce. The overall internet economy will likely reach $146 billion in value in 2025, growing at 20 percent CAGR.
Meanwhile, the Philippines' GMV is expected to reach a total value of $17 billion this year – a notable 93 percent y-o-y surge. This steep increase is underpinned by a 132 percent growth in e-commerce, according to the report published by Google, Temasek, Bain & Co last week. Looking at 2025, the overall internet economy will likely reach $40 billion in value, growing at 24 percent compound annual growth rate (CAGR).
SoPa received aggregate proceeds of $28.125 million, before deducting underwriting discounts and commissions and other estimated offering expenses from the initial public offering on NASDAQ.
SoPa saw its share price more than quintupled in its debut as a public company, ending its first session higher by a whopping 437 percent from its IPO price of $9 per share. A further surge later in the day saw the stock touching a high of $54.56.
Its share price was trading at $45.63 at the time of writing on Wednesday, up more than 400 percent since the counter started trading, giving it a market capitalization of $875.30 million. The firm also said it is the first Vietnam e-Commerce firm listed on NASDAQ through a traditional IPO. SoPa's sterling share price performance could further encourage more firms in Vietnam to seek a listing in the US.
Other Vietnamese firms that expressed interests or plan to list in the US include delivery startup Loship, JD.com backed e-Commerce startup Tiki.
SoPa is a loyalty and data marketing ecosystem in Vietnam that operates multiple e-commerce and lifestyle platforms across its key markets. Its business model focuses on collecting user data through the expected circulation of its universal loyalty points. It connects consumers and merchants across multiple product and service categories fostering organic loyalty.
Nguyen, who is also SoPa Chairman and Chief Executive Officer, also said the IPO on NASDAQ also marks the beginning of the firm's next phase of growth.
"As an acquisition-led technology company, this milestone marks the beginning of our next phase of growth. Our IPO on NASDAQ and access to public markets will allow us to connect investors to some of the fastest-growing retail e-commerce opportunities in Southeast Asia," he said.
Nguyen said SoPa capitalizes on the rapidly developing earlier stages of the internet economy in the region, particularly in Vietnam, Indonesia, and the Philippines, spanning verticals such as F&B, beauty, travel, and lifestyle.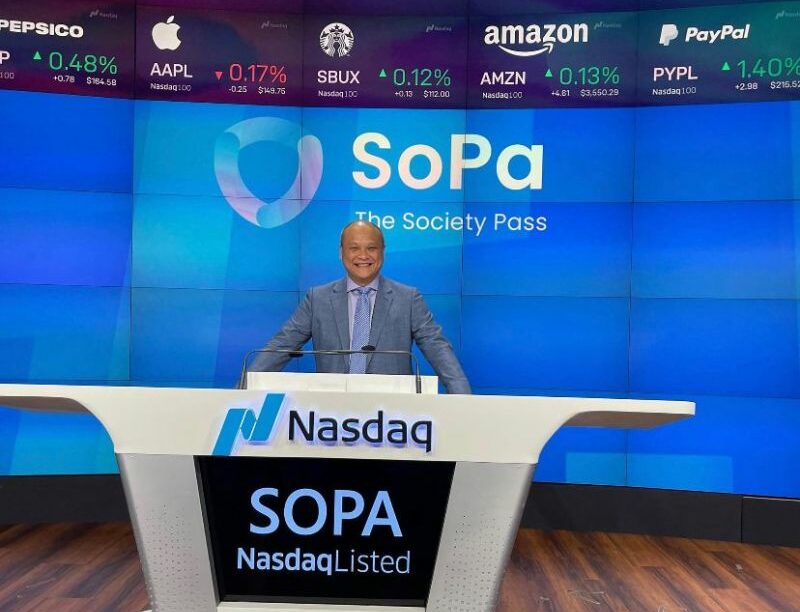 Tremendous opportunities in SEA & Vietnam
Southeast Asia market is among the fastest-growing economies in the world with solid economic fundamentals, fast-growing middle classes, favorable demographic trends, and accelerating adoption of mobile technology, Nguyen noted.
"Vietnam, specifically, has been one of the fastest-growing economies within Southeast Asia over the past two decades. The country's e-commerce is growing tremendously, reaching a scale of ​​approximately $13.2 billion, and is expected to grow steadily from 2021 until 2025, he said, quoting studies from the Vietnam E-business index 2021 report.
Vietnam's smartphone ownership rate has also reached 96.9 percent and most of the time Vietnamese consumers spend online for personal purposes.
"Rising consumer spending coupled with a high mobile penetration rate is very conducive for e-commerce companies to thrive," he said, responding to a question on the potential of e-commerce in Vietnam.
Back in its home country, with the tremendous growth in the e-Commerce segment, Nguyen also noted increased competition among other industry players. Customers' expectation has also increased, he said.
"Since customers have more choices, they have honed their tastes and demands like never before, asking for better services and better product quality from the platforms," he said. "More and more brands have started building their online presence within their own stores or joining the existing e-commerce platforms. New players are descending on the market every day, and it is a challenge for us to keep up in the industry."
Nguyen, however, said that with the experiences and following the success of SoPa that has gained in Vietnam for the past three years, he believes that the firm's existing expertise in data analytics and other unique technology offerings can deliver an enhanced customer experience to help the firm stand out in the fast-growing Vietnam and regional e-commerce market.
"SoPa expects to launch our Society Points product in the fourth quarter this year. We see Society Points replacing cash discounting in Southeast Asia," he said.
Post-launch, small and medium enterprises (SMEs) will issue Society Points as a means of discounting their products and services and thus create permanent loyalty with their customers.
Consumers can redeem their Society Points at any merchant registered on the Society Pass ecosystem in any country, he added.
"We spent more than two years building a proprietary IT architecture with cutting-edge components to effectively scale and support our platform's consumers, merchants, and acquisitions. SoPa aggregates data across various touchpoints and builds a realistic view of consumer behavior," he said.
The firm can use this behavior to amplify multiple business models including cross-pollinate acquired startups with other SoPa verticals, customer re-targeting, offline and online behavior prediction, and cross-promotions and loyalty points.
Converting data to loyalty and revenue
"We believe that SoPa Technology Platform becomes a key enabler for our users by converting this aggregation of data into the creation of loyalty for our merchants and then generation of revenue," Nguyen said. "Our goal is to create value for our SME merchants through our loyalty, login, and re-targeting tools. These products generate revenues and create loyalty for SME partners, who in return allow us to access their customers' data. This virtual cycle improves our re-targeting and analytics."
​​Since its launch in 2019, SoPa has amassed over 1.5 million registered users and over 3,500 registered merchants and brands through its technology solutions, providing deep insights into customer behaviors and personalized marketing tools, including loyalty app, Customer Relationship Management(CRM), and POS (Point of Sales) software, with more than 100,000 consumers have made transactions on the platform.
Featured image credit: Society Pass
Vietnam's Society Pass announces $26M pricing for Nasdaq IPO