Singapore-headquartered online spiritual wellness firm Emerging Vision, which raised $4 million in Series A funding last month, plans to grow its businesses in India and expand to the US this year.
The firm, which operates Guruji and Teller live streaming wellness platforms, is also expected to rake in revenue of more than $6 million this year as demand for its astrology, tarot card reading services gained popularity.
"Last year was our first year of operation, and we achieved $1.5 million in revenue. We are expected to achieve more than $6 million this year," Emerging Vision Founder and Chief Executive Officer Alan Cui told TechNode Global in an interview. "At this point, we are focused on growing in the India market, and are planning to pilot in the US this year."
In addition to expanding its global operations, Emerging Vision also plans to launch its own e-commerce marketplace after its Series A funding round last month.
"The e-commerce marketplace is meant to be the key source of offerings for global users seeking spiritual wellness. These will include services through live streaming, consultation, content, and community. Some physical commodities that can be sold directly in the spiritual wellness industry are gems and crystals. These products serve as personalized remedies for our users after their consultations, to provide more spiritual energy and mental support," Cui, who is a tarot card reader, said.
Founded in 2019 and headquartered in Singapore, Emerging Vision said it is redefining the online global spiritual wellness industry via live streaming, which provides users interactive, face-to-face consultations with verified astrologers, tarot readers, life coaches, and mentors.
The platform currently has 180,000 consultations per month with around 30 percent of new users returning to consult the app again in the following month, leading to a peak recharge rate (where users transfer funds into the platform to pay for services) of 10 percent among daily active users, Cui said.
Emerging Vision now has a team of more than 550 verified astrologers from over 10 areas of expertise, including astrology, tarot reading, palmistry, and numerology.
The ongoing COVID-19 pandemic has accelerated digitalization in businesses. Traditional businesses and services were forced to go online including spiritual wellness services such as astrology, tarot card, palmistry services provided by Emerging Vision.
Within 18 months of its Android launch and three months of its iOS launch, Emerging Vision had a $6 million annualized revenue run rate, growing at 500 percent year on year.
Last month, the company raised $4 million from its Series A funding round led by Lightspeed Ventures Partners, a multi-stage venture capital firm. Lightspeed and its affiliates currently manage $10.5 billion globally.
"Although spiritual services involve centuries-old ancient practices that have existed in myriad forms across countries and religions, the market is highly fragmented and traditionally operates offline. Today's users –especially Gen Z – now yearn for more seamless and accessible, digital-first approaches to improve their well-being," Cui said then.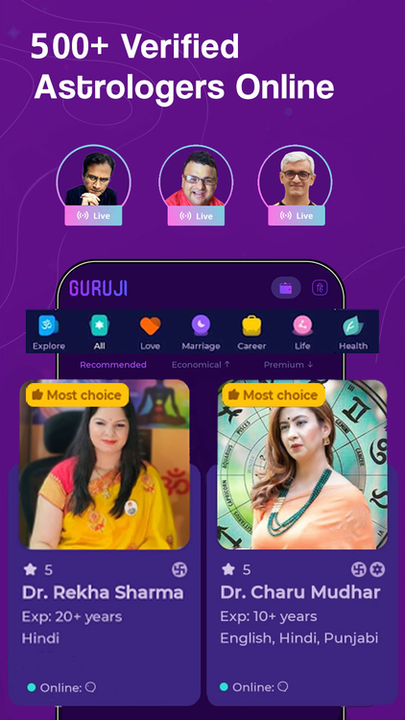 Spiritual wellness industry's a 'huge blue ocean'
Cui, who is also a graduate of London School of Astrology, said the spiritual wellness industry globally is mainly offline, and the digitized rate of the industry is 'extremely low'.
"We are in a 'huge blue ocean' market, with market size of that is growing $10 billion annually around the world. We are just an early-stage player in this huge market so we are excited about the possibilities in the future," he said.
"Lack of standardization and quality consistency are the biggest problems we observed in this industry, resulting in trust and scalability issues. With our unique online services, we hope to make it much easier to build brand and trust through our various services such as live streaming," he said, adding that the company wants to continue growing its user base and plans for its globalization through expanding to more potential markets.
On the firm's competitive advantage, Cui, who was formerly the Deputy General Manager of JOYY Inc. and Head of Product Strategy of China-based video-sharing app Kuaishou, said it has a strong product and tech team focusing on enhancing customers' experience. It is also developing an e-commerce marketplace to provide a convenient, all-in-one spiritual wellness service for users.
"As a bilateral platform and a marketplace, the matching of supply and demand is a decisive factor for scaling in the long-term. The key to solving the efficiency of supply and demand matching is data and recommendation algorithms. We find that live-streaming is the most intuitive way to build trust online, and it is much more efficient than voice and text," he added.
The company said its artificial intelligence (AI)-driven selecting mechanism acts as incentives for astrologers to provide excellent services, which ensures the quality consistency in users' experience.
According to Global Wellness Institute, the wellness market including spiritual self-care has expanded by 6.4 percent annually from 2015-2017, from $3.7 trillion to a value of $4.2 trillion, nearly twice as fast as the growth of the global economy.
Emerging Vision currently has 40 employees in India, 20 employees in China, one employee in Singapore, and two employees in the US. It plans to have up to 20 employees here within the next year.
Featured image credit: Emerging Vision
Singapore-based online spiritual wellness firm Emerging Vision raises $4M in Series A funding