Editor's note: Updated with statement from Ula
---
Indonesian e-commerce startup Ula announced on Monday that it has secured $87 million in Series B funding round co-led by Dutch tech investment firm Prosus Ventures, China-based tech giant Tencent, and US-based investment firm B Capital Group.
The trio were also joined by Amazon founder Jeff Bezos's Bezos Expeditions, and Southeast Asian funds Northstar Group, AC Ventures and Citius. Existing investors Lightspeed India, Sequoia India, Quona Capital, and Alter Global also participated in the round, Ula said in statement.
"We launched in 2020, with a single-minded mission to empower small, neighborhood retailers with technology to increase their income. We take a long-term approach to solve the underlying problems of traditional retailers by investing in technology, supply chain and data-enabled credit offering," said Nipun Mehra, Co-Founder and Chief Executive Officer at Ula.
"Ula's new investors come with global expertise and share this long-term mindset of the company. We are grateful to them for believing in Ula's mission and hope to learn from their experience re-imagining retail in other emerging markets" he added.
In the technology-enabled world, Ula said the local mom-and-pop store is no longer "just a store," but rather a gateway to consumption in their neighborhoods. The typical store has a massive advantage–nearly zero costs (run by family members, owns physical space) and deep relationships with their customers. While e-commerce incurs expensive last-mile delivery costs, and physical retail is constrained by main-street locations, there are millions of traditional stores efficiently serving neighborhoods. However, low profitability, limited assortment, and little working capital leave them unable to fully cater to their customers' needs and realize their own growth potential, the company said.
The latest fundraise, which comes just eight months after its Series A round in January, will be used to invest in growing Ula's presence across Indonesia and exploring international expansion across Southeast Asia, adding new categories, expanding the Buy-Now-Pay-Later (BNPL) offering, as well as building new technology and a local supply chain and logistics infrastructure.
The company will be able to leverage its relationships and market knowledge to offer a Pay-Later option, which alone is expected to be a $150 billion market in Indonesia. With many store owners being limited by their access to traditional banking services and relying on daily cash flow income, providing the option to pay for their supplies later can prove to be a game-changer.
In just 20 months since launch and in the midst of Covid, Ula has grown 230 times, currently offering over 6,000 products and serving more than 70,000 traditional retail stores on its platform.
Ula's previous funding includes a $10.5 million seed round in June 2020 and an additional $20 million Series A round in January 2021.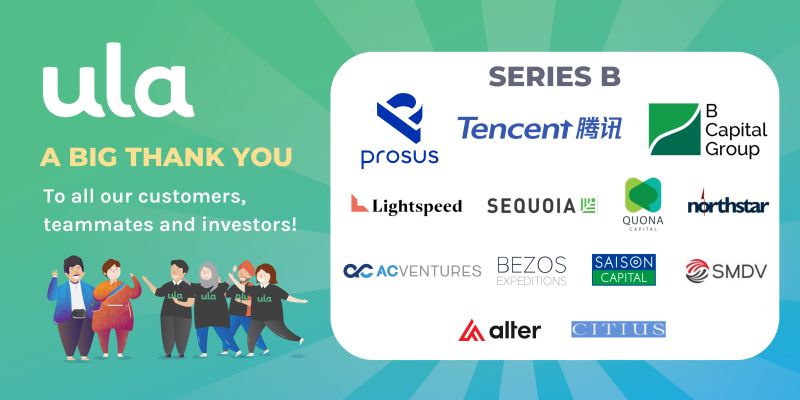 Ula said it helps small retailers manage their working capital and stock better through technology, to improve their margins and grow their business. The company said it also offers store owners with unutilized space the opportunity to become an Ula pick-up point and earn extra cash. The startup has offices in Jakarta, Singapore, and Bangalore.
Based in Mercer Island, Washington, US, Bezos Expeditions manages Jeff Bezos' personal venture capital investments.
AC Ventures insights: Emerging e-commerce opportunities in Indonesia