As Indonesia's largest commerce businesses approach IPO scale and considering the dominance of Shopee, Tokopedia, Bukalapak, and Lazada, there can be few opportunities left in the e-commerce space.
However, even as the pandemic shifts online purchase behavior to overdrive, our estimates put total e-commerce as a percentage of retail sales in Indonesia at just over 10 percent. Compared to more developed markets like China, with ~25 percent e-commerce penetration, there is still room for multiple times of growth.

The onset of the COVID-19 pandemic accelerated new users into the digital economy in e-commerce and major sectors such as logistics, education, and fintech, all of which experienced significant increases in adoption rates.
However, even though e-commerce is the most mature sector overall, there are still blue ocean verticals to be found.
Underlining this growth is not only greater adoption by existing users but, most significantly, new users. Based on data from Google, Temasek, and Bain & Company studies, 1 in 3 of all digital service consumers in 2020 were new users resulting from the impact of COVID-19, and survey data suggest that these new users will continue to retain new online habits past the pandemic. Additionally, the majority of these new users were from non-metro areas.
But where do the following eCommerce opportunities lie? This requires a deeper look at the different penetration rates of online purchase behavior per sector, revealing the following key observations.  
Uncovering frontier customers and product categories
The most straightforward way to think about e-commerce opportunities is to think of frontier customers and frontier product categories. A basic illustration shows where opportunities are emerging: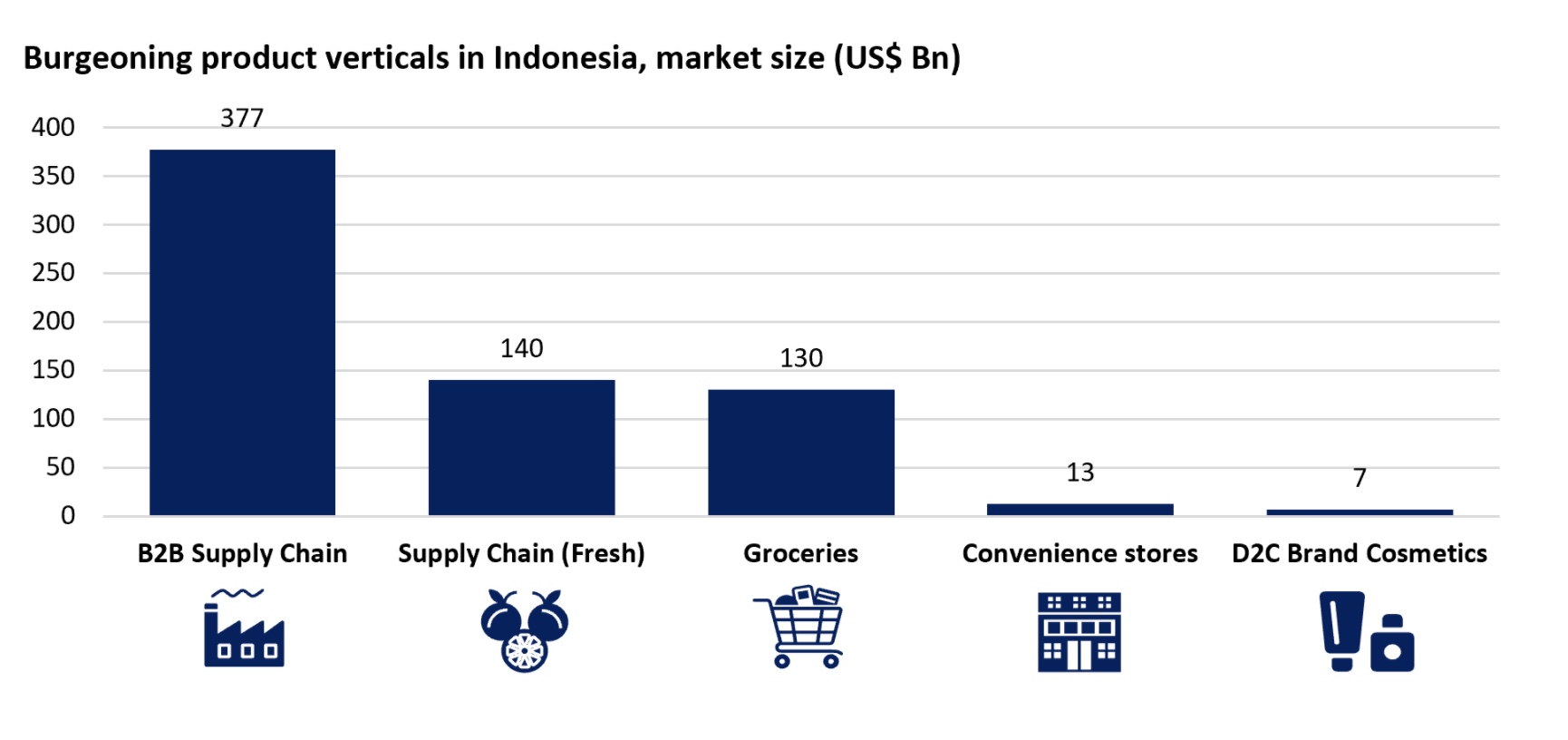 Frontier customers in the e-commerce space include consumers in tier 2-4 cities and enterprises with more complex purchase requirements ranging from MSMEs to larger corporations with different vendor arrangement policies.
Based on the latest estimates, only 57 percent of Indonesia's population live in urbanized areas suggesting easily over 100 million consumers living in rural and village communities. This represents an enormous opportunity as online commerce penetration within rural Indonesia is far less than in urbanized areas.
Separately, MSMEs, which we have written about previously, are also frontier e-commerce customers as they are usually slow in the adoption of digital technology.
In this customer segment, over 63 million MSMEs represent over 60 percent of Indonesia's GDP and 97 percent of the total workforce; there are enormous opportunities to be unlocked by adopting e-commerce for B2B e-commerce supplies for this sector.

Frontier products represent another highly attractive opportunity. Historically around the world, penetration rates of different product categories going online have differed considerably.
It's well known that Amazon started with books before moving onto electronics, various household items, and only more recently, groceries.
Similarly, we can see that while Indonesia's horizontal marketplaces have a considerable selection of electronics and household items, there's far less selection in groceries, and even then, the product experience is not ideal. Beyond the physical product itself, we must also consider the product experience.
For example, when consumers shop for groceries, they expect to receive items on the same day. Hence, we also need to consider the product and the product experience–which requires fundamentally differentiated logistics last mile and supply chains compared to selling electronics.
Drivers for emerging opportunities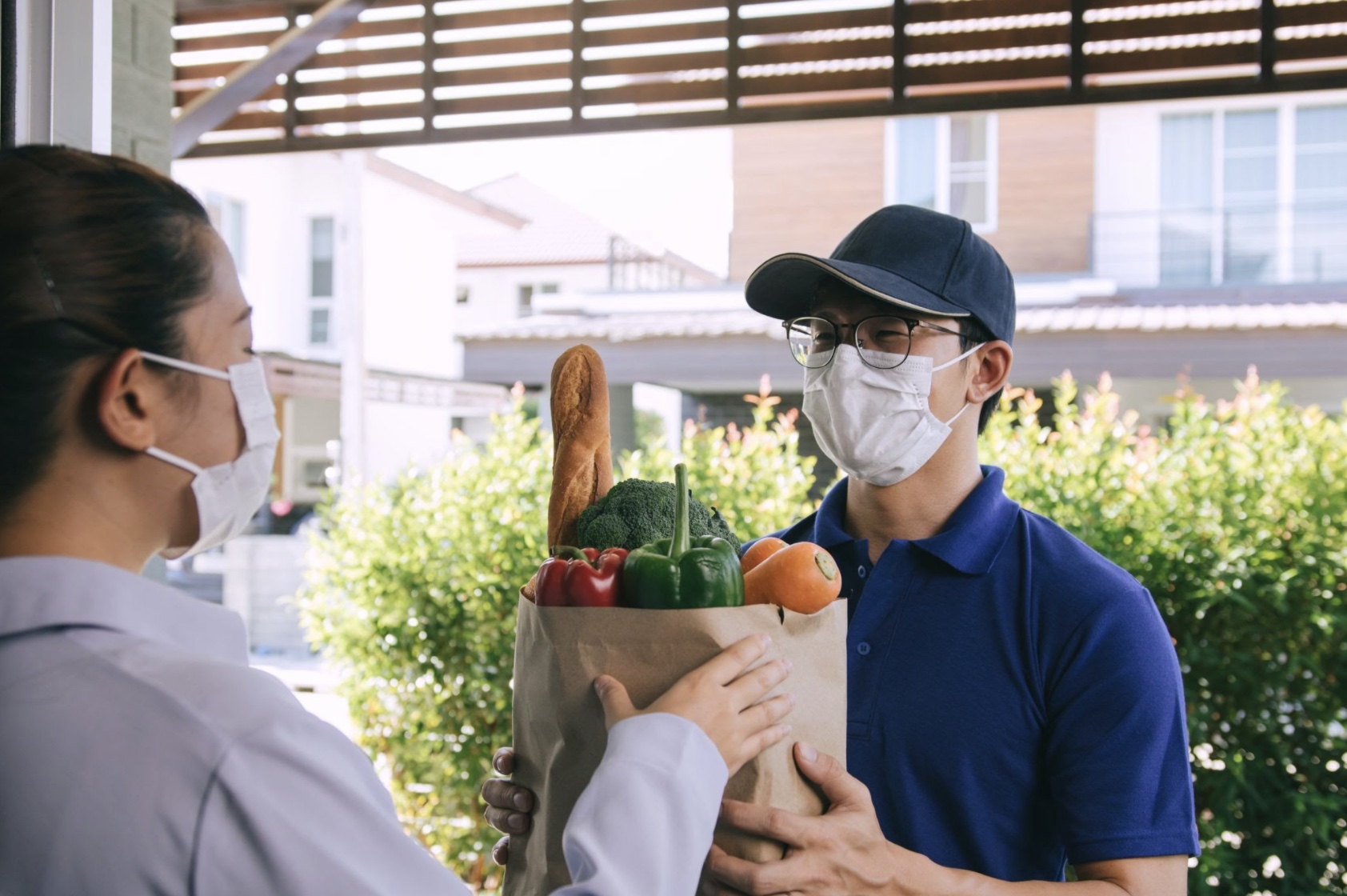 There are several drivers for these emerging opportunities. Firstl–the consumers. Accelerated by lockdowns imposed by governments and hesitancy to visit crowded markets, more and more consumers have tried purchasing new product categories online, such as groceries. Several purchases later, what initially felt foreign becomes a habit, so we've seen incredible growth rates in this sector. Having backed early entrants to this space, such as Segari, we are witnessing this growth first hand.
Another driver is the vastly improved infrastructure supporting e-commerce. From logistics to payments to internet penetration rates, improvements to these key supporting areas have increased the reach and penetration of e-commerce such that increasingly hard-to-reach areas have become viable markets for e-commerce. 
Emerging models addressing frontier customers and products
The maturing consumer and infrastructure open up these opportunities and differentiated models that help create more accessible access to new customers and the delivery of new product verticals. These new models also provide a competitive advantage to new startups compared to incumbent platforms addressing these sectors.
For example, the PinDuoDuo ("PDD") model pioneered online social commerce via group buying. Group buying initially found its strongest appeal with emerging consumers attracted by low prices (enabled by bulk buying) and buying with friends, which helped bridge a trust gap of buying online. The model has evolved since then, but the entry point was highly differentiated compared to the marketplace incumbents of Taobao and JD at the time.
Similarly, we see several social commerce models in Indonesia employing various forms to address new customers through group purchases and lower prices. Companies such as Kitabeli and Rumahan use the mechanics of group purchases in 2nd and 3rd tier cities to enable emerging consumers to buy online. The former focuses on more daily use items while the latter use installed payments via community financing to purchase higher average order value goods like household appliances.
Other types of differentiated models can help with enabling improved product experiences. For example, another model that emerged from China helped accelerate online purchases for fresh produce. Known as Community Group Buy (CGB), this model leverages neighborhood 'agents' in the community who help solve for customer acquisition and last-mile delivery logistics.
This particular model bridges user trust gaps and addresses logistic bottlenecks as shipping small baskets of daily groceries can become prohibitively expensive at the last mile. In this model, the agent aggregates the entire community's purchase orders and takes on the responsibility for delivering within the catchment area. Our portfolio company Segari, which we backed in 2020 at the pandemic, has also executed this model to great success.
Another 'new customer segment' worth noting is the increasing adoption of eCommerce platforms by MSMEs in Indonesia.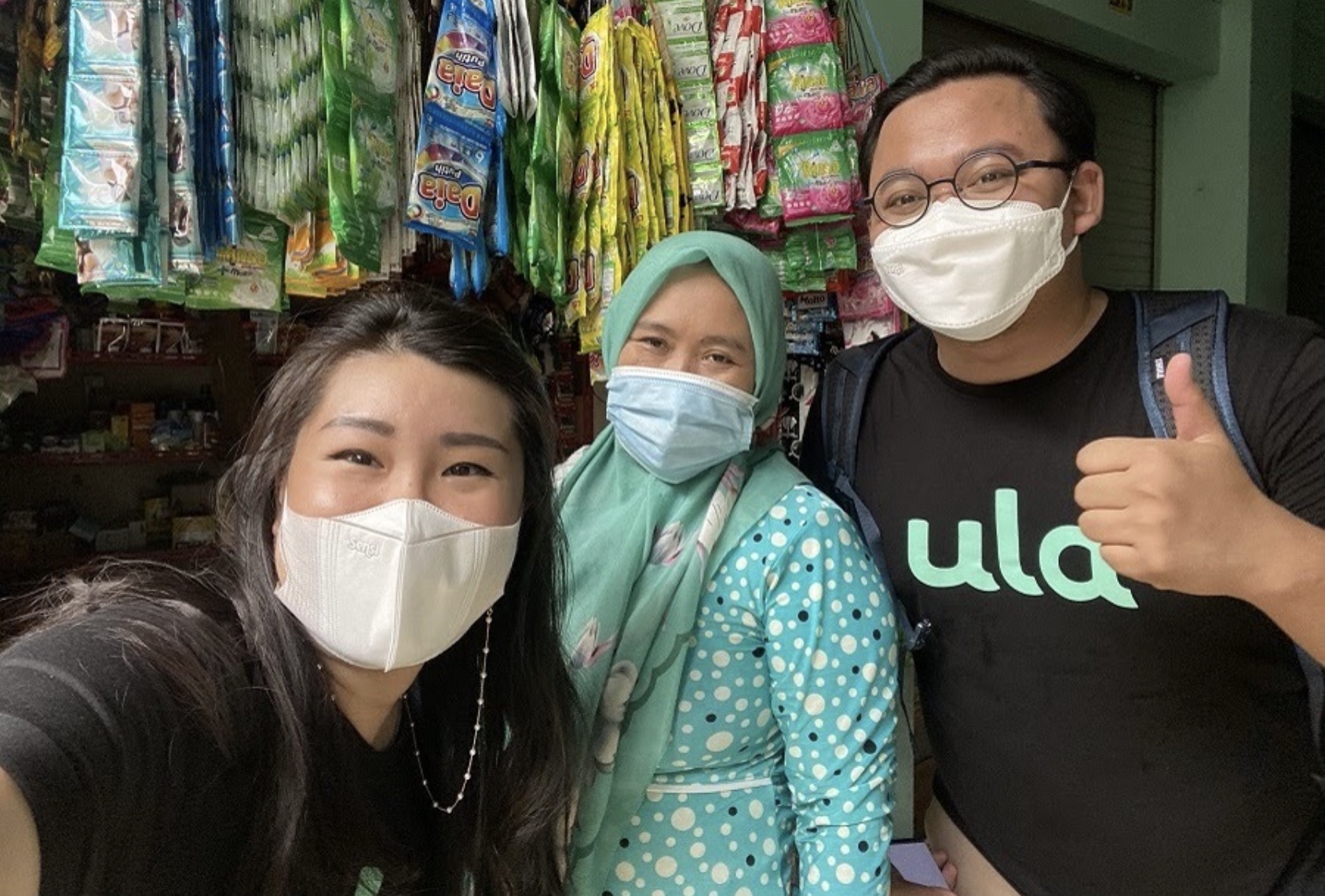 Historically 'warung' owners would have to close their stores to shop–sometimes several times a day–and pick up inventory to sell. Clearly, this is a massive inefficiency for the store as wholesalers could sometimes take several hours round trip.
By bringing the convenience of ordering supplies online and saving from shortening the supply chain, companies like Ula are empowering MSMEs with efficiency and savings that can be put back into growing their businesses. Still, other businesses can support small enterprises to sell online a "Shopify for offline businesses" such as Majoo.
There are also plenty more emerging models, including 'dark' convenience stores, cloud kitchens, and the vast category of direct-to-consumer brands, all of which are chipping away at the multi-hundred billion dollars offline retail market share more and more consumers spend time and money online.
Indonesia's total retail market is on track to cross $300 billion in the next three years, and with e-commerce just reaching $30 billion in 2020, there are still excellent growth prospects. For example, the largest single share of groceries alone makes up over $70 billion, with estimates of online penetration barely crossing 0.5 percent in 2021.
At ACV, our view is that eCommerce penetration will cross 30 percent in the next five years, creating over $60 billion in market value opportunity and multiple startup investment opportunities. Hence there has never been a better time backing Indonesia's next generation of entrepreneurs, even in a seemingly mature space like e-commerce.
Read more about our investment theses and empower yourself with our knowledge and insights at ACV.VC.
---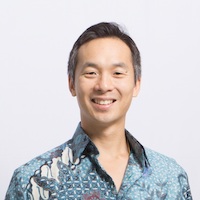 Adrian Li is Co-Founder and Managing Partner at AC Ventures, a merged fund between Agaeti Ventures and Convergence Ventures. ACV is an early stage Indonesia focused technology venture capital fund. ACV manages three funds with a portfolio of over 80 businesses. Notable investments include, Payfazz, Koinworks, Julo, Carsome and M17. Previously, he co-founded several ventures in China and Indonesia.
TechNode Global publishes contributions relevant to entrepreneurship and innovation. You may submit your own original or published contributions subject to editorial discretion.