While Filipino athletes are making accomplishments in the international arena, a proud Filipino has also been making waves on the international stage–this time, in innovation, healthcare, and entrepreneurship.
For several years now, Aldo Carrascoso, who was raised in San Juan, Metro Manila, has been leaving a mark in the startup scene in the United States. Following his string of successful tech-centric business ventures known for their disruptive and transformative effects, the serial entrepreneur has earned the moniker 'Elon Musk of Philippine tech startups.'
In the early 2000s, he moved to Silicon Valley, the home of renowned tech companies. He took up an MBA at Babson College, where he learned from various mentors and entrepreneurs. After finishing his degree, he founded his first startup, Verego, a B2B matchmaking platform, which he exited after a few years. He then went on to build Jukin Media, the worldwide leader in the discovery, acquisition, monetization, and distribution of user-generated content.
His next venture, Veem, a next-generation global payment provider, holds the distinction of being the first in the industry to use blockchain technology as a payment rail in 2014. The company was awarded the Emerging App Partner of the Year for 2017 at the Xero Awards Americas and honored in 2019 at the Benzinga Global Fintech Awards.
His latest undertaking, InterVenn Biosciences, is a cutting-edge biotech company. Together with his team of scientists, specialists, and operators, Carrascoso seeks not only to revolutionize the fight against cancer but also to find a comprehensive solution for the dreaded disease. Aldo is counting on the powerful combination of next-generation artificial intelligence (AI) and high-throughput glycoproteomic, glycolipodomic, and glycotranscriptomic analysis.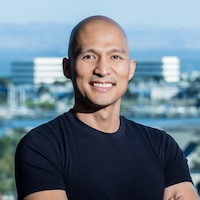 "The work that we do at InterVenn is highly personal. I lost my mother and two close relatives to breast cancer many years ago. I was frustrated with the lack of choices in the so-called standards-of-care, not to mention the lack of understanding of solutions outside that of the genomic realm as my family does not have any of the known genomic markers," Aldo shared with TechNode Global.
"InterVenn focuses on a critical but often misunderstood area of glycoproteomics, also ignored over many decades due to its computational complexity. We've unlocked this significant biological realm using a next-generation platform that utilizes AI, machine learning, and advanced molecular instrumentation to immensely enhance the early detection, diagnostic, treatment selection, and monitoring processes for various cancers and even other diseases," he continued.
Armed with this platform, the company has developed a first-of-its-kind glycoproteomics-based liquid biopsy solution for this purpose. Initially, it has produced VOCAL, an Ovarian Cancer Liquid biopsy diagnostic that helps physicians determine whether a tumor in a woman's pelvic region is malignant or not. The company is also developing several other tools that will help physicians in key decision-making. For example, the DAWN test aids physicians in properly matching cancer patients with the best immunotherapy based on their 'glyco score.'
The technology is the hallmark of the entire InterVenn venture. This comes as no coincidence, as Aldo considers innovativeness to be in his DNA.
Tech-focused upbringing
Born in a tech-focused family, Aldo was already engaged in coding as early as third grade. He made his first television set and first radio in his fourth and fifth grades, respectively.
Ever curious, his university days at the Ateneo De Manila University were spent engaging individuals in conversations that had taught him that the key to real business success is people, never the company numbers and the operations.
"My journey to Silicon Valley started in a parking lot in Manila–it was my dream to pitch to the world's top venture capitalists. Eventually, through sheer grit, I got investments from the likes of Kleiner Perkins, Google Ventures, and most recently, SoftBank. I have taken what I have learned and have built teams in the Philippines with the intent of leveraging the country's untapped talent potential."
Aldo co-founded the company with fellow Filipino Dr. Carlito Lebrilla, Ph.D., a glycoproteomic pioneer and professor at the University of California Davis. Another InterVenn Co-Founder is Dr. Carolyn Bertozzi Ph.D., a luminary in glycobiology and chemistry professor at Stanford University.
InterVenn continues to gain the support of global investors, mirroring the potentials and relevance of the organization. Recently, it announced the completion of a $201 million Series C funding, led by Masayoshi Son's SoftBank–the venture fund behind Didi, Grab, Bytedance, and Slack, among others–which will be used to fund the development and commercialization of Dawn (TM), the company's liquid biopsy assay for immune checkpoint inhibitor response prediction.
Carrascoso has gone a long way. From dreaming in a parking lot in the Philippines, he is now on the path to changing the global biotech, tools, and diagnostics game with positive results impacting the health and lives of many. With his ingenuity combined with his passion for others' well-being, he is out to make a difference in the world and put his home country on the global map of medical breakthroughs.
ORIGIN: How tech startups take advantage of data and intelligence in enhancing the delivery of healthcare services
Featured image credits: InterVenn Biosciences