After the buzz about a possible merger in early January, Indonesia's leading tech companies Gojek and Tokopedia have officially announced their merger. The new entity that comes out of this deal is called GoTo Group, and is set to become the biggest technology business group in Southeast Asia's largest economy.
Gojek published a blog post to inform the public about the merger, confirming many of the details floated about this merger months prior. The post notes that "GoTo Group will unlock new income-earning opportunities for millions of drivers, merchants, and entrepreneurs."
The blog post, however, did not include details about the financial terms of the merger deal. Officials from both companies also refused to share financial information, particularly the final valuation of both companies. However, they revealed that the new entity will be doing a dual listing in New York and Jakarta as it goes public in the latter part of the year.
This merger takes the distinction of being the largest business combination of its kind between two Asia-based internet and media service companies. The combined Gross Transaction Value (GTV) of the merging companies amounts to $22 billion in 2020 with more than 1.8 billion transactions undertaken. Also, the merger brings together more than 2 million registered drivers, over 11 million merchant partners,  and in excess of 100 million active users per month.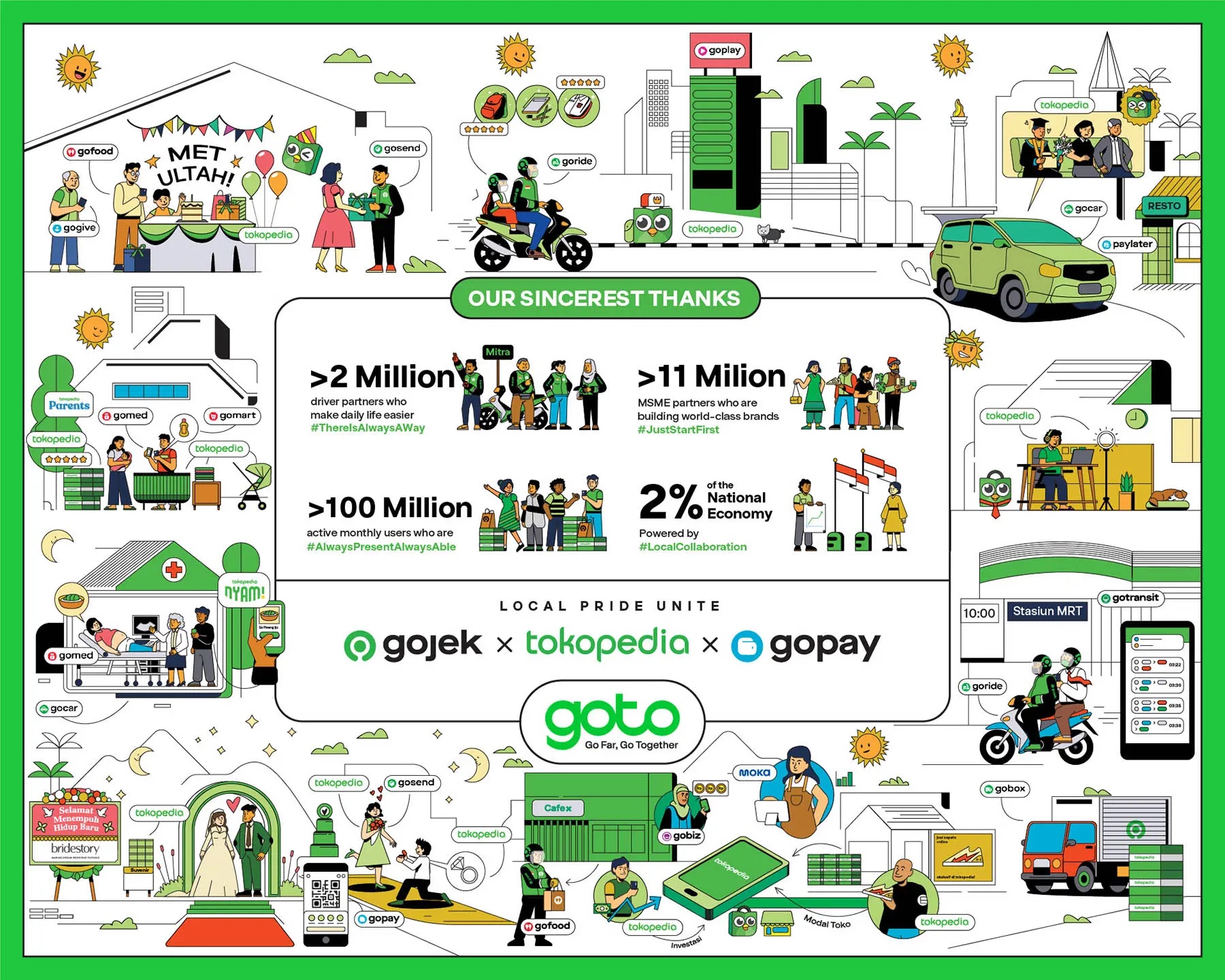 The business activities of Gojek and Tokopedia are remarkably massive, that their combined values are reportedly worth 2 percent of the entire GDP of Indonesia. For context, Indonesia's GDP is over $1 trillion, even with the pandemic's impact taken into account.
Gojek head Andre Soelistyo has been appointed the CEO of GoTo Group. "Today is a truly historic day as we mark the beginning of GoTo and the next phase of growth for Gojek, Tokopedia, and GoTo Financial," Soelistyo said. He further noted that "Gojek drivers will deliver even more Tokopedia packages, merchant partners of all sizes will benefit from strengthened business solutions and we will use our combined scale to increase financial inclusion in an emerging region with untapped growth potential."
Meanwhile, Patrick Cao, President of Tokopedia, became the President of GoTo Group. He expressed excitement over the future of the group. "Our business model is now even more diverse, stable, and sustainable," Cao said while noting the advantages of Gojek's high-volume and high-frequency mobility transactions and Tokopedia's high-value and medium-frequency e-commerce business.
The merger, according to Gojek's blog post, is backed by several notable investors including Alibaba Group, Facebook, Google, JD.com, SoftBank Vision Fund 1, Tencent,  Astra International, Pacific Century Group, Temasek, KR, BlackRock, Northstar, Sequoia Capital India, PayPal, provident, Telkomsel, Warburg Pincus, and Visa.
GoTo Group will be offering a super app that will combine all of the services offered by both Gojek and Tokopedia. Based on early promo materials officially released on Gojek's website, this super app will serve as "the go to ecosystem for daily life."
The GoTo super app's list of combined services includes the on-demand mobility and logistics services GoRide, GoCar, GoSend, GoBluebird, GoTransit, and GoBox. It also comes with the on-demand lifestyle and entertainment services GoGames, GoService, GoPlay, GoFitness, GoTix, GoMed, GoNews, and GoMall. Additionally, it has the food and grocery services GoFood, GoShop, and GoMart.
The super app also provides financial services including GoPay, GoSure, PayLater, GoStore, GoInvestasi, and GoBiz+. It also has e-commerce services particularly the Tokopedia Marketplace, Digital Foods, TokoCabang, and Dhanapala.
Gojek was reported to be in talks with Grab for a possible merger, but nothing came out of it. Grab has since announced plans to go public in the United States through a SPAC after it inked a deal with Altimeter Growth.
Founded more than a decade ago, Gojek and Tokopedia are among the first companies in Indonesia to take advantage of the digital economy. They are not strangers to each other as they have already collaborated back in 2015 for a project to accelerate e-commerce deliveries by leveraging Gojek's extensive network of drivers.
As Gojek's post about the merger writes, GoTo "will continue to expand, serving Indonesia's 270 million consumers, as well as other fast-growing and emerging markets across Southeast Asia."
Featured image credits: Unsplash