After on-demand supply chain visibility platform Roambee completed its Series B1 fundraise, Temasek-backed Reefknot Investments invested an undisclosed amount to support the company. Roambee, a logistics technology company, plans to take advantage of the strategic investment in further innovating its technology and expanding its reach to global markets, including Asia.
The strategic investment from Singapore-based Reefknot Investments follows Roambee's Series B1 funding round amounting to at least US$ 18 million, led by Anchor Group. It also precedes Roambee's Series C targeted for the second quarter of 2021. This is Reefknot Investments' third major investment in the logistics and supply chain sector.
Since its establishment in 2018, Singapore-based Reefknot Investments has backed companies that offer logistics solutions that utilize Artificial Intelligence, Deep Tech, Digital Logistics, and Trade Finance, such as Previse and Secondmind. The firm is led by Managing Director Marc Dragon. He brings in his extensive experience and network from more than 20 years of entrepreneurial, corporate, supply chain and technology leadership roles.
In a statement shared with TechNode Global, Dragon said: "We are excited about this new partnership and believe that Roambee's blend of class-leading AI-enabled Supply Chain Visibility and IoT platform, together with industry tuned industry process insights, is uniquely positioned to support their clients as well as the industry's push towards on-demand multi-modal Supply Chain Visibility and insights. This aligns with our mandate to invest in transformative technologies that drives supply chain and logistics evolution."
On-demand global real-time location and condition monitoring
Roambee's platform provides on-demand global real-time location and condition monitoring of shipments by utilizing its AI tech to integrate, manage, and rationalize data from different sources. With their enterprise-grade IoT tech, customers can track packages or shipments across road, rail, air, or ocean routes.
The company was established in 2013 and is currently led by acting Chairman and Chief Executive Officer Sanjay Sharma. The Silicon Valley veteran brings in his more than 17 years of extensive entrepreneurial tech startup experience. He has also successfully led and exited 2 Silicon Valley startups: KeyTone Technologies and Plexus Technologies.
Since the pandemic started, Roambee has been able to adapt well. It has seen growth in its market reach with new and existing customers, innovated their platform, and improved its business controls. It has been monitoring orders such as reusable containers, Covid-19 vaccines, data server products, and smartphones. The company's sales orders have more than doubled since 2019. Roambee has also been working with B2B insurance companies to mitigate logistics risks. Since pre-pandemic days, Roambee has acquired customers such as Mondelez, Lenovo, IFCO Packaging, ICICI Lombard Insurance, and the United Nations World Food Programme.
"The pandemic has changed the dynamics of supply drastically, lengthening any recovery period. Our goal is to expand our platform's capabilities to include more sensor and non-sensor data sources to eliminate disruptions and reduce risks in the supply chain. Reefknot's support will allow us to fast-track the transformation of today's global supply chains through better industry insights–from port controls and trade routes," Sharma said in a statement shared with TechNode Global.
Roambee plans to use its Series B1 and its strategic investment from Reefknot to continue innovating its product front and expand its market reach globally, including Asia. The logistics company currently has offices across the US, Mexico, Brazil, UK, Germany, UAE, India, and Indonesia. It plans to open up their Southeast Asian HQ in Singapore this Q1 2021. With Reefknot's support, Roambee will be able to access the SG VC firm's Global and Asian connections to help with its expansion.
TechNode Global Q&A with Roambee Chairman and CEO Sanjay Sharma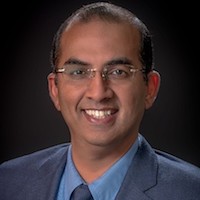 What are the three key challenges in supply and logistics brought about by the pandemic?
The first challenge is about the increased uncertainty in the new normal. Companies are switching to using new lanes, new transport partners, and new modes of transport in a matter of weeks, without standard evaluation periods.
The second is an increasing demand for an e-commerce-type experience in B2B supply chain & logistics. B2B professionals are getting more accustomed to the B2C e-commerce experience in their personal lives and expecting their B2B suppliers to meet this new bar of speed and convenience.
The third is the need for empowering frontline staff to make the right decisions on the go by ensuring that real-time shipment information is on their fingertips. With more remote collaboration and increased uncertainty post the pandemic, the cost of delay in decision-making could be as significant as making the wrong decision.
What new opportunities will the distribution of the COVID-19 vaccine entail?
The additional challenge with the COVID-19 vaccine distribution is its speed to market and the unprecedented pace of scale-up. Pharma companies are rolling out vaccines at full scale from day 1 and shipping to parts of the world which may not be necessarily be accustomed to first world cold chain management practices. However, they still need to ensure that the vaccine reaches all its consumers on time and without any impact on its efficacy, all the way to the last mile.
How is Roambee uniquely-positioned in addressing these?
Roambee's sensor-driven supply chain signals are real-time; decisions can be made on the go.
Roambee covers all legs of a shipment's journey and at a package level, irrespective of whether it is shipped by road, rail, air, or ocean.
Roambee can be used on-demand without setting up infrastructure or relying on anyone in the chain of custody. You get the complete package of sensors, connectivity, non-sensor data intelligence, AI-enabled insights & foresight, and control-tower action to ultimately build an actionable digital twin.
The real-time and on-demand nature of Roambee's solution is well-positioned to address the post-pandemic supply chains of the world with prompt and reliable decision-making.
What is the company's go-to-market strategy, particularly in the Asia Pacific region?
First, we want to expand our service with our global customers who have operations in Asia. By doing so, they will have a full view, from sourcing raw materials to delivering finished products.
Second, we want to enable APAC giants with our solution so that they can accelerate and upgrade their supply chains to be globally competitive.
Third, Roambee will work with various industry partners to create new standards and be a part of the digital ecosystem.