Anyone who is looking for a good deal on a used car knows the pain points. Unless you have considerable knowledge or expertise in automobiles, chances are you will have difficulty finding a good car that fits your budget. You might be getting a car that has hidden issues that could be expensive to repair or maintain in the long run, for example.
For a seller, finding the right buyer can also be a challenge, particularly if you want your car to fetch a good price at the right time.
And while buyers and sellers can often get good deals from personal transactions, dealer certification adds to the confidence that a car you're buying at least passes certain standards. I recall one luxury brand selling certified used cars using their tagline as "Sometimes brand is more important than new." This is a play on the term "brand new," wherein the company puts stress on the importance of the brand and the certification rather than newness of the vehicle. Certified pre-owned cars from that luxury brand come with their own warranty–mostly unheard-of in transactions involving used automobiles.
It might be high time to apply the same concept to the used car market regardless of whether it's a luxury vehicle or an inexpensive daily driver.
Carsome, an automotive e-commerce platform originating from Malaysia, aims to innovate the used car business with its end-to-end business model that includes car inspection, ownership transfer, and financing. By partnering with car dealerships across Southeast Asia, the five-year-old company has become more inclusive rather than competitive with industry incumbents.
The company recently raised a $30 million Series D funding led by Asia Partners and joined by existing investors Burda Principal Investments and Ondine Capital. With over US$115 million raised to date, Carsome now looks to accelerate its regional expansion in Southeast Asia.
In this interview, Eric Cheng, Carsome Co-Founder and Group Chief Executive Officer, shares his insights on the company's strategy in using data, innovations, and partnerships to address the industry pain points and expansion in Southeast Asia.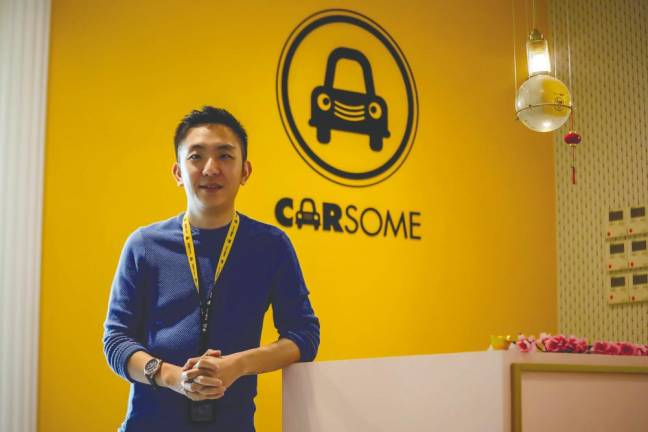 What are the three key challenges faced by stakeholders in the used car industry?
The used car industry is one marred with distrust, mainly due to the lack of transparency.
For car owners, selling a car is a painful process. It could take a few months just to sell a used car through offline businesses, involving visits to multiple dealerships. Often, consumers would sell their cars at a disadvantaged price due to pricing discrepancies.
For used car buyers, it is often difficult to obtain full information of the cars they wish to purchase. It is not unusual for them to request to view a seemingly decent used car on listing pages, to be then offered a subpar car during viewing or test drive. There is also the worry of problematic cars, or the lack of after-sales service.
For used car dealers, sourcing for constant, quality inventory is a challenge, especially for those not located in big cities.
What are the innovations that Carsome has introduced to address these?
For car sellers, our process is convenient and efficient. They can first book an appointment online, before heading to a Carsome inspection centre to get a free, 30-min car inspection. They then have the option to accept the on-the-spot price offer, or put their cars up onto Carsome's bidding platform that is accessible by nationwide car dealers, giving them access to the best possible price. Upon agreement of sale, Carsome will then manage all the paperwork for sellers before paying the sellers as quickly as an hour.
For car buyers, their journey with Carsome starts with browsing of car models online – on Carsome's website, or even on e-commerce sites such as Lazada and Shopee. They can then book for test drives at a Carsome Experience Center, or opt for home test drives. After a purchase confirmation, Carsome will also manage the end-to-end paperwork, before buyers collect their new purchase, or have their cars home-delivered. All Carsome car buyers are covered under the Carsome Promise, which offers a one-year warranty, a Carsome Certified car and a 5-day money-back guarantee. All Carsome Certified cars have undergone a 175-point inspection, have not been in a major accident, and do not have structural or flood damage.
As for used car dealers, they can access a constant stream of used cars that have undergone a 175-point inspection, complete with damage report via Carsome's platform. They can also list their inventories for sale on Carsome's website, tapping on our extensive marketing reach to sell their inventories faster, a value-added service exclusively for our partner dealers.
Automotive e-commerce platform Carsome raises $30M Series D to accelerate expansion in Southeast Asia
What makes Carsome uniquely positioned in addressing these market challenges?
Throughout our five years of helping consumers sell their cars, we have developed the largest supply of used cars, comprehensive car inspection and grading standards as well as sophisticated data intelligence. Our data intelligence enables us to learn about demand in a detailed and dynamic manner, gain a better understanding of our products to ensure constant improvement, and control supply chain (in terms of inventory procurement and management).
What is your strategy for expansion in the region, and can this be replicated in other industries, as well?
Before entering any market, it is important to understand the local landscape, be it the needs, problems, behaviors, etc. of our stakeholders. We need to identify the problems or pain points, before deciding how to offer a long-term and sustainable solution. For Carsome, it is always about addressing the pain points of the used car market, which are mainly similar across most Southeast Asian countries. Subsequently, we need to work on engaging local partners and talent to form a strong foundation in each country.
After gaining a regional footprint, we are now putting our focus on expanding vertically to second and third-tier cities in each country, to further strengthen our dealer network and to offer our solution-based offerings to used car sellers, buyers and dealers across cities.
Kindly share a brief background of your team and your company's founding story.
Back then, there was no single systemised platform within the used car market. Therefore, my business partner (Carsome co-founder and current Chief Business Development Officer) Jiun Ee Teoh and I founded Carsome in 2015 to address the industry pain points by providing a transparent and hassle-free service on our platform. From free car inspections, offering an on-the-spot sell price or listing consumers' cars onto our bidding platform, to managing paperwork for sellers, car owners can sell their cars in 24 hours or less.
This year, we launched our business-to-consumer service through the introduction of "The New Way of Buying Cars", an online-to-offline used car-buying experience that offers customers extra assurance on top of the same transparent and convenient proposition we have been offering for the past five years. We have also grown our workforce from five to over 1,000. Last month, we celebrated our 100,000th car seller, a milestone achieved within five years of establishment.