Tech Insights Series (Go-Global special): Understanding blockchain applications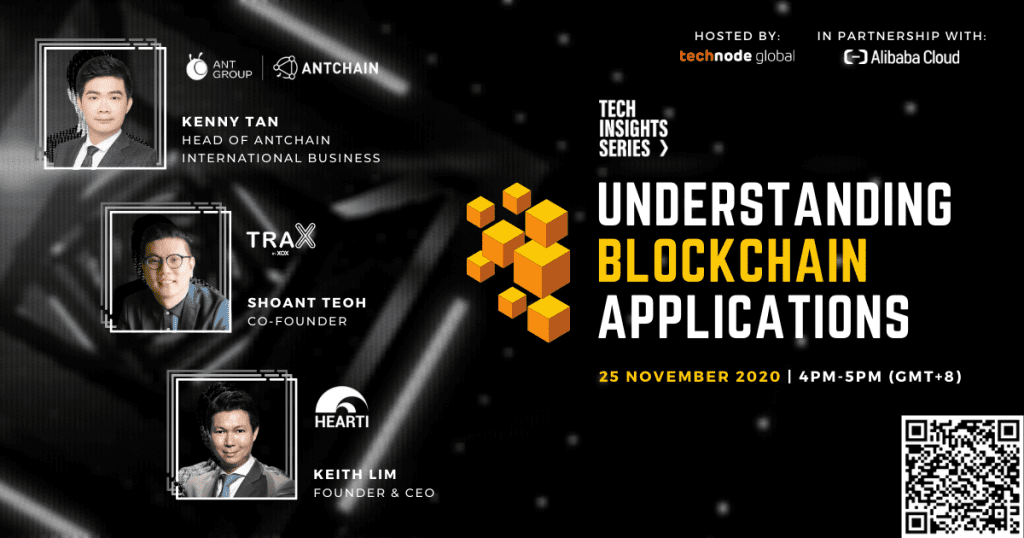 DETAILS:
About this Event:
The global blockchain market is growing rapidly and it is forecast that its market size will reach $23.3 billion by 2023. Although this technology is usually associated with digital currencies, it has several other practical applications in a number of industries such as agriculture, logistics, healthcare, real estate, cloud storage, education, F&B, etc. Southeast Asian countries are also improving their regulatory frameworks to reap more benefits from different applications of blockchain technology.
Join us on Nov. 25 as we invite regional industry players to share blockchain application examples and address the various issues surrounding this new technology.
What is Tech Insights Series?:
Tech Insights Series is a community-driven content track hosted by TechNode Global. In each session, we aim to uncover and discuss the latest developments in SEA tech & startup scene.
In partnership with Alibaba Cloud, we will be launching a Go-Global special Tech Insights Series to understand the efforts of SEA tech companies who are leveraging technology innovation to remain operational. We hope that the majority of tech companies and entrepreneurs will join us in this initiative.
DATE & TIME:
Nov. 25, 2020, Wednesday
4.00pm – 5.00pm (GMT+8)
AGENDA:
4.00pm – 4.05pm (GMT+8): Opening remarks; Speakers' introduction
4.05pm – 4.15pm (GMT+8): Empowering SMEs to achieve greater product traceability and information transparency
4.15pm – 4.25pm (GMT+8): IoT-enabled blockchain: Trust, efficiency, transparency
4.25pm – 4.35pm (GMT+8): How blockchain is transforming the insurance industry
4.35pm – 5.00pm (GMT+8): Panel discussion + Q&A
LOCATION:
Zoom Webinar. Registrants will receive the zoom link in your inbox and a Google calendar invitation prior to the event.
RSVP:
Tech Insights series is open to the public audience. Slots are limited and we will close registration once the maximum capacity is hit. RSVP here. 
PANELLISTS: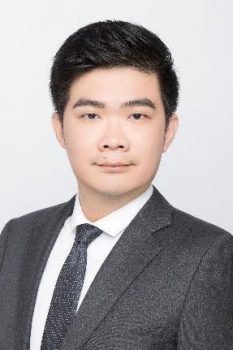 Kenny Tan
Head of AntChain International Business | AntChain
Kenny was appointed as the Head of AntChain International Business in 2020. In his current role, he is responsible for leading the business operations and growth of AntChain in Southeast Asia, as well as to nurture and strengthen the local ecosystem through partnerships.
Prior to this role, Kenny was the General Manager of Alibaba Cloud Malaysia in 2018, leading the pioneer team of the Cloud business in Malaysia. During his tenure, he was behind the success of Malaysia smart traffic initiative which is powered by Alibaba Cloud, drove digital transformation for key enterprise clients in the financial services and public sector, including TNG, MDEC, etc., and set up the first data center by an international Cloud provider in Malaysia.
In 2019, he became the General Manager of Strategic Account & Alliance in APAC of Alibaba Cloud Intelligence, driving the transformation of Alibaba Cloud ISV's ecosystem and marketplace platform.
Previously working in IBM, Kenny is a veteran in the enterprise technology industry with a proven track record in driving business success for enterprises, SMEs and start-ups. His recent projects include developing ecosystems, enhancing cloud security and solutions for businesses, and bringing innovative big data and machine learning technologies to ASEAN.
Kenny has a deep passion for Cloud Computing, Big Data, AI and Blockchain, and is enthusiastic about using technology to empower public sector and businesses for greater productivity and operational efficiencies. Besides, Kenny is a strong believer in the ecosystem and collaboration that will bring the business further and succeed together with business partners.
Kenny graduated from Deakin University with a degree in Computer Science/Information Technology.
---
Shoant Teoh  
Co-founder | TraX, XOX
Shoant Teoh is the CEO of TanTanNews, a Chinese social news portal founded in 2012 that managed to reach 7 million monthly unique visitors and generated 20 million monthly page views at its peak. It was later invested by Media Prima Digital in 2019. Shoant has co-founded several businesses ranging from website development, F&B, to LED lighting at an early age. Recently, he built MOpress.io and Trax by XOX project using blockchain — partnering with AntChain — and AI to digitize businesses.
---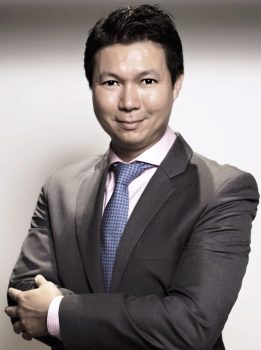 Keith Lim
Founder & CEO | Hearti Lab Pte Ltd
Keith Lim is the Founder and CEO of two technology companies, and a Venture Capitalist and MNC corporate leader. Keith started his career in banks and consulting companies. His last corporate role was with Moody's Analytics as Managing Director for Asia Pacific.
In 2012, Keith co-founded Mezzofy, which was a fast growing mobile payment platform in Asia with strategic partnerships with Alipay China and Bank Mandiri Indonesia. Mezzofy was subsequently acquired by a global leader in coupon management. Following Mezzofy, Keith founded Hearti Lab. Hearti is an Artificial Intelligence and Blockchain platform for insurance companies. With Hearti, insurance companies are able to offer innovative products, 24/7 customer service chatbots, efficient claims management, smart fraud detection and seamless payments. Keith is also a partner of TGV 4, a technology VC fund that invests in blockchain companies globally.