Call for Startup Applications! – Life's A Pitch! HealthTech Special in Collaboration with BlueChilli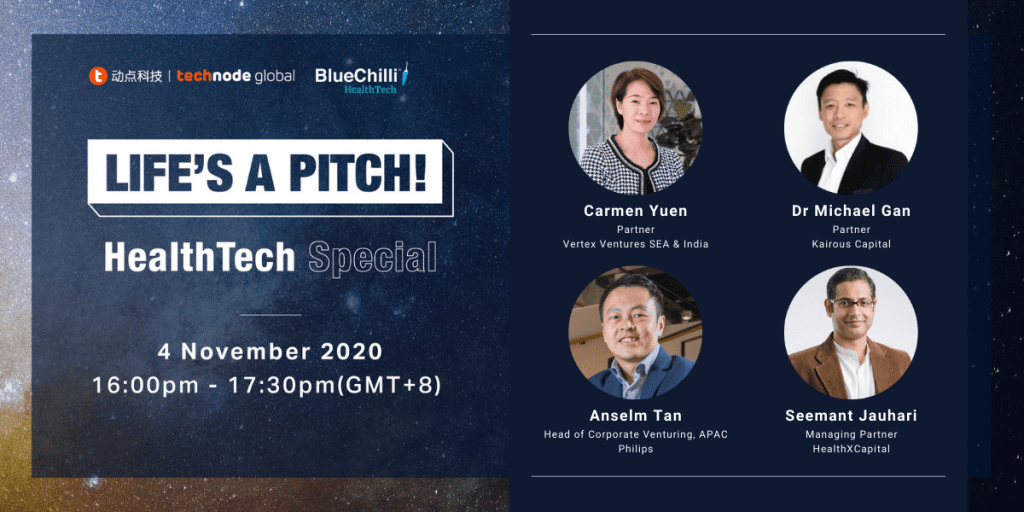 DETAILS:
About this event:
Catch Cold or Catch Gold!
In a special HealthTech edition, TechNode Global's Life's A Pitch! collaborates with BlueChilli to focus on this promising industry. Pitch to 4 Venture Capitalists (VCs) that invest in the future of our Healthcare industry. If you are working on some secret cure or revamping the age-old industry with revolutionary technology, as long as you have an MVP and secured paying clients, we welcome you to join the pitch.
Only 6 shortlisted HealthTech startups from the region will stand a chance to pitch live to a panel of investor "judges" for Q&A and feedback. It will be followed by a short discussion panel on the topic "Investing in Early Stage HealthTech Startups SEA".
If you think you've got what it takes, sign up today!
Who is this for and what is Life's A Pitch!:
HealthTech Startups
VCs/Corporates/HealthTech Enthusiasts
Life's A Pitch! is an initiative founded by TechNode Global during COVID-19 to help the ecosystem stay connected. In collaboration with BlueChilli, we are hosting this HealthTech special live pitching session as the final part of the 3-part Asia's Most Wanted – Digital Health Series. With a combination of webinars + pitching, we hope to impart knowledge on the latest trends and developments in the digital healthcare domain to our participants and provide a platform to showcase some of the most exciting disruptions happening in this space.
APPLICATION PERIOD:
Open Now till 27 October 2020, 1200H (GMT+8)
Announcement of Final 6:
29 October 2020, 1800H (GMT+8)
JOINING CRITERIA:
Early-stage HealthTech Startups with AT LEAST SEED funding OR have established early market traction, Series A included.
SIGN UP here.
For Audience: Secure your slot to watch the live pitch here. 
PITCH DATE & AGENDA:
4 November 2020, Wednesday, 4pm – 5.30pm (GMT+8)
Agenda of Event:
4:00pm – 4:10pm (GMT+8): Welcome and Introduction
4:10pm – 5:10pm (GMT+8): 6 Pitches
5:10pm – 5:30pm (GMT+8): Panel Discussion with VCs (see below)
Panel Discussion with VCs (20min):
Investing in Early Stage HealthTech Startups SEA – Sit in with our Judges who are renowned VCs in the healthcare space to learn about their investment theories and understand what makes them sign the cheque!
JUDGES/PANELLISTS: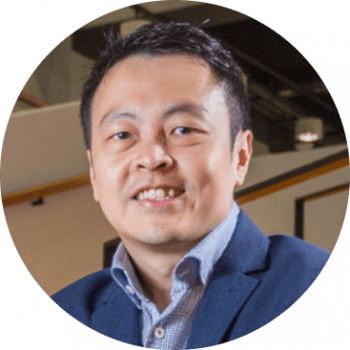 Head of Corporate Venturing APAC | Philips
---
Anselm Tan is Head of Corporate Venturing at Philips ASEAN & Pacific. Philips is focused on making the world healthier and more sustainable. At Philips, Anselm leads venture investments and partners promising technology companies to drive change and improvement in the healthcare system. He currently holds several board roles at startup companies. Previously, Anselm worked in several roles at Standard Chartered Bank and the Defence Science and Technology Agency. He has corporate venture capital, finance, and operating background.
Anselm is Singaporean, a Fellow and Chartered Certified Accountant, and graduated with a Bachelor of Electrical and Electronics Engineering from Nanyang Technological University.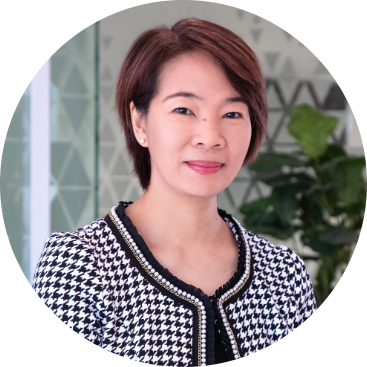 Partner | Vertex Ventures Southeast Asia and India
---
Carmen Yuen joined Vertex Ventures Southeast Asia and India in 2014. She has served many years in Singapore's government-backed venture capital initiatives including EDB Investments and Spring SEEDS Capital where she worked closely with many startup companies in Singapore. She currently serves on the Board of TickledMedia (dba TheAsianParent.com) and Turnkey Lender. Carmen received her BBA from Simon Fraser University.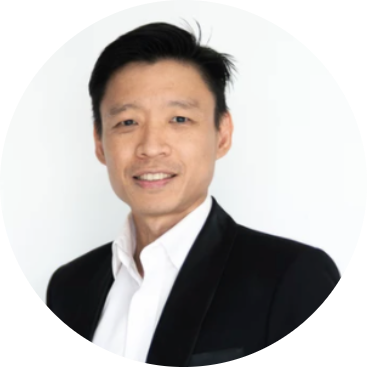 Partner | Kairous Capital
---
Dr. Michael Gan graduated as a Doctor of Medicine from Universiti Sains Malaysia and carries with him more than 20 years of entrepreneurship, corporate advisory, corporate funding, M&A and private equity investment experience. Dr. Michael Gan left medical practice to pursue entrepreneurship in medical technology and biotechnology. He was with a boutique Private Equity fund for 10 years, specializing in technology and healthcare investments globally. Dr Gan is also an investor, advisor and board member of various other companies in fund management, agriculture, construction, pharmaceuticals, eCommerce, logistics, and digital marketing. Dr Gan is passionate about all things tech, especially how technology is disrupting the way businesses are conducted today. He helps businesses in their digitization journey as well as consults for companies in various stages of growth. He is currently a partner with Kairous Capital, a regional + China Venture Capital firm predominantly investing in eCommerce, fintech, digital health, insurtech and edutech.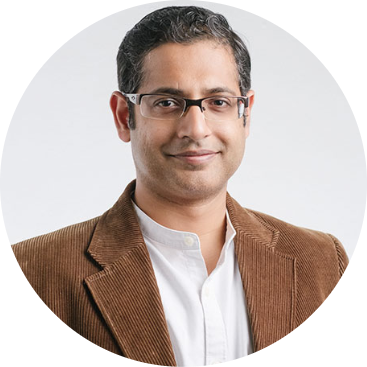 Managing Partner | HealthXCapital
---
Seemant brings 19 years of experience in healthcare innovation, business consulting, and strategy. Prior to HealthXCapital, he was the CEO – Innovations & Research at Apollo Hospitals. He spearheaded Apollo's initiatives to scout, evaluate, invest and commercialize innovations. Seemant also served as a Director on the board of multiple Apollo Hospitals joint venture entities focused on bio-banking, cord blood banking and clinical trials. In his previous assignments, Seemant has had diverse experience across business consulting at Ernst & Young, strategy and transformation at Nokia Solutions Networks and IT consulting at Tata Consultancy Services.
Seemant is a graduate of the Indian School of Business (ISB) with executive education from Berkeley-Haas and Recanti Business School, Tel Aviv. He has a Bachelors in Engineering from the Birla Institute of Technology.
LOCATION:
Zoom Webinar.