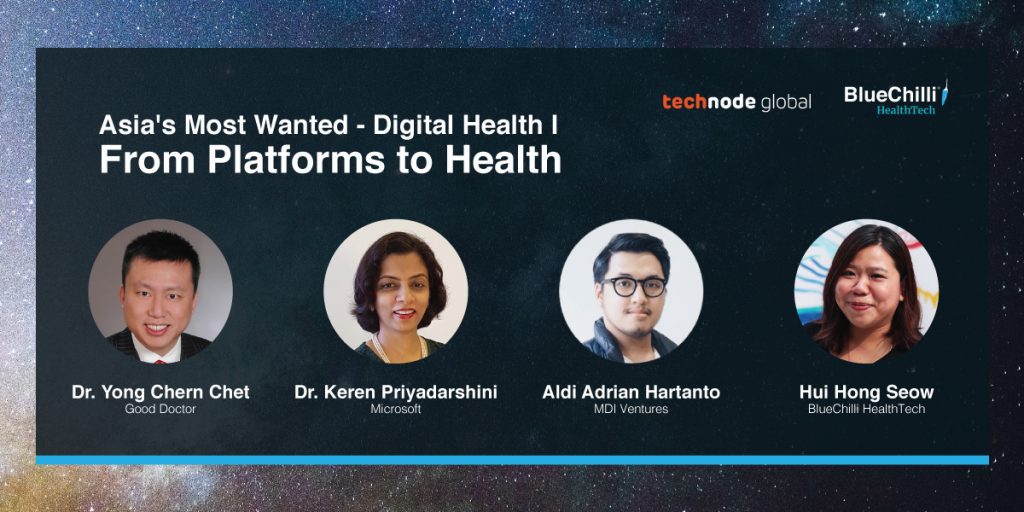 Asia's Most Wanted – Digital Health Part I is part of a three-part HealthTech special series organised by BlueChilli healthtech and TechNode Global to shed light into burning topics and emerging developments in Asia's healthcare industry.
How are platforms rising to the immense opportunities and challenges for healthcare in Asia?
To answer this question, I had the honour of hosting a live discussion on Sept. 30 on the topic "From platforms to health" with three amazing speakers and a curious audience. I have put together this insights piece to make the most out of our collective learning, with much gratitude to these speakers for their contribution:
Aldi Adrian Hartanto, VP of Investments, MDI Ventures
Dr. Keren Priyadarshini, Regional Business Lead, Worldwide Health, Microsoft Asia
Dr. Yong Chern Chet (Chet), Chief Operating Officer, Good Doctor
The gist of how platforms are transforming healthcare based on the discussion can be distilled into four key themes:
All-in for access
From connectivity to productivity
Global tech driven by local needs
Ecosystem takes all
All-in for access
Technology platforms expanding into health are focusing on one of the biggest problems in healthcare: lack of access, often associated with physical constraints as well as high costs, for people who need health services.
For Good Doctor Technology (GDT) to establish their platform, Chet leveraged their strategic partners and investors for (i) market access, riding on Grab's platform and Softbank for in-market touch points, and (ii) technology, utilizing Ping An's AI capabilities.
GDT chose to focus on augmenting doctors' capacity as they felt it is fundamental to unlocking access especially where clinical resources are scarce. This was also why Indonesia was chosen as a primary market to launch their services. The country faces large issues related to healthcare access, especially with geographical spread and cost, as well as extremely low physician density.
For MDI Ventures (MDI), Aldi shared that access is the problem they are most obsessed with currently to shift the needle in health with their latest fund. Solutions that interest them need to (i) enable efficiency in healthcare delivery using limited clinical resources, (ii) provide better user experience, and (iii) build the capabilities of existing healthcare stakeholders such that quality is improved and access is democratized. In terms of a platform play, he sees growing user bases, engagement, and stickiness of the new solutions as key to value add from a strategic perspective. He believes that providing solutions that users gravitate towards is the key to attracting payers, and therefore monetization.
Various use cases that Keren shared on how Microsoft is applying AI on healthcare also focused on access, with early detection and timely intervention being the key areas where their technology platforms are advancing impact.
One of the examples she shared was their work with Forus Health, a medical device manufacturer that is transforming into a digital health solution business. Forus Health has been working to enable early detection of blindness in diabetic retinopathy and democratise eye care. The collaboration has enabled portable devices to be used in remote areas for active screening and point-of-care diagnostics, even where they have no internet connectivity.
From connectivity to productivity
Another key trend discussed was how platforms addressing health needs are moving beyond connectivity (e.g. for information and services) to productivity. Productivity in this instance included (i) increasing the capabilities and capacity of existing clinical resources, (ii) lowering marginal cost of value delivery, and (iii) streamlining user experience.
The biggest disruption that technology platforms brought in the healthcare industry is to shift power towards end users with increased interest in individual patient outcomes, Keren said. She believes in a vision where "patient is king" akin to how "consumer is king".
Achieving this vision requires more than alignment of values. It takes addressing both connectivity and productivity challenges including interoperability of systems and data, distribution of services and products, and creativity in problem identification and designing solutions. On tech-enabled productivity making a dent in the industry, she shared how Microsoft used AI to aid healthcare providers in detecting early signs of disease often missed by radiologists, such as lung cancer and pneumonia.
Productivity is core to GDT's thesis of increasing access and quality for healthcare while decreasing cost, Chet said. In order to achieve that, they need to redesign the delivery system to break the current constraints. They do so by using (i) mobile access to overcome geographical barriers, (ii) AI-aided clinical pathways to standardise and enhance quality of care, and (iii) AI for the "heavy lifting" in the customer journey for consultations (e.g. greeting, establishing symptoms and potential recommendations) so doctors can focus on decision points, thereby increasing effective caseload drastically and improving cost efficiency.
Aldi observed that demand driven by end users provided the momentum for necessary productivity changes in healthcare providers and payers. For example, initially, some providers were very disconnected internally, with different parts of one hospital chain using different Electronic Medical Records (EMRs). When Covid-19 restricted people's movement, patient demand for online services rose, and so providers had to look into standardisation as well as closing access gaps in order to serve the continuum of health needs across facilities. In Indonesia, consumer demand is focused on treatment. Nonetheless, Aldi sees this momentum continuing into early diagnosis and preventive health in the near future.
Global tech driven by local needs
The healthcare industry is highly localised and very sensitive to trust and safety. With Asia's fragmented market conditions thrown to the mix, these present formidable challenges for healthtech solutions to scale in the region. Experts agreed that if tech platforms want to scale successfully, they must use the process of problem adaptation, stakeholder buy-in, and local data acquisition, in order to win markets based on their needs.
Aldi's portfolio healthtech startups often localise their core value proposition to cater to different markets. He likened the process to creating startups within a startup. As an investor, he is more patient with his healthtech companies as they are not in an industry where they could "break things to move fast," given that lives are at stake.
He cited mClinica as an example. When they are looking into a market, they first seek to understand the pain points in the system and regulatory framework, as the needs can be very different (e.g. counterfeit drugs issues, know-your-customer and licensing requirements etc). Another company which started with Client Management Systems in Hong Kong, later partnered with Third Party Administrator (TPA) Admedika to jointly serve customers in Indonesia, and yet, at the same time it provides direct TPA services in Malaysia. He added that because of the complexity, MDI tends to invest in more mature founders when it comes to healthtech compared to other industries.
Keren discussed Microsoft's collaboration with Apollo Hospitals to predict the risk of cardiovascular disease and cardiac arrest in the Indian population using localised scale and variables, attesting to the fact that AI can be applied at scale if well-localised.
GDT's AI is constantly evolving using local data in Indonesia to verify the clinical pathways that are salient to the market and ensuring that checks and balances are designed with their local clinical team's input, Chet said. He added that the contextualisation is not only necessary to adapt to local market conditions, but also to embed healthcare systems such as medical practice into the technology, rather than replacing them.
Technology by nature has the potential to enable solutions at global scale by creating uniformity in delivery, making outcomes and quality more quantifiable and transparent, and equalising the differences in resourcing and training across localities. However, the go-to market strategies required to enable access are differentiated, for example channel strategies to payment models.
Ecosystem takes all
Will we see a winner takes all scenario in APAC for platforms in health? All the speakers had different ways of getting to what was ultimately to a unanimous "No."
Keren was quick to state her view that the future belongs to the ecosystem, adding she sees different players building on each other like Lego blocks to solve problems. "1 plus 1 is not equal to 2, it equals 11," she emphasized the importance of partnerships and that it is solely through partnerships that Microsoft advances its agenda in health.
Elaborating on ecosystem play, she said that those that are most used by and have their solutions most connected with other players in the ecosystem will thrive. Microsoft counts 68,000 health partners on their platform, each contributing a unique solution or market entry point. They are on the lookout for more. She urged for start-ups to leverage big tech's momentum "like fish riding on the whale" in getting embedded into ecosystems and getting ahead.
Chet expressed that "people will have to be the winner," explaining that the point for technology disruptions is to serve needs better than the status quo. He added that the traditional platforms in the industry, such as national healthcare systems, will continue to be important in the ecosystem and need to be part of the equation for unlocking value.
Partnerships will be crucial, aligned based on purpose, to bring together the people that need to be on board to move the needle, Chet said. For acute needs they partner healthcare providers with facilities, whilst for ongoing health management they partner pharmaceutical companies, and for patient community they partner forums. GDT is keen to explore potential partnerships where Chet believes digital platforms cam make the most difference; preventive health, "well-care," and chronic health issues management.
Aldi added that consolidation will not happen soon in Asia, especially in Southeast Asia. His view is that unlike other industry verticals, it will be harder to model after developed markets for healthtech solutions due to the vast difference in needs and infrastructure. For example, Indonesia is very much focused on democratising basic access and enabling quality primary care. That's a very different game compared to US and Europe.
MDI's latest multi-stage fund that looks for companies from seed to pre-IPO, and health as one of the two focal areas of investment, is designed to take an ecosystem approach to advance their agenda, the VP said. For example, the fund is working with the Indonesia Healthcare Corporation as a key stakeholder, which, with more than 3,000 healthcare facilities from various state-owned enterprises, is the largest collective of healthcare providers in Indonesia.
In a nutshell
To sum up the key insights gleaned:
All-in for access: Industry disruptions driven by technology unlock the most value when directed on pervasive problems experienced by large numbers of users. In this region, access is at the heart of the healthcare problems that technology platforms focus on.
From connectivity to productivity: Beyond connecting users to timely information, services, and products, platforms are focusing on breaking constraints in the system by unlocking productivity gains to improve access, quality, and cost efficiency simultaneously.
Global tech driven by local needs: Leveraging on the intrinsic nature of technology that lends itself to scale, such as enabling uniformity of quality and lowering marginal cost for delivery, platforms that thrive need to tailor their value proposition to each market's conditions and develop localised data.
Ecosystem takes all: We are not expecting any giant to dominate the platform play in the region with massive consolidation in the near future, in part due to varied market needs and maturity. Platforms that are most plugged with other players are more likely to be attractive to users and hence win as an ecosystem that builds on each other.
This insights piece is written by Seow Hui Hong, the Business and Programme Director of BlueChilli and edited by TechNode Global.