The inaugural ORIGIN Innovation Awards by TechNode Global is calling out for nominations, and you can submit your entries before August 31, 2020, at https://technode.global/origin/innovation-awards/. 
Our work at TechNode Global has always been focused on connecting APAC markets and we place great emphasis in celebrating leaders who have made an impact on the tech ecosystem in one way or another. ORIGIN Innovation Awards aims to celebrate the spirit of innovation of entrepreneurship across APAC and propel the tech community to greater heights. 
This year, ORIGIN Innovation Awards introduces four main awards categories: Startups Awards, Digital Transformation Awards, Ecosystem Enablers Awards and lastly, Movers & Shakers Awards. 
The Movers & Shakers Awards recognizes individuals who have exemplified important qualities of a great leader, and dedication to the startup community, giving back through offering mentorship and serving as a resource in a peer-to-peer environment.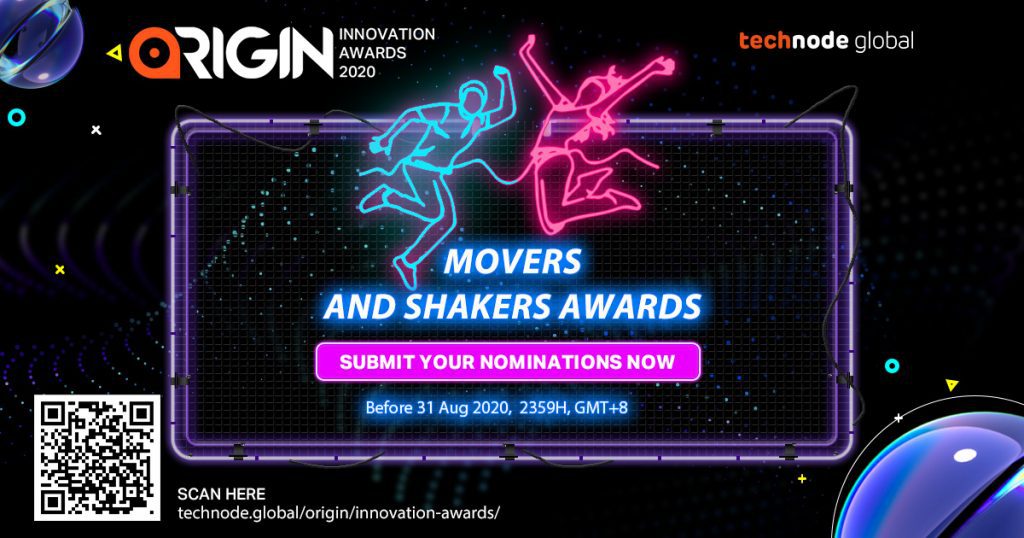 As such, TechNode Global presents five sub-categories under the Movers & Shakers Awards Category:
Outstanding Female VC (individual)

Promising Female Founder (individual)

Founder of the Year (individual)

Best Sustainable Solution (company entity/solution)

Resilience Award (company entity/solution)
The technology space is widely perceived to be male-dominated. Although the bro-tech stereotype still prevails, we are seeing more initiatives and programs introduced by universities and workplaces to encourage women into technology careers. It's an important move because the ratings for the leadership effectiveness of women versus men were the most pronounced in information technology, where women had a percentile score of 52.1 compared to 42 for men.
The Outstanding Female VC and Promising Female Founder celebrate the digital advancement and business acumen, and champion the women forging technology innovation.
The Best Sustainable Solution recognizes companies/solutions that have developed solutions to serve a greater cause (e.g. social, cultural or environmental issues), bringing benefits to the community-at-large.
In light of the significant impact on businesses and the economy during this crisis, a special Resilience Award will be given out to acknowledge companies/solutions which are proven capable of fighting the pandemic. 
Read: Inaugural ORIGIN Innovation Awards celebrates the spirit of innovation and entrepreneurship
How you can be involved 
The Movers & Shakers Awards is open for both public nominations and self-nominations. Please note that the nominees must be based in APAC. Submit your entries before August 31, 2020. 
Timeline
Public nomination and self-nomination: June 1 – August 31

Advisory Committee review: September 1 – October 31

ORIGIN Sum

mit x ORIGIN Innovation Awards: December 2020 – January 2021
For more information about ORIGIN Innovation Awards, please visit: technode.global/origin/innovation-awards.
ORIGIN Innovation Awards is supported by: