The coronavirus pandemic has taken a tremendous toll on the global economy, putting global supply and industrial chains at risks. 
Despite the economic growth slowdown, Asia has achieved remarkable growth compared to other regions in 2019. With a weighted real GDP growth rate of 1.1% higher than the world as a whole, APAC's proportion of global economic activity has been increasing steadily. 
Technology developments are imperative to stimulate the economy in times of unprecedented challenges. That's why TechNode continues to support Asia Hardware Battle during this crisis, encouraging innovators to develop cutting-edge technologies.
Held since 2016, AHB was previously an international hardware startup competition held annually across Asia. Asian technology and innovation ecosystem is thriving as cutting-edge technology continues to emerge. Such innovations are a vital driving force for industrial upgrading and development.
This year, TechNode will transform Asia Hardware Battle into Asia Hot-Tech Battle, focusing on emerging technologies. It continues to be an international platform for innovative entrepreneurs to connect and exchange ideas, driving developments across industries.
This year's Asia Hot-Tech Battle welcomes applications from industries including but not limited to consumer electronics, IoT, AI, 5G, fintech, smart mobility, proptech, new retail, medtech, edutech, and foodtech.
Online applications are now open, and the city pitches will take place beginning June in Beijing, Shanghai, Hangzhou, Nanjing, Shenzhen, Guangzhou, Wuhan, Xi'an, Singapore, Japan, India, Thailand, Indonesia, Malaysia, South Korea, Vietnam, and other cities (we will continue to monitor the evolving situation leading up to the event). Breaking boundaries, Asia Hot-Tech Battle aims to uncover outstanding Asia's cutting-edge technologies, providing a fulfilling and rich competition experience. 
TechNode as the organizer of AHB, is dedicated in leveraging its resources and vast network in global innovation and entrepreneurship. In collaboration with TechNode Global, the international arm of TechNode, AHB will be tapping into virtual pitching initiative Life's a Pitch to spread the word of this competition. 
Life's a Pitch is an online fundraising initiative held fortnightly during the Covid-19 pandemic. Southeast Asian startups in search of fresh funding and partnerships get to pitch to esteemed investors and get connected with various innovation ecosystems across Asia to tide over this crisis. 
This year, in addition to crowning the gold winner, we will be introducing new special categories such as best innovation, most investable startup, and more, with up to a 100,000 RMB (approx $14,000) cash prize to be won. To add on, participants gain opportunities to connect with top VCs for potential investment, and enjoy extended mileage and visibility with TechNode's exclusive media coverage. AHB alumni will be invited to join Technode Global+, where they can tap into our community to connect and grow with technology leaders, venture capitalists, and partners across Asia.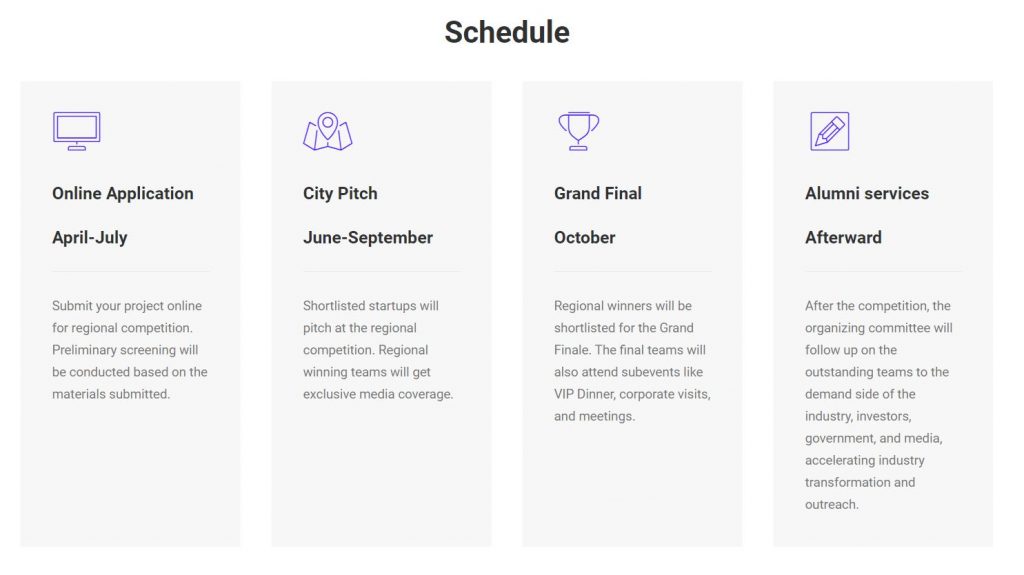 The battle has begun and online applications are now open. For more information, visit the AHB official site: https://ahb.technode.com/2020/en/apply-2/