Feeding the burgeoning global population is becoming an increasingly difficult challenge that necessitates a substantial overhaul of resources. According to the World Resource Institute, this would entail producing 56 percent more food annually, requiring an area of land for agriculture twice the size of India, and emitting 15 Gt more greenhouse gas emissions yearly.
In the Philippines, making sure there is enough food for everyone is a big challenge. There are huge gaps between the country's production and consumption patterns. It has put the food industry's uncertain unit economics at stake and highlighted its environmental effects, casting a shadow over the country's food security. However, the transformative potential of innovation and technology can shape a different future.
Unveiling the crucial challenges
Alarming global hunger statistics paint a grim picture. In 2021, a staggering 828 million people – or one in ten individuals – experienced hunger. These figures are 46 million higher than in 2020 and 150 million more than in 2019. As the world's population hurtles towards 10 billion by 2050, the chasm between demand and resources becomes increasingly evident.
In the Philippines, nearly 12 percent of families – equating to three million households – grapple with involuntary hunger. To add to this woe, the retail prices of food items often stand at two to three times the cost at the source. This pricing disparity becomes even more burdensome for consumers when considering that grocery prices in the Philippines are the same as in Singapore, a country with GDP per capita nearly 20 times that of the Philippines. Import reliance aggravates the problem, with imports accounting for 15 to 70 percent of various food products like meat, dairy, and rice, further underscoring the vulnerability of the food supply chain.
The Philippines' population growth is a double-edged sword, simultaneously driving demand for protein sources and exacerbating existing food security concerns. With projections estimating a population of 142 million by 2045 – a significant leap from the 114 million in 2021 – sustainable food production becomes an imperative.
Propelling change through accessible technology
Amidst these challenges, technology emerges as a beacon of hope. Inaccessible infrastructure and logistics impede the seamless movement of food from farms to tables. While arable land is abundant, productivity lags behind due to a lack of technological access and innovation. Part of the solution lies in democratizing technology, making it accessible and affordable for farmers and stakeholders across the supply chain.
Innovations like smart supply chains hold the promise of reducing the Philippines' daily food wastage, which currently stands at an astounding 1,717 metric tons per day. However, technologies do not have to be capital-intensive to drive change; platforms like TreeDots are channeling surplus food from global supply chains to businesses, mitigating wastage while being mindful of costs.
Local sourcing also becomes an avenue for fostering resilience and preserving cultural diversity. Initiatives like those driven by SariSuki, an agri-tech and community-group buying platform, are transforming food supply chains by promoting local produce and progressive agricultural practices. While biotech innovators like Roslin Technologies are addressing both nutritional security and environmental sustainability by developing unique stem cells for the production of cultivated meat, circumventing the environmental pitfalls of conventional meat production.
Catalysts for transformation: Venture capital
Venture capital, and the VC ecosystem, serve as the catalyst for realizing these transformative visions. Benefits for startups extend beyond financial support, offering mentorship, industry connections, and expertise to startups in the food industry. Policymakers have a crucial role in shaping an environment that encourages innovation, fostering conditions where revolutionary concepts can flourish. Investors possess the ability to magnify the impact of startups that hold the potential to reshape the food industry. And entrepreneurs, serving as the vanguards of innovation, bear the responsibility to directly confront challenges with determination and ingenuity.
Kickstart Ventures, as the Philippines' largest fund and backed by its oldest conglomerate Ayala Corporation, is uniquely positioned to shepherd innovation that addresses the challenges of climate change and hunger. And the mission transcends financial backing; it encompasses cultivating an ecosystem that nurtures solutions to the most entrenched challenges. By championing startups and innovation, Kickstart propels the Philippines' food and agricultural industry into an era defined by transformation and progress. The journey has begun, and the taste of transformation is on the tip of our tongues.
---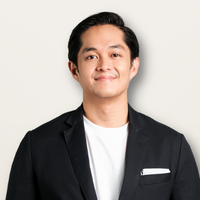 Mike Maté is Vice President, Investments at Kickstart Ventures, Inc., a corporate venture capital firm wholly-owned by Globe Telecom, the Philippines' leading telco. In this role, he has led significant investments, including a multimillion-dollar investment into Roslin Technologies, Kickstart's first investment in the FoodTech and BioTech sectors and first into the UK. Mike was also the lead investor into SariSuki's $12.7M Series A round, a Philippine AgriTech company. He sits on the boards of both Roslin Technologies and SariSuki as an observer. One of his focuses at Kickstart Ventures is driving investments in the FoodTech and AgriTech industries.
Before joining Kickstart Ventures, Mike worked as a Director at Seawood Resources., a multi-billion peso investment firm, where he formulated investment strategies and oversaw the firm's portfolio companies in the food sector, including sitting as director on the board of Akaroa Salmon, a premium King Salmon producer in New Zealand. Prior to his roles in the investment industry, Mike gained valuable experience in finance and law. He served as the Head of Structured Finance and Debt Products at BPI Capital, the investment banking group of Bank of the Philippine Islands. He also worked as a Senior Associate at Romulo Mabanta Buenaventura Sayoc & De Los Angeles, a prominent law firm in the Philippines. Additionally, Mike was a Visiting International Attorney in the M&A Group at Morrison Foerster, an international law firm with offices in the Americas, Europe, and Asia.
Mike holds a Master of Laws (LL.M.) degree from Harvard Law School, for which he was the LL.M. Class Representative during his time there. He also earned a Bachelor of Arts (B.A.) degree in History from Duke University and a Juris Doctor (J.D.) degree from Ateneo de Manila University.
TNGlobal INSIDER publishes contributions relevant to entrepreneurship and innovation. You may submit your own original or published contributions subject to editorial discretion.
Philippines social commerce startup SariSuki bags $7.1M from regional and global investors