Starlink is now available in Malaysia, marking the 60th country around the world where the company provides satellite high-speed Internet service.
In a tweet on Tuesday, SpaceX said, "Starlink is now available in Malaysia, marking the 60th country around the world where Starlink can provide high-speed internet connectivity."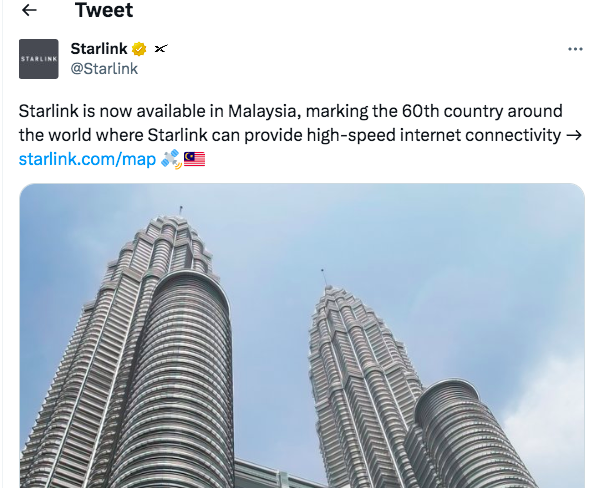 According to local media The Star Online, Starlink has started offering its broadband satellite Internet service in the country with a monthly subscription price of MYR220 ($48.22), offering up to 100Mbps (megabits per second) download speed.
The plan is offered without contract, as users will be required to purchase the Starlink Kit, which comes with an electronic phased array antenna with a base suited for ground installation, a WiFi router, and cables.
Last week, Malaysia has issued a licence to Starlink, the satellite communications service started by tech billionaire Elon Musk, to provide Internet services in the country, particularly in rural areas, according to Communications and Digital Minister Fahmi Fadzil.
According to the minister, currently, 97 percent of populated areas in Malaysia have Internet access. However, the remaining 3 percent face challenges due to geographical locations, such as remote rural areas or isolated islands, making network infrastructure development difficult.
Therefore, Fahmi said the government is willing to collaborate with satellite internet service providers, including Starlink, to achieve 100 percent internet access in populated areas.
The announcement comes after the virtual meeting between Anwar and Musk about Starlink and Tesla earlier this month.
Starlink, a satellite internet constellation operated by SpaceX, provides high-speed, low-latency broadband internet across the globe. Founded in 2002 by Musk, SpaceX is a spacecraft engineering company which designs, manufactures and launches advanced rockets and spacecraft in a bid to "revolutionize" space technology.
With Starlink, users can engage in activities that historically have not been possible with satellite internet, information from SpaceX's website showed.
Starlink's high-speed, low-latency service is made possible via the world's largest constellation of highly advanced satellites operating in a low orbit around the Earth, the company claimed.
Musk's electric vehicle maker Tesla has unveiled its sport utility electric vehicle, Model Y, in Kuala Lumpur last Thursday. Tesla said it will establish its head office and service centre in Cyberjaya, Selangor, Malaysia, which will serve as the central hub for all corporate operations, marketing, training, customer support activities and vehicle services.
Malaysia grants licence to Elon Musk's Starlink to bring Internet services to rural areas