Editor's note: the article first appeared on KoreaTechDesk.

---
TechNode Global and beSUCCESS co-hosted a forum in Seoul, South Korea, on June 22, focusing on entering the Chinese market through the Greater Bay Area. The event was supported by Zhuhai Da Hengqin Development Co., Ltd. and BEYOND Expo.
The forum featured discussions on market entry strategies in China and insights on South Korea and has attracted about 50 participants, including startup representatives and Korean support officials.
Topics discussed at the forum included Chinese e-commerce market, social media marketing trends, and the Sands Innovation Challenge. Experts emphasized the importance of understanding Chinese consumer behavior and suggested industries that have potential for success in China. The event concluded with a presentation on opportunities in the Hengqin region and the 2023 Hengqin Startup Contest. Participants also had the chance to network and receive advice from Chinese experts.
Liang Ying, Chief Information Officer of Zhuhai Da Hengqin Development Co., Ltd., gave a presentation on the theme of 'Hengqin, a stepping stone for entry into China', giving an introduction all about the Hengqin region and opportunities to advance into China.
Hengqin, an island situated at the heart of the Guangdong-Hong Kong-Macao Greater Bay Area, is poised to become a springboard for businesses seeking to expand into Greater China. The island, located just 187 meters from Macau and connected to Hong Kong and Macau via the Hong Kong-Zhuhai-Macao Bridge, offers a unique set of advantages and incentives for enterprises. To promote entrepreneurship and innovation, the Third Hengqin International Scientific and Technological Innovation Entrepreneurship Competition has also been announced, providing an exciting opportunity for high-quality companies to access Hengqin and the broader Greater Bay Area.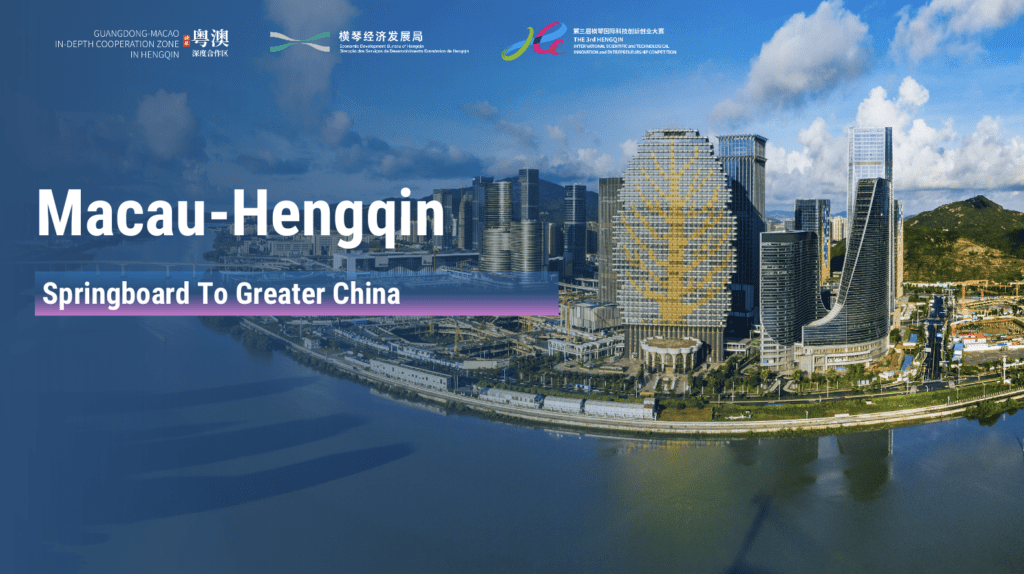 Liang Ying also talked about Hengqin's strategic location within the Greater Bay Area, which comprises nine cities in Guangdong Province along with Hong Kong and Macau, making it a central hub for economic growth. With a GDP that has ranked first in China for 34 consecutive years and a population of approximately 80 million, the Greater Bay Area boasts trillion-dollar industrial clusters, including communication and electronic information, biomedical, and new energy vehicle industries. Hengqin itself covers an area of 106 square km and is surrounded by excellent transportation infrastructure, including five airports, four deep-water ports, eight expressways, and three railways.
The uniqueness of Hengqin lies in its governance structure, which enables the coexistence of two systems. Since 2009, Hengqin has been collaborating with the Macau government to diversify its industries. In 2021, the Hengqin Guangdong-Macao Deep Cooperation Zone was established, jointly managed by the Guangdong and Macau governments. Hengqin offers a convergence of tax systems, with a corporate income tax rate and personal income tax rate of 15 percent, mirroring Hong Kong and Macau's standards. Additionally, Hengqin benefits from tier-specific management, allowing for independent customs operations and free movement of goods between Hengqin and Macau.
The presentation also showcased that the island focuses on four major industries: science, technology, and high-end manufacturing; Chinese medicine and Macau tradition-branded industries; cultural tourism, exhibition, and trade; and modern finance. Hengqin hosts prestigious institutions such as Macao's IC laboratory, ranked third globally and first in Asia. It is also home to the Guangdong-Macao Cooperation Chinese Medicine Industrial Park, nurturing over 100 Chinese medicine enterprises. Notably, Hengqin Changlong International Ocean Resort, the world's largest marine theme park, attracts approximately 15 million visitors annually.
Furthermore, Liang Ying talked about Hengqin's attractive policies and incentives for enterprises. Leading companies can receive one-time incentives of up to RMB200 million ($27.86 million, while eligible enterprises may receive rewards of up to RMB120 million ($16.71 million) through NEEQ-listing and listing services. Rental subsidies for office and commercial properties are available, with the possibility of zero rental fees. Moreover, specific industries like IC and biomedical benefit from tailored policies. The integrated development of Hengqin and Macau ensures a well-supported, international, and leisurely living environment for talents, with top-ranked medical facilities and renowned educational institutions such as Harrow Public School.
To further encourage entrepreneurship and innovation, the Third Hengqin International Scientific and Technological Innovation Entrepreneurship Competition has been announced. Open to legally registered entities with essential technology and products, the competition focuses on four major fields: IC and electronic components, biomedicine and medical devices, big data and AI, and new materials and new energy. Divided into startup and growth groups, with a special Macau track for overseas projects, the competition offers substantial prizes.
The 3rd Hengqin International Scientific & Technological Innovation Entrepreneurship Competition was Announced at Technode & beSUCCESS Forum