In 2023, the financial sector is predicted to experience massive changes as traditional financial institutions (FIs) compete with Fintechs and digital services for supremacy. The launch of new digital banks like Maribank, Boost Holdings, and Sea Ltd has utilized technology and data to deliver innovative and personalized financial services to draw new customers in Singapore and Malaysia.
In Singapore, Deputy Prime Minister and Minister for Finance Lawrence Wong emphasized the potential for digital technologies to create streamlined and efficient financial operations. Amplifying this point, the Monetary Authority of Singapore (MAS) and the Ministry of Finance (MOF) collaborated with FIs to provide digital solutions that reduce processing time for government guarantees and insurance bonds.
Digital transformation will be key to altering the way financial institutions deliver positive customer engagement in 2023. For traditional players, the onus is on them to adopt a digital-first mindset in order to be resilient in the face of an increasingly digitized landscape. This, combined with cloud-based solutions and customer-minded engineering expertise, are crucial assets in enabling FIs to deliver efficient and personalized services that attract new customers and retain existing ones.
Empowering customers with hyper-personalization
Indeed, many traditional FIs are accelerating investments in cloud technologies as they now view it as a crucial strategy to enhance their competitive value in the digital financial service sector. According to IDC, 92 percent of Asia Pacific banks plan to increase spending on cloud technologies in 2022 compared to 89 percent in 2020. IDC also states that 93 percent of Asia Pacific's FIs will move their operations to hybrid or multi-cloud environments next year. With customers demanding high-quality service offerings tailored to fit their needs, organizations are gradually adopting cloud-first programs to meet their customers' expectations.
With cloud technology, FIs will be able to utilize vast amounts of data to deliver hyper-personalized experiences that improve customer delight and retention.
In the age of digital transformation, cloud solutions empower FIs to create authentic and seamless customer engagement that attracts people to their business through the integration of natural language processing, machine learning (ML), and artificial intelligence (AI) to drive context and insights. It also assists FIs in creating omnichannel experiences that allow businesses to communicate with customers at their preferred touchpoints.
AI and ML are essential components in assisting traditional FIs to create personalized customer experiences. This sentiment has already been echoed by 73 percent of surveyed organizations, including those in Australia and Singapore, in Rackspace Technology's AI/ML Annual Research Report 2022. By harnessing AI/ML in cloud deployments, traditional FIs will be able to position themselves as empathetic and compassionate organizations that put their customers first.
Being on the front foot of innovation
As businesses across the Asia Pacific embrace digital transformation, cloud technology can act as an agent of innovation for business operations. Organizations can use data analytics to create valuable use cases that help drive business performance, open new revenue opportunities, and strengthen their competitiveness.
While Southeast Asia looks to accelerate their investments in cloud technology, cybersecurity, and data regulation challenges may prevent organizations from fully harnessing these solutions to drive the development of new business cases. Addressing these challenges requires organizations to repair out-of-date back-ends and use AI-driven insights to facilitate the decision-making process.
Redesigning organizations' tech stacks with a cloud-native approach can help companies to optimize their infrastructure to deliver the best performance and experiences that customers expect. Building this approach will require organizations to integrate a robust cloud platform that offers secure and seamless two-way connections across multiple smart devices. This is crucial in supplying data and insights across people and applications while protecting sensitive company resources that are necessary for their operations. By integrating these platforms into your operations, organizations will be able to maximize their return on investment and customer satisfaction.
Strengthening competitiveness during a slowdown
It is revealed that Southeast Asia's economic growth is projected to slow at a "below trend" pace. For the financial sector, this is a wake-up call to pivot to solutions that will enhance their operations and service delivery while ensuring efficient resource allocation across various processes.
Cloud-native approaches combined with skilled expertise are crucial assets in creating scalable and effective solutions that allow FIs to meet their core business needs. Specifically, they can help to diversify their service offerings, shorten their time-to-market and reduce development costs. These factors will bring more customers to their front doors as we enter a difficult economic year.
---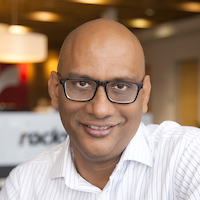 Sandeep Bhargava is the Global Head of Solutions and Services at Rackspace Technology.
TechNode Global INSIDER publishes contributions relevant to entrepreneurship and innovation. You may submit your own original or published contributions subject to editorial discretion.
ForgeRock's David Hope on maintaining trust as enterprises use AI and more data-led online services [Q&A]