The International Trade and Industry Ministry (Miti) of Malaysia is discussing with local carmakers Proton and Perusahaan Otomobil Kedua Sdn Bhd (Perodua) on expediting the production of national electric vehicles (EVs) and introduction of affordable EVs, said its minister Tengku Zafrul Tengku Abdul Aziz.
The approved permit guidelines are being improved to give flexibility in terms of the maximum number of completely built-up vehicle imports for market research pre-assembly of EVs so that local assemblers have the opportunity to assess the needs of the new market in the EV segment prior to production, national news agency Bernama reported.
"This move is also expected to widen the range of EV choices in the market for the people," Zafrul said in the House of Representatives on Wednesday.
Proton, Malaysia's first national automaker, is 49.9 percent owned by China-based car maker Zhejiang Geely Holding Group. Japan-based car manufacturer Daihatsu is the technological partner of Perodua, Malaysia's second national carmaker. Daihatsu and Daihatsu (M) Sdn Bhd hold 20 percent and 5 percent stake of Perodua respectively, according to earlier reports. Both local carmakers have yet to produce or introduce EV models in the country.
Proton announced in August last year that it has formalized its deal to sell and service vehicles from premium EV brand Smart Automobile Company (smart) in Malaysia and Thailand by signing a general distributorship agreement. The first smart model to be sold by Proton during the first phase of the collaboration will be launched in early the fourth quarter of 2023, Proton said then. Proton, however, plans to market its own EV models in 2027, according to earlier reports, quoting Deputy Chief Executive Officer Roslan Abdullah.
Astra Daihatsu Motor, a joint venture between Daihatsu, Astra International and Toyota Tsushohas, has unveiled the Daihatsu Ayla EV Concept at the Gaikindo Indonesia International Auto Show (GIIAS) 2022 in August last year.
Earlier on Monday, Deputy International Trade and Industry Minister Liew Chin Tong said Malaysian Green Technology and Climate Change Corporation (MGTC) is currently developing a strategic framework for the development and planning of EV infrastructure across Malaysia.
He said the government is also examining the existing procedures for approving the EV charging system to reduce the time in processing the installation approval.
Liew also added that under Budget 2022, the government's incentive covers full exemption on import duty, excise duty and road tax for locally assembled EVs or imported as completely built-up, as well as full exemption for sales tax for EVs assembled locally and tax relief for individuals for subscription of facilities or installation of EV charging systems.
"Additional incentives were also proposed under Budget 2023 and, at the same time, there are proposals to increase the number of EVs including hybrid as official vehicles for departments and positions is being fine-tuned by the Finance Ministry. Besides that, the land public transport vehicles are also encouraged to change to vehicles that use electric," he added.
It was reported last year that the Malaysia government's target to install up to 10,000 public charging stations for electric vehicles (EVs) in the country by 2025 under the Low Carbon Mobility Blueprint 2021-2030 is on track, with around 700 charging stations nationwide having been set up so far, according to the MITI.
The EV industry has become one of the hottest sectors among Southeast Asian countries. Often seen as the future of automobile, neighboring countries Indonesia and Thailand has hoped to become EV regional hubs, luring car makers from Japan, South Korea and the US to invest and build factories here. Countries including Malaysia and Vietnam have started to build EV charging infrastructure and governments are implementing policies to promote EV industry in a bid to reduce carbon footprint.
Fitch Solutions has anticipated that passenger electric vehicle (EV) sales in Malaysia will expand in 2023, albeit from a low base, as a result of the implementation of incentives to encourage adoption.
The research house said in a recent report that according to its projections, sales of passenger EVs will rise by 82 percent in 2023, reaching a volume of roughly 5,840 units annually.
As more battery electric vehicles (BEVs) are introduced and give consumers more options, it predicted that plug-in hybrid electric vehicles (PHEVs) will lose market share in 2023.
"Since predicted good performance in both PHEVs and BEVs promotes EV adoption, we predict that total EV sales as a percentage of total sales will surpass the 1 percent threshold by 2024," it said.
According to an RHB report last month, besides Tesla, existing and forthcoming EV models in Malaysia are mostly from European, South Korea and China-based marques such as Audi, BMW, BYD, Great Wall Motors, Porsche, among others.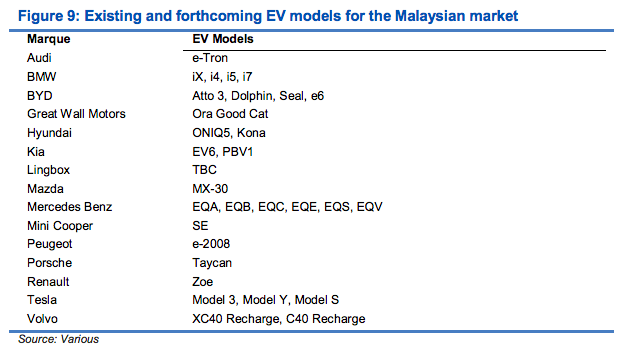 Malaysian Government drafting strategic framework to develop EV charging infrastructure – report