We are thrilled to announce the list of finalists for Outstanding Ecosystem Leaders of the third edition of the ORIGIN Innovation Awards.
This year, ORIGIN Innovation Awards launched with the theme "Sustainable Innovations, Lasting Impacts." The awards focus on how innovations are making an impact on sustainable development goals.
Nominations for the ORIGIN Innovation Awards began on June 15, 2022 and ended on August 31, 2022. The eligible nominees across the 10 Categories were put up for judging and public voting from October 3, 2022 to October 28, 2022. Final decisions about the awards were made by a committee of advisors, informed by public voting.
Together with the all-star advisory team, TechNode Global spent close to two weeks evaluating every nomination and determining the finalists. The ORIGIN Innovation Awards advisory committee is made up of representatives from the following partners:
Advisors:
AC Ventures, Fuchsia Venture Capital, Gobi Partners, Kairous Capital, Ondine Capital, Vertex Ventures, and 500 TukTuks.
Strategic Partners:
Alibaba Cloud, BLOCK71, MRANTI, Tencent WeStart (Hong Kong), The Great Room Thailand, WORQ, Athena Mentor, and Tilleke & Gibbins
Supporting Partners:
Brinc, Disrupt Technology Venture, HKSTP, Lever VC, Manila Angel Investors Network, Malaysia Digital Economy Corporation, New Energy Nexus, Plug and Play APAC, REAPRA, RISE Corporate Innovation Powerhouse, RevvX Ventures, Sasin Sustainability & Entrepreneurship Center, Singapore Management University, Startup Grind, True Digital Park, TechShake, Cyberport, Techsauce, and Disrupt Impact Fund.
Here are the Outstanding Ecosystem Leaders finalists for ORIGIN Innovation Awards 2022.
Venture Visionaries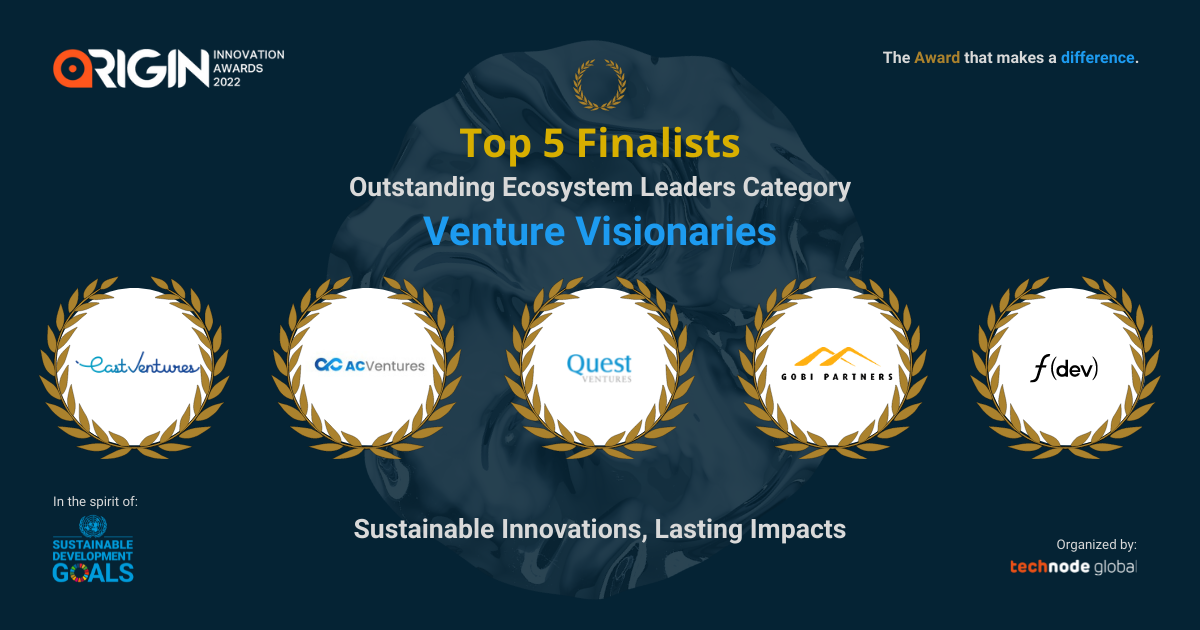 A public-driven recognition title conferred to investors including venture capital, angel investors, corporate ventures, that invest in the future of humanity, incorporating ESG and SDGs into their investment theses. These investors should also be the ones that take risks to invest in early-stage ideas.
Gobi Partners: Since 2002, Gobi Partners has constantly championed the underserved and developing communities through our investments. Environmental, Social, and Governance (ESG) standards are incorporated into Gobi's strategy and operations.
F(DEV) Digital Innovations and Ventures Inc: FDEV believes in the power of technology to reach massively underserved markets. FDEV is in the right position to connect startups and large corporations in building and investing in real-world solutions.
AC Ventures is a leading Southeast Asian venture capital firm investing in early-stage startups focused on Indonesia and ASEAN. ACV's mission is to partner with and empower entrepreneurs with more than capital.
Quest Ventures: Sustainable Impact Accelerator is Asia's first VC-backed accelerator for socially impactful enterprises, powered by a top VC and experts in social impact.
East Ventures is a pioneer venture capital firm that provides multi-stage investment for over 250 companies in Southeast Asia with a focus on Indonesia. East Ventures is committed to creating positive impacts and achieving sustainable development.
Most Active Community Builders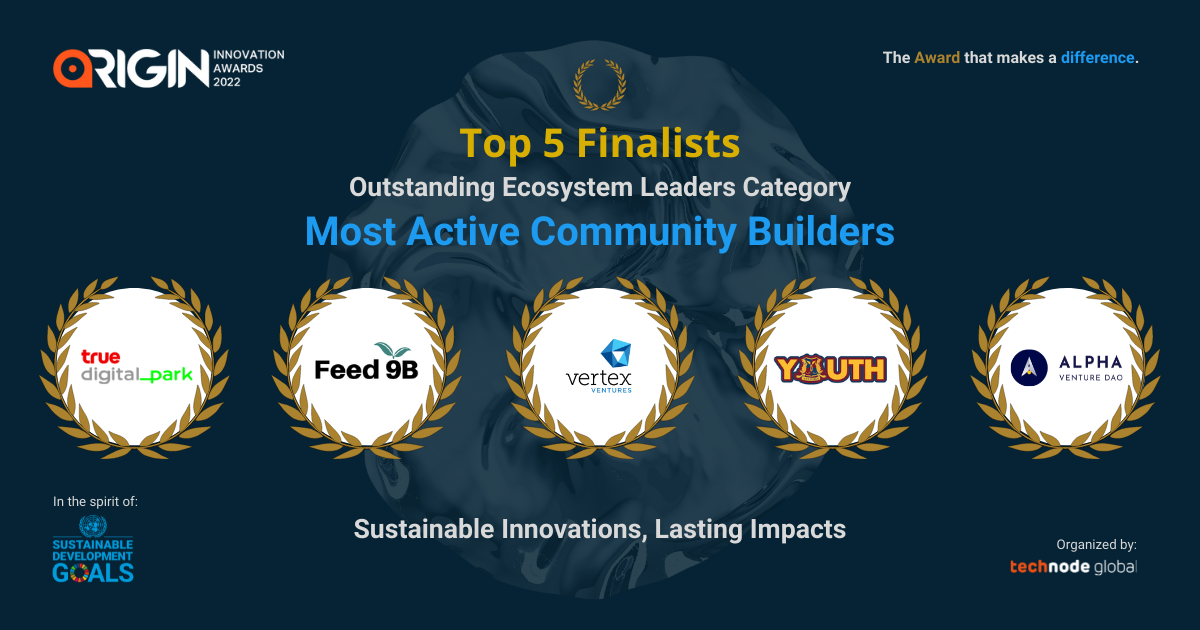 Determined by votes from the ecosystem, this public-vote-of-confidence seeks to honor the different players from individuals to institutions that have made an impact and contributed to the startup and entrepreneurship community.
Alpha Venture Dao has been active in building Web3 community, especially DAOs. Apart from its community events and platform, it laso offers free resources for founders who want to start their project on Alpha Academy.
Feed9B aims to provide the world of 9.8 billion people with access to healthy and sustainable food by 2050.
Vertex Ventures: Vertex Ventures SEA & India is one of the largest and long-standing funds in the region with a strong reputation for being especially selective, but very founder-friendly and supportive even during difficult times.
Youth Ventures Asia is designed to map the talent pipeline across Southeast Asia by creating a technology-enabled ecosystem for youth to achieve their career or entrepreneurial goal. They have helped more than 10,000 youths to pursue their passion to date.
True Digital Park is Thailand's largest tech and startup hub, providing workspace, co-working space, innovation space, and event spaces for the tech community. TDPK is the only place that completes all of the needs for startups.
Outsanding Accelerator/Incubator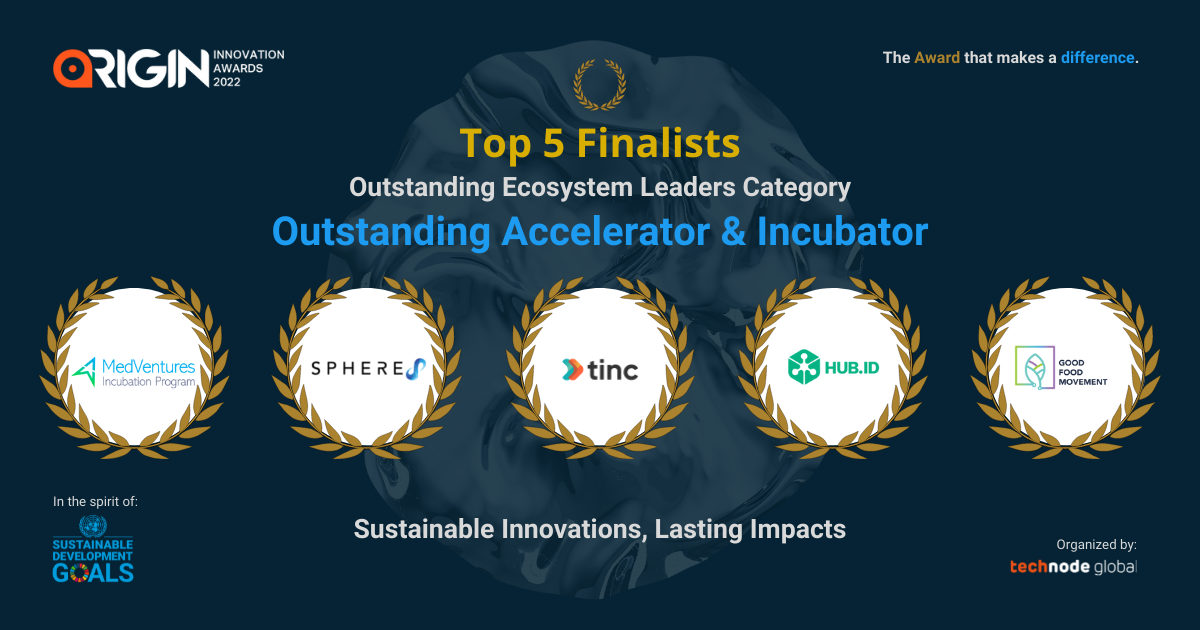 Incubators and Accelerators are the academies that transform idealistic concepts to real-world solutions that are impacting our lives today. This award is voted by the public and is a testament to the companies that graduate and go on to generate long- term positive impacts.
MedVentures empowerings university spinoffs and early-stage medtech startups on their medical device and healthcare innovation startup journey from Thailand to the world.
Tinc: An accelerator by Telkomsel, Indonesia's leading digital telco company, Tinc is an innovation-focused initiative that engages innovative startups delving into the entrepreneurial landscape.
SPHERE 8: A consulting company specialising in global tech and innovation solutions, SPHERE 8 focuses on transforming businesses in today's digital era through the integration of deep technology and cutting-edge solutions from leading tech startups globally.
HUB.ID is a fully government-funded accelerator program focused on helping digital startups strengthen their business networks by providing business matchmaking with stakeholders from the government, state-owned enterprises, and private corporates.
Good Food Movement: A leading foodtech ecosystem in Hong Kong, Good Food Movement's ESG investment thesis supports innovations that can create a positive impact on the environment for the next generation.
We'd like to express our deepest thanks to everyone who participated. All the nominations are truly inspirational, and we would like to congratulate everyone for your efforts and nominations. We shall announce the much-anticipated list of winners on Nov 11, 2022.