We are thrilled to announce the full list of finalists for the third edition of the ORIGIN Innovation Awards.
The third iteration of ORIGIN Innovation Awards launched with the theme "Sustainable Innovations, Lasting Impacts." This year's awards focus on how innovations are making an impact on sustainable development goals.
Nominations for the ORIGIN Innovation Awards began on June 15, 2022 and ended on August 31, 2022. The eligible nominees across the 10 Categories were put up for judging and public voting from October 3, 2022 to October 28, 2022. Final decisions about the awards were made by a committee of advisors, informed by public voting.
Together with the all-star advisory team, TechNode Global spent close to two weeks evaluating every nomination and determining the finalists. The ORIGIN Innovation Awards advisory committee is made up of representatives from the following partners:
Advisors:
AC Ventures, Fuchsia Venture Capital, Gobi Partners, Kairous Capital, Ondine Capital, Vertex Ventures, and 500 TukTuks.
Strategic Partners:
Alibaba Cloud, BLOCK71, MRANTI, Tencent WeStart (Hong Kong), The Great Room Thailand, WORQ, Athena Mentor, and Tilleke & Gibbins
Supporting Partners:
Brinc, Disrupt Technology Venture, HKSTP, Lever VC, Manila Angel Investors Network, Malaysia Digital Economy Corporation, New Energy Nexus, Plug and Play APAC, REAPRA, RISE Corporate Innovation Powerhouse, RevvX Ventures, Sasin Sustainability & Entrepreneurship Center, Singapore Management University, Startup Grind, True Digital Park, TechShake, Cyberport, Techsauce, and Disrupt Impact Fund
Here are the finalists for ORIGIN Innovation Awards 2022:
Startup Leader of the Year:

Startup Trailblazers
A well-deserved recognition to new, up-and-coming startups that emerge victorious in 2021, whilst supporting the agenda for a sustainable economy and inclusive society.
Solos empowers solo entrepreneurs to scale their businesses in a democratized and sustainable way. It is building a future-of-work platform that allows people to shift away from traditional "full-time" employment to an independent and flexible model. Solos wants to triple the income of 10,000 Southeast Asian entrepreneurs and talents in 5 years.
PEEL LAB is a plant-based leather made from leftover pineapple leaves and coconut husk.
Blue Elephants Solutions is on a mission to save companies billions of dollars by making learning and development investments sustainable. The Ebbinghaus Forgetting Curve describes how knowledge and skills need to be repeated and reinforced or else 50 percent will be forgotten after just one day and 90 percent after one month. Blue Elephants' products Knowledge Empire and Knowledge Gym are AI-driven knowledge retention apps that automatically reinforce relevant content at the ideal time to minimize learning time and maximize knowledge retention.
Visionaries 777 believes in elevating people's skills through XR & digital twins instead of replacing them with robots
Saptkrishi Scientific Private Limited

. Also known as Surprize, the company is creating a service it believes will be able to impact each and everyone regardless of market, origin, demographics, or any criteria. "We are all consumers by nature, and our service would have the capability and impact to be relevant to almost everyone."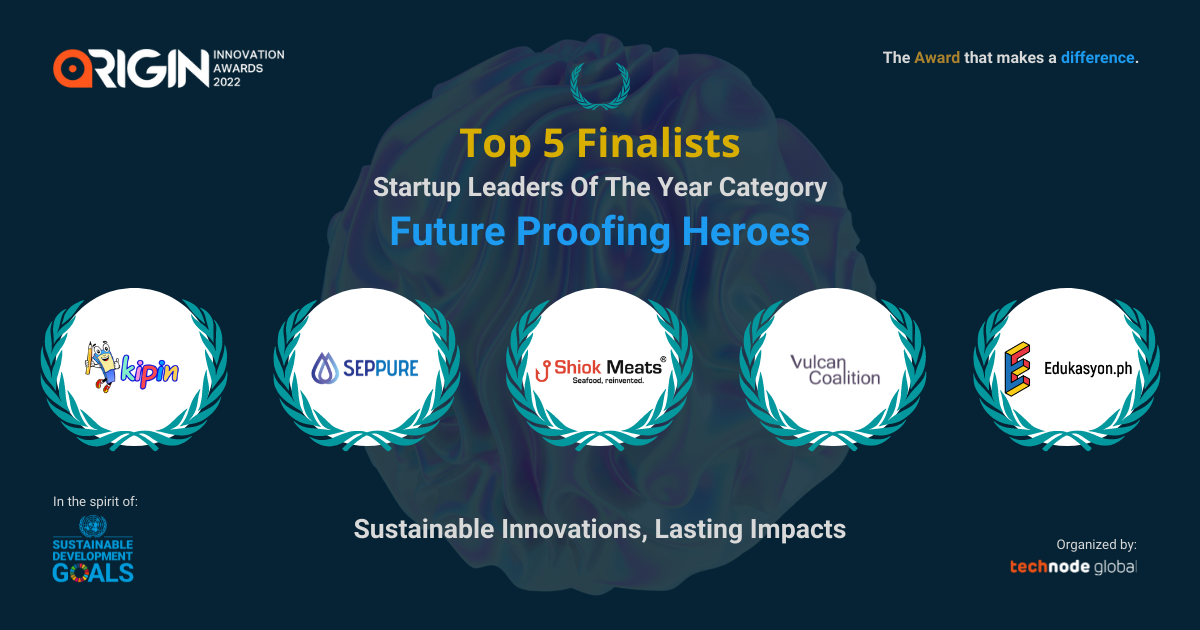 Future-Proofing Heroes
An unparalleled title to award the visionaries and 'heroes' that are dedicated to creating positive impacts for our future generations.
Edukasyon.ph. Since 2015, Edukasyon has been on a mission to ensure that every Filipino learner is empowered through the experience of quality education to be successful in life through education technology.
Vulcan Coalition: The adventure of Vulcan Coalition began in 2020 when our two co-founders, one is an expert in the AI industry, the other in people with disabilities (PWDs), met and shared their experiences with each other. They both then discovered opportunities to solve the pain points of their own working fields. Nowadays, the AI industry in Thailand is lacking in data labeling workers while lots of Thai PWDs are still looking for employment. Thus, Vulcan Coalition was founded with the objective of both developing new innovative AI technologies and improving the quality of life of PWDs
Shiok Meats Pte. Ltd.: Shiok Meats' is a cultivated food tech company that aspires to future proof our food supply and strengthen our global food security. A global food tech leader, Shiok Meats shall mentor new start-ups and individuals committed to growth and sustainability in the cultivated seafood and meats space.
SEPPURE: SEPPURE is a cleantech startup providing nanofiltration membrane technology for sustainable chemical separation processes. By changing the driving force of separation from thermal to mechanical, we enable the industrial sector to cut their energy consumption and CO2 emissions by 90% while reducing the OPEX of related processes by 50%. Ultimately, essential products will be more affordable, safer and more sustainable, and consumers will thrive in a greener environment.
Kipin: Kipin – Pendidikan.id is a leading edtech B2B2C company in Indonesia with the vision to democratize learning nationwide. Kipin is the leader in 'hybrid' edtech solutions, enabling equal access to educational content and learning — with or without internet access.

Pandemic Growth Warriors
An icing-on-the-cake award for solution providers that experienced tremendous growth amidst the pandemic, recognising their valuable positive contributions to humanity.

Keyta: Keyta is building the world's first complete solution for chat commerce. We are an agnostic keyboard technology accessible and applicable for all individuals, ranging from personal use to businesses, to even enterprises.
PriyoShop: PriyoShop is a B2B marketplace in Bangladesh that empowers MSMEs by connecting them directly to suppliers in an attempt to fix the fragmented supply chain. PriyoShop is digitalizing B2B trade for the unorganized retail sector in Bangladesh.
RPG Commerce: Founded in 2017, RPG Commerce is a leading direct-to-consumer (DTC) social e-commerce company dedicated to building cutting-edge everyday essentials. With an in-house portfolio ranging from innovative active wear to home and living products, RPG currently carries an in-house brand portfolio of 10+ brands, including Thousand Miles, Bottom Labs, Eubi, Montigo and Cosmic Cookware.
Virtualtech Frontier (VTF):: VTF is a virtual and metaverse development company pushing through next generation engagements via purposeful driven metaverses. We strive to empower everyone to own their own metaverses for a virtual economic future. With this, we believe in allowing individuals to own their metaverses as easy as possible, thus developing MITOWORLD, our metaverse development platform that enables easy interoperable metaverses into the palm of everyone's hands.
Investree Philippines:

Investree stands firm in its commitment to empower Filipino Small & Medium Enterprises (SMEs) to grow their businesses by providing them innovative, transparent, and viable financing services. Since 2020, we have been able to serve 100+ SMEs and funded 400+ notes.

Enterprise Tech Superstars
An award to spotlight startups that deliver creative and innovative solutions for supply chains and other businesses. Bonus points if the solution aids enterprises to improve their SDG commitments.

Smart City Idols
A 'public service' award to acknowledge startups and entrepreneurs that relentlessly leverage on technology to deliver solutions that upgrades our living environment and city infrastructure.

Web3 Disruptors
A royal salute to the risk-takers that boldly venture into the Web 3.0 era. Companies or startups that are able to showcase significant real-world use-cases for the leap from Web 2.0 to the new 3.0.

Enterprise Award: Corporate Sustainability Champions
An accolade to recognize Multinational corporations or domestic business leaders on their exemplary efforts to incorporate Environmental, Social, and Governance(ESG) practices in their businesses in line with the United Nations Sustainable Development Goals (UNSDG).
3rd Edition of ORIGIN Innovation Awards to Recognize Sustainable Innovations and Lasting Impacts [Updated 2022-07-04]