From September 21st to 27th, 2022, BEYOND EXPO 2022 brought together over 35,000 participants into a brand-new interactive conference experience in the metaverse. Co-organized by TechNode, this year's conference focused on healthcare tech, sustainability tech, consumer tech, global investments, and Web3.
"Last year, BEYOND set out with an ambition to become a world-class platform to bring together leaders and enthusiasts in tech across the globe and aim to integrate more international elements. This year, we have delivered on our promise," said LU Gang, Co-founder of BEYOND Expo, Founder and Chief Executive Officer of TechNode Group.
"BEYOND Expo 2022 held dozens of roundtable discussion topics with a focus on global perspectives, with the goal of enhancing interaction among the global ecosystem players, including corporate leaders, entrepreneurs, investors, experts, and government representatives," he added.
Here are some of the key takeaways from BEYOND EXPO 2022.
The future of global technological innovation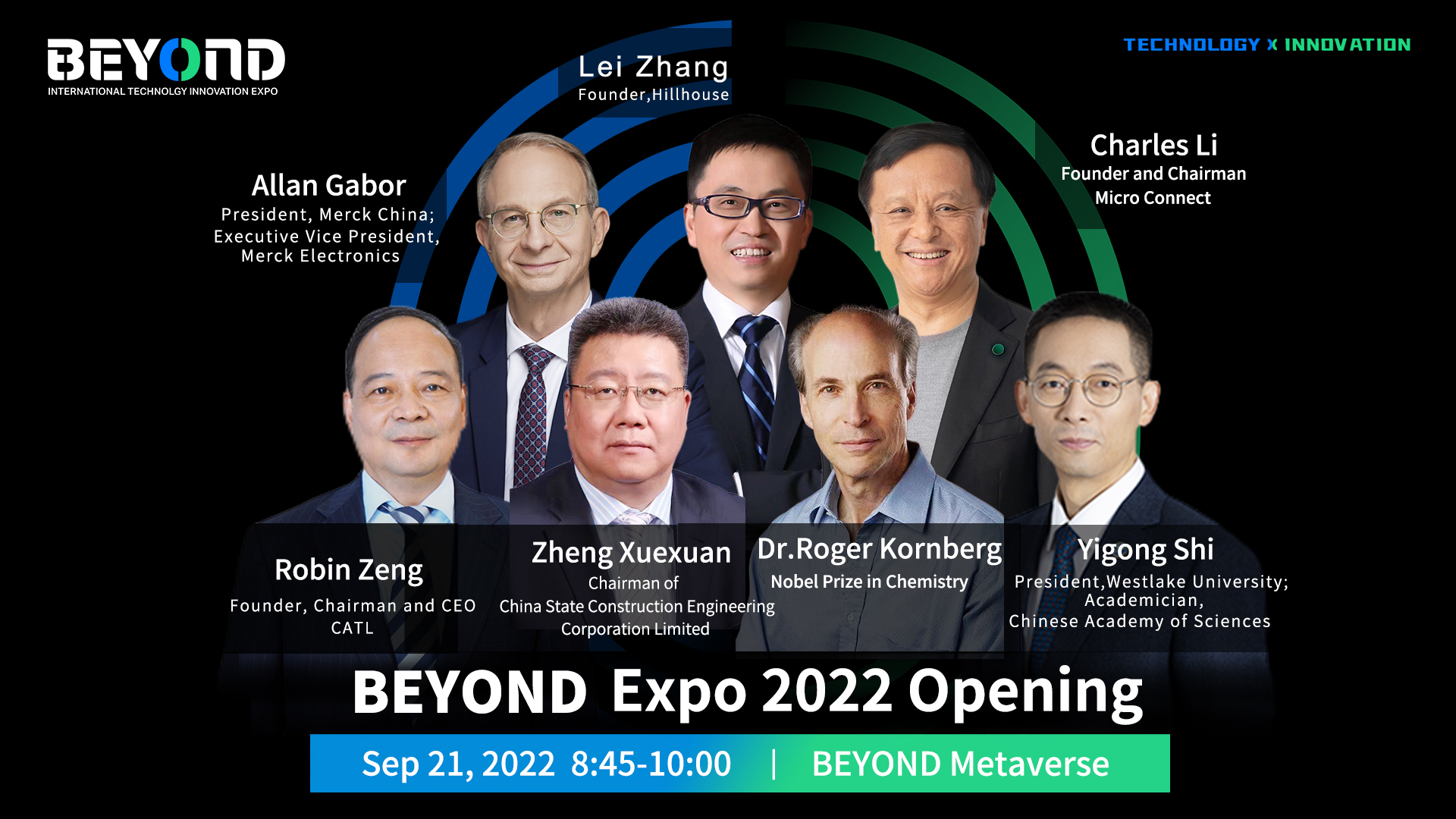 On Wednesday, 21st September, BEYOND Expo 2022, opened online in the BEYOND Metaverse. The opening speeches featured seven top tech leaders and investors, sharing insights on the future focal points of the tech sector in climate tech, health tech, and the nurturing of top talents. Speakers included the following luminaries:
Dr. Roger Kornberg, Nobel Prize in Chemistry;
Zheng Xuexuan, Chairman and Secretary of the Party Leadership Group of China State Construction, the Chairman of China State Construction Engineering Corporation Limited;
Yigong Shi, President of Westlake University, Academician of the Chinese Academy of Sciences;
Robin Zeng, Founder, Chairman and CEO of  CATL;
Lei Zhang, Founder of Hillhouse;
Allan Gabor, President of Merck China, and Executive Vice President of Merck's Electronics business sector in China;
Charles Li, Founder and Chairman of Micro Connect.
Industry leaders discuss digital transformation and industry development towards a new future of work and living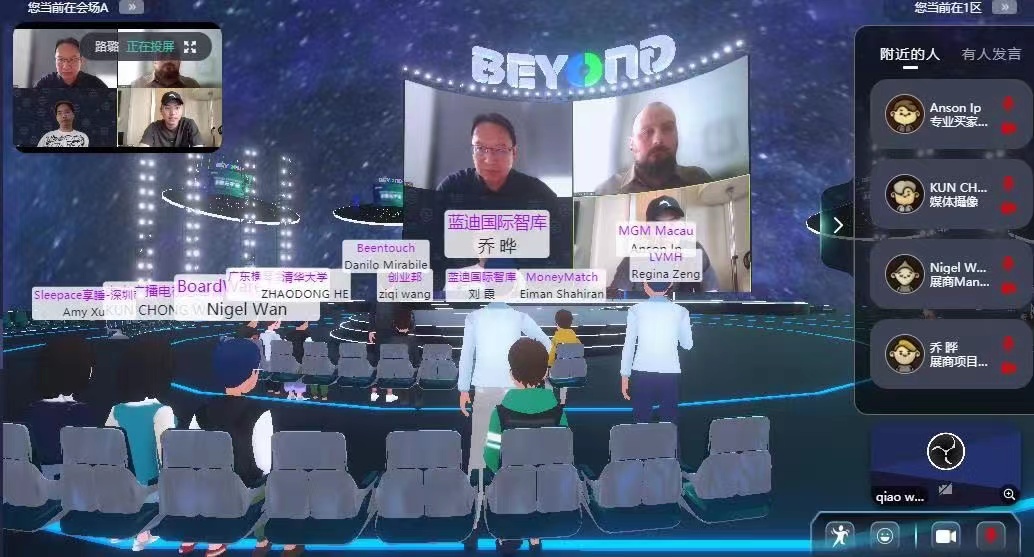 BEYOND Expo has always focused on technological innovation and the influence of technology on various industries in society. This year. BEYOND Expo 2022 hosted five summits to discuss key topics around Healthcare, Sustainability, ConsumerTech, Investment, and Web3, inviting tech leaders and industry experts to discuss the future development and growing trends within each sector. Dozens of roundtable discussion topics with a focus on global perspectives were held over 7 days, with 200+ high-profile speakers from global markets including corporate leaders, entrepreneurs, investors, experts, and government representatives.
Enhanced interactivity in an extraordinary new virtual world
Nearly 500 companies across the globe joined the BEYOND Metaverse, showcasing our three newly launched sub-brands: BEYOND Healthcare, BEYOND Sustainability, and BEYOND ConsumerTech. Exhibitors showcased their unique products and services while interacting with thousands of attendees in real time.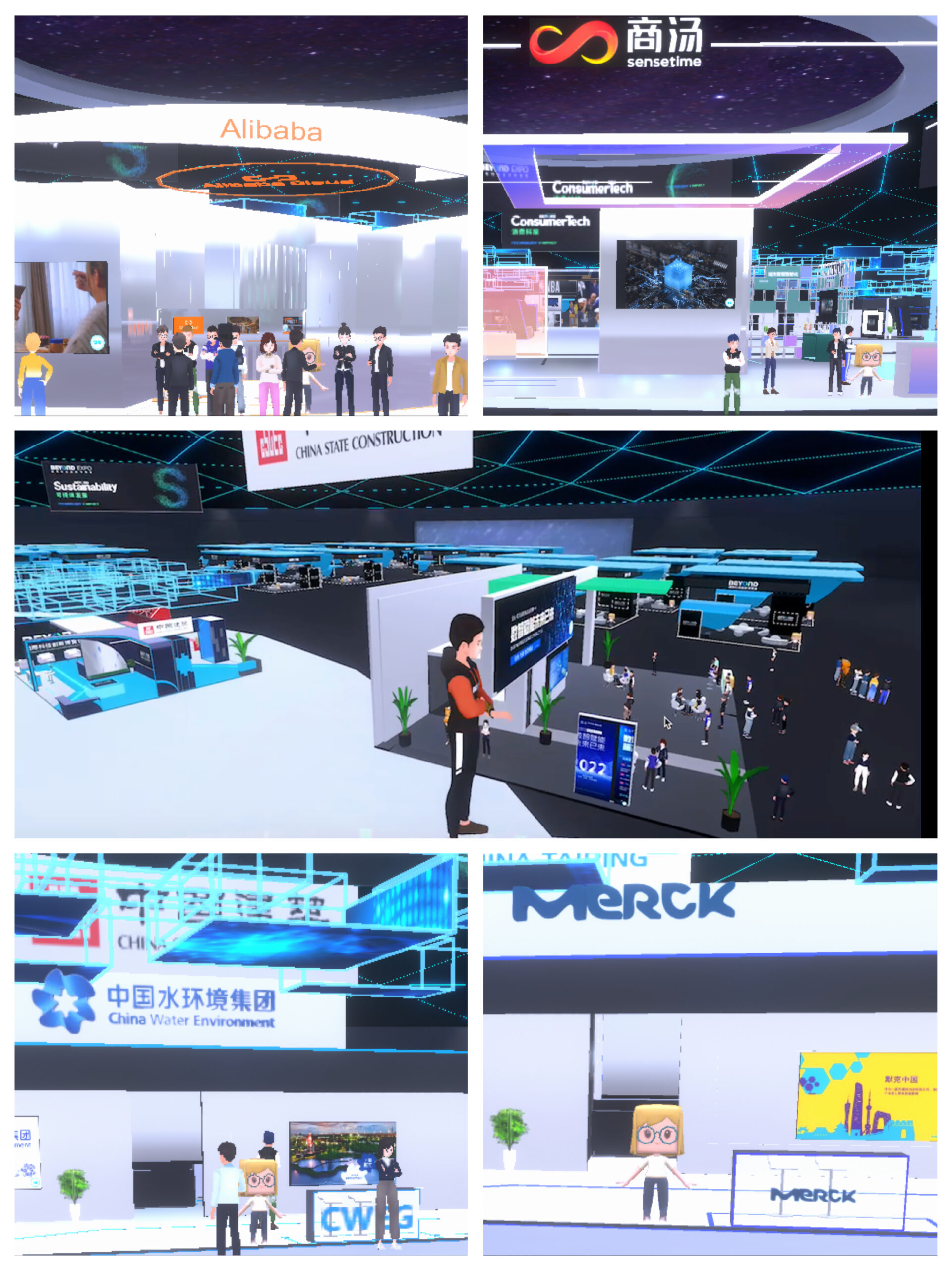 Every exhibitor had their 3D and interactive booths set up at the metaverse to showcase its unique products/services, while interacting with thousands of attendees in real-time. In addition, our international partners London & Partners Pavilion from the UK, True Digital Park Pavilion from Thailand, etc., invited hundreds of their local innovative concepts to share with audiences from all over the world.
An immersive pitching experience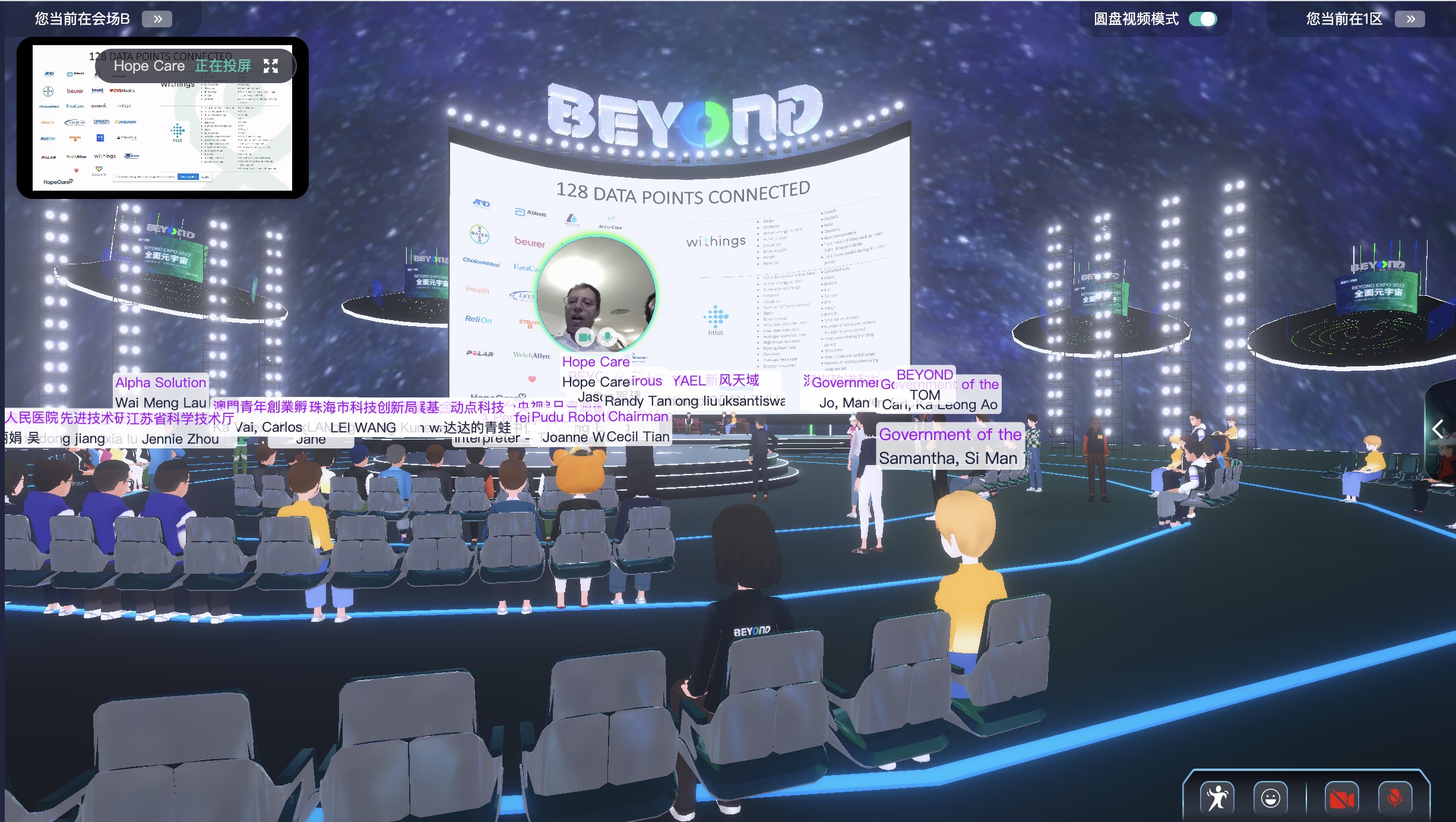 Fund at First Pitch promoted efficient product development while bridging gaps between capital and technological innovation. Two major keynotes were held during the three-day roadshow from September 22nd to 24th, with attendees connected with investors from around the world through over 150 networking events.
Representatives from the world's most prominent investment firms gathered in the metaverse for one-on-one conversations with startup founders without geographical restrictions. Jointly organized with the Macao Economic and Technological Bureau, the Brazilian and Portugese project roadshows focused on healthcare solutions pitched by 12 companies that were able to build brand awareness across borders.
A bright future with BEYOND Awards 2022 winners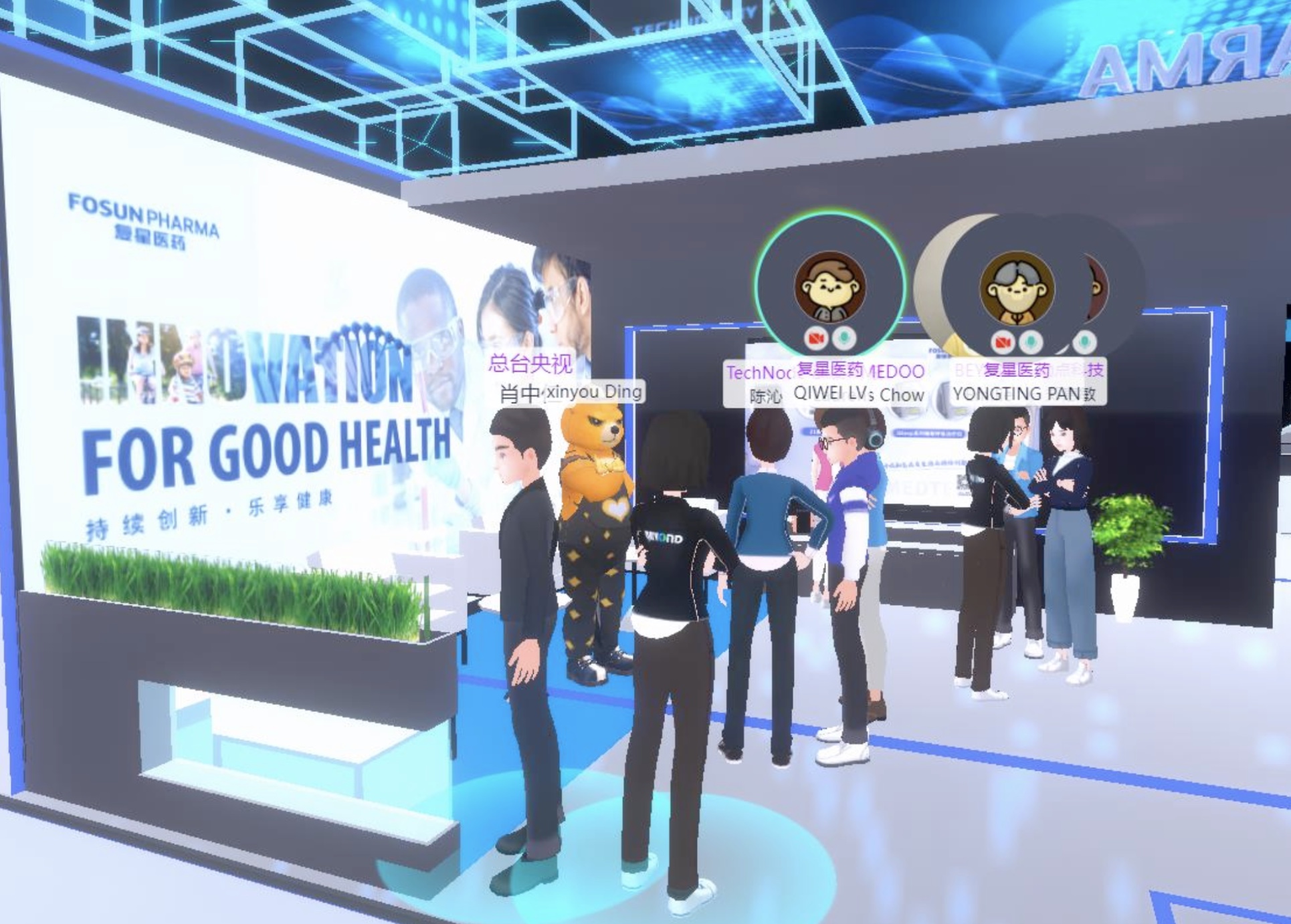 As part of BEYOND Expo's agenda to focus on showcasing cutting-edge innovation and facilitating discussions between innovators and investors, the Organizing Committee launched BEYOND Awards to recognize founders and entrepreneurs in tech. This year, there are 4 awards in 2 categories: BEYOND Innovation Awards (which comes with BEYOND Healthcare Awards, BEYOND ConsumerTech Awards, and BEYOND Sustainability Awards) and BEYOND Impact Awards. After several months of pitches and evaluations, 34 projects were selected winners from the 300 companies that submitted. On September 25th, BEYOND Organizing Committee held an Award Ceremony in the BEYOND Metaverse and announced the lists of winners across all categories.
Full lists of BEYOND Awards 2022 winners can be found here.
Some key conference numbers:
35,000+ participants from at least 120 countries, including exhibitors and participants from the media, enterprises, and government agencies;
300+ leaders in science and technological innovation, industry experts, and entrepreneurs;
150+ investment institutions;
150+ networking events across BEYOND's Opening Ceremony, 5 key summits, Innovation Roadshow, and Award Ceremonies;
500+ exhibitors who showcased virtual product demos in the 3 Exhibition Areas;
300+ representatives from global and regional media;
6 million+ live conference views;
100 million+ published media views.
Renowned exhibitors who participated in the BEYOND Metaverse:
Anker, BYD, Cowa, DJI, NBA, Nreal, OPPO, Pico, Macau Pass, Chimelong Resort, Ant Bank, Jidu, XGIMI, SenseTime, Xpeng Motors, Mindfulness Capital, Alibaba Group, Australia Qin Technology Cooperation Demonstration Zone, Brazil-Portugal Pavilion, Deloitte, Guangzhou High-Tech Industrial Development Zone Private Technology Park Management Committee, Huawei, Hengjian Holdings, Nam Kwong Group, Siemens, ICBC Macau, Tencent, China Telecom, China State Construction International, China Water Environment Group, China Civil Engineering Group Hong Kong and Macau Branch, Bank of China Macau Branch, Australian Trade and Investment Commission, Edwards, Fosun Pharma, BGI, Golden Mile Medical, XtaiPi Technology, Merck, Concord Holdings, Abbott, Pharma Hong Kong, Chia Tai Group, China Taiping, among many others.
Media partners who provided coverage of BEYOND EXPO 2022:
CCTV, CGTN, Xinhua News Agency, Caixin Global, Caixin, Forbes China, 21st Century Business Herald, TechNode, IT Times, Industrialists, Financing China, Shenzhen Daily, China News, Investor, Shenzhen Business Daily, Nihon Keizai Shimbun, CDC, Wall Street News, Magnesium, China Times, Southern Metropolis Daily, Smart Things, Economic Daily, Nanfang Daily, Metropolis Express, Sina.com, Techsauce, Hong Kong Commercial Daily, Guangzhou Daily, Southern Finance and Economics, Sina VR, Shanghai TV, 35 Dou, Feixiang.com, Metropolis Express, Securities Times, China Report, Southern Weekend, SiliconValley.com, Macao Convention and Exhibition Economic News, Zhuhai Media Group, Interface, Ecological exploration, Biological Drug CMC, and many more.
BEYOND Expo continues to strive for excellence as the international exhibition platform that provides an immersive experience to participants. We look forward to seeing you again at the BEYOND Expo 2023 in Macao.