In view of privacy changes by Apple and Google, marketers can look to capitalize on players' ad receptiveness within the gaming ecosystem, and also leverage on the ripple effect within sticky user communities.
---
Mobile Legends Bang Bang, Candy Crush, Pokemon Go – you've definitely heard of, played or spent money on these games. In Southeast Asia, gaming is gaining tremendous momentum from the rapid growth of mobile and internet users. According to reports, it is currently the largest and fastest-growing mobile game market, and mobile continues to be the region's primary gaming device, with one key driver of growth being the unspoken trend of 'sharing of gaming apps' in emerging economies.
The mobile economy in Southeast Asia is growing at a tremendous rate. Emerging markets in the region are gaining accessibility due to the proliferation of low-cost android smartphones and digital financial inclusion. Smartphones have allowed the unbanked population in these developing enclaves to participate in the digital economy through e-payment methods, enabling spending online and in apps. The user acquisition budget was seen increasing in developing markets especially because of this, and the rise in gaming. Though right now the focus has shifted to monetizing existing users.
One key driver of the burgeoning spread of gaming apps was the pandemic, especially as people had increased free time due to movement restrictions. Mobile data usage is expected to more than triple in most regions over the next six years, driven by increasing smartphone adoption and video usage.
The rise of 'app-sharing' was initially driven by limited internet availability, a digital accessibility barrier that plagues emerging markets. But now people continue to do so due to the fast speeds at which they can share the heaviest gaming apps for instance. For example, the file size of the gaming app Mobile Legends Bang Bang is approximately 3 – 4 GB, just by downloading the app online would use at least 3GB of mobile data. App sharing on the other hand is conducted via Android Wi-Fi, without the need for consumption of mobile data.
Through sharing of apps, users have been able to save on mobile data required to download the file online and save time, while developers are able to solve a big problem of app distribution. Around 24 million apps are being shared daily globally on our flagship app SHAREit, a peer-to-peer file-sharing app. Gaming app sharing accounts for around half of the total apps shared in Southeast Asia on SHAREit in the last three months.
Many such gaming applications are managing their business model by transitioning focus from user acquisition to also user retention and monetization, businesses can capitalize on instruments like in-app advertising for their marketing campaigns. Despite the proliferation of gaming apps and the reach it enjoys, skyrocketing digital advertising costs and privacy changes have upended advertising practices and created challenges in targeted advertising. Last year, Apple's App Tracking Transparency slashed ad ROI by 38 percent and iOS revenue dropped 35 percent compared to Android's 10 percent gain. Google has also recently announced plans to introduce new privacy restrictions similar to Apple's, which will cut tracking across apps on its Android devices.
So, what can marketers do to cope with these industry disruptors? One of the ways is for them to selectively engage with platforms with a sticky audience that are a part of the users' lifestyle. Creating social interactions through communities within can create a ripple or Word-of-Mouth (WOM) effect among users. WOM marketing is a very powerful tool that helps brands seed their products and services while creating a cascade of interactions between the brand and the targeted audience. Through WOM marketing, brands can create buzz in user communities through interactions that are seen as honest, credible, and respectful.
We see marketers giving more attention to in-app advertising in games and key trends have emerged. Seventy-one percent of mobile gamers prefer rewarded ads, and 61 percent regularly view such ads to better gaming experience. Rewarded videos, or playable ads, are also reported to generate 43 percent more ROI than non-rewarded ads.
It is predicted that global mobile ad spend will reach $350 billion in 2022. Top gaming categories that are driving ad spends now are casual games, role-playing games, and hypercasual games.
With the rise of metaverse, in-game ads are no longer limited to ad banners or rewarded ads. Non-intrusive ad formats have surfaced, where they are now the new metaverse OOH advertising, existing as real ads inside synthetic spaces which melds into part of the playscape. Not only do these advertisements reach players, but they also reach viewers of gaming influencers who are live streaming their gameplay.
The popularity of mobile gaming creates an opportunity for users, developers and marketers all alike with in-app advertising. Due to a highly engaged community and willingness to spend, marketers and brands should be on the lookout to ride on this growth especially as we venture into Web3.0 where more win-win opportunities are being developed with the introduction of P2E games and NFT games and we are looking forward to it.
---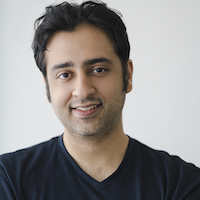 Karam Malhotra is the Partner and Global VP at the SHAREit Group, a global internet technology company with the vision to 'make digital content equally accessible by everyone'. Based in Singapore, he helms the global sales team, formulates strategy, and builds the business ecosystem for SHAREit across the globe. With his joint contribution, SHAREit Group achieved 220 percent revenue growth in FY 2122 through strategic global expansion and emerging market growth strategies. His tenure has also seen the SHAREit app capture significant milestones, including it being ranked amongst the top 10 advertising platforms in all categories on the In-App purchases (IAP) index in the AppsFlyer Performance Report 2022.
A graduate of Kellogg School of Management, he has worked at McKinsey London, and is a passionate entrepreneur, having co-founded two businesses – FastFilmz, a mobile entertainment platform, and Greatest Common Factor, an ed-tech company.
TechNode Global INSIDER publishes contributions relevant to entrepreneurship and innovation. You may submit your own original or published contributions subject to editorial discretion.
Taking traditional gaming to the Metaverse, an interview with Red Door Digital's Joseph Derflinger [Q&A]