Game streaming is leading the charge of the recent proliferation of online content. An amalgamation of gaming and live streaming, the industry's meteoric rise has been driven by the captivating nature of gaming itself – where its audio-visual simulation excites game streamers and audiences who wish to live vicariously through them.
The greatest allure of game streaming, however, can be attributed to its livestreaming roots. With online communication and socialization at its core, livestream features and technologies adopted in game streaming can enable users to experience enhanced social connectivity levels that ultimately optimize sustainable community-building.
The ties that bind livestreaming and gaming
The game streaming industry has built its multifaceted success on the compatible nature between livestreaming and gaming. Just for gaming, its similarities with livestreaming can be noted in globally popular games such as Call of Duty, where multi-player missions require live correspondence between players. The game's real-time nature is reminiscent of streamers and viewers partaking in instantaneous communication on a constant basis.
Besides its real-time capabilities, the prime value-add of livestreaming to the gaming industry centers around community-building features that embody inclusivity and maximise social presence between creators and audiences. Enabling all users to experience an elevated and authentic sense of belonging to common-interest groups, livestream technologies have the potential to sustain these online communities through various algorithms and other automated features.
The users' ability to form authentic connections at the tip of their fingers has boosted the popularity of game streaming. This is to the point that even members from ecosystems far removed from their own have participated in livestreaming themselves playing popular games such as Among Us as a fun and engaging way to socialize and interact with their audiences.
Strengthening connections and building sustained virtual communities
One of game streaming platforms' most unique traits is how it empowers viewers to reward streamers for their content directly. Beyond just conversations online, virtually gifting streamers open a new circular and rewarding communication path. For instance, studies have shown that when viewers send virtual gifts to their favorite livestreamers, these gifts can psychologically motivate streamers to expand their efforts and create even better-quality content  – further enhancing any connection they have with their already-engaged audiences.
In addition to game streamers and viewers, game developers also benefit from the connectivity capabilities of game streaming. Developers can leverage game streamers to drive unfiltered and instantaneous feedback loops of their recently launched games. With genuine feedback received in real-time, they can gain an in-depth insight into audience preferences and formulate suitable responses accordingly.
In fact, Bigo Live recently announced that it would collaborate with Mobile Legends: Bang Bang Professional League Middle East and North Africa Series (MPL-MENA) Fall Split 2022 once again, with the positive cycle being seen by both audiences and developers. Another example is that when the world-famous Fortnite Livestream garnered positive audience responses by integrating metaverse elements with gaming, game developers jumped on the opportunity to incorporate new technologies such as virtual live avatars or virtual and augmented reality (VR and AR).
The addition of these new technologies proved crucial in maximizing the co-presence between streamers and audiences, revealing new community-building incentives in game streaming.
As this ecosystem develops further, industry technology trends such as the rise in Web 3.0 shows promise of optimizing community building during game streams. Creators and viewers can benefit from play-to-earn opportunities and other decentralized technologies that can streamline gift-giving processes, content ownership, and, most importantly, equalized access. As livestream technologies already prioritize maximized access for physically or geographically compromised users, game streaming is poised to emerge as the beacon of virtual immersion – providing greater continuity in their online communities.
Community building for a greater cause
Overall, the benefits of building communities around game streams go beyond just satisfying individual social needs; it can also be the basis of generating impact – with streamers donating millions to charities due to the generosity of their loyal audiences. These altruistic impacts just show how culturally influential game streaming can be – especially in mobilizing communities – thanks to the ever-evolving engagement capabilities of livestreaming features.
As authentic community-building continues to be livestreaming's main differentiator today, we can expect even more users to be socially fulfilled as the industry rapidly grows. As a platform that is proudly contributing to the livestream space and a key player in game streaming, Bigo Live is excited about seeing how the world of livestream continues to connect people together.
---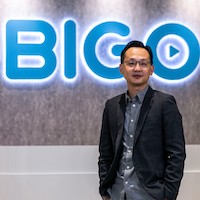 Mike Ong is Vice President of BIGO.
TechNode Global INSIDER publishes contributions relevant to entrepreneurship and innovation. You may submit your own original or published contributions subject to editorial discretion.
Gamers are making a living from play-to-earn: Here's how to get started [Podcast]]