Demo Day for SPACE-F Batch 3 accelerator startups took place recently at C asean, Bangkok. The event was organized for the Food Tech accelerator startups partaking in the SPACE-F Batch 3 program to celebrate their accomplishments and showcase their novel solutions aiming to reshape the food industry. The Demo Day attracted 198 attendees, including accredited investors and venture capitalists from Thailand and abroad along with industry-leading corporates.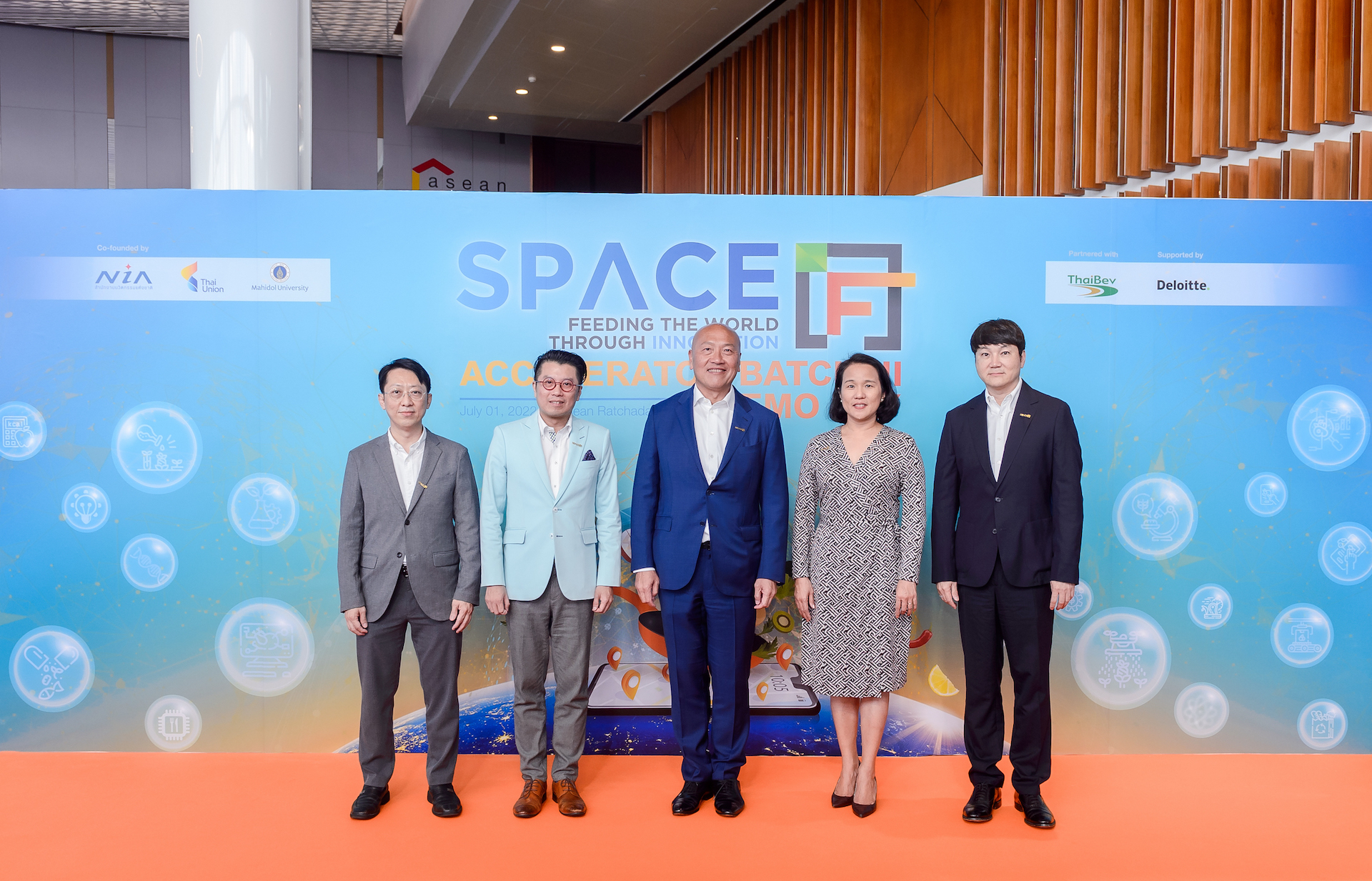 The opening remarks were addressed by distinguished representatives from the SPACE-F program's co-founders:
"Food sector is one of the strengths of Thailand Innovation System with a clear competitive advantage globally. It is my honor to share with you, how happy I am to see the progress and evolution of the Food Tech startup ecosystem in Bangkok. This initiative is growing continuously." said Dr. Pun-Arj Chairatana, Executive Director of the National Innovation Agency (Public Organization).
"Thai Union and the partners of SPACE-F continue to engage with startups by investing time and energy in supporting them through their journey. Through this support, alumni of the SPACE-F program have shown their capacity to take advantage of new opportunities, and have gone on to impact how the food industry conducts business," said Thiraphong Chansiri, CEO of Thai Union Group PCL.
SPACE-F program is dedicated to supporting the accelerator and incubator startups in the Food Tech industry to transform their innovative ideas into winning businesses that will impact the future of food. With the collaboration of the NIA, Thai Union Group PCL, Mahidol University, Thai Beverage PLC, and Deloitte Thailand. The program convened thought leaders and practitioners in the entrepreneurial and Food Tech communities to provide startups with access to mentorship, resources, and network across the ecosystem. SPACE-F Batch 3 program is powered by Nest ASEAN (an XPDITE company) delivering expertise in nurturing startups for robust growth.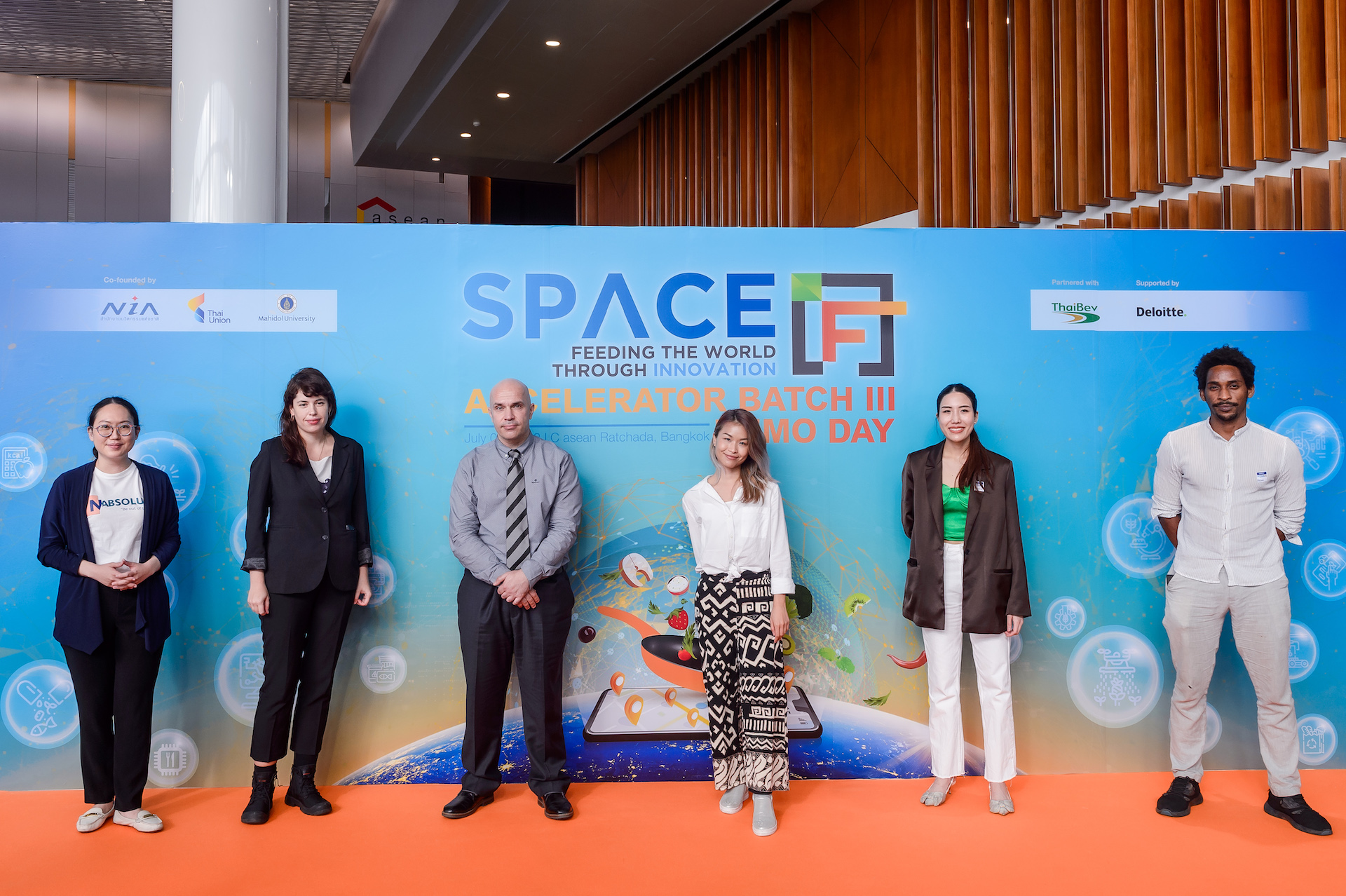 Batch 3 accelerator cohort brought together teams of local and international startups who are passionate about leveraging the use of technology to tackle challenges involving food sustainability and offer alternative food solutions for better health. The pitches were conducted by eight accelerator startups – WeavAir, Nabsolute, EniferBio, Potent Fungi, Mi Terro, EnerGaia, More Foods, and Jamulogy who intrigued the panel of experts and the audience with their practical yet innovative solutions. Following the presentations, SPACE-F Batch 3 startups and alumni from previous cohorts met and discussed important opportunities with potential investors during networking.
The event concluded with speeches made by two representatives, a SPACE-F corporate partner and a program's co-founder:
"Through our collaboration with startups, which are relevant to our business, we hope to be able to assist these startups to succeed while supporting the sustainable development journey of our country and of ASEAN region," said Ms. Tongjai Thanachanan, Senior Vice President Chief Sustainable Business Development, Thai Beverage PLC.
"The challenging times in the past few years that we strive to get through the pandemic situation have proved that the world will never be the same. Food technologies are changing fast. Among all our missions, we say in our motto: feed the world through innovations. Let's look at those difficulties and lessons to grow up together. We have learned to manage our lives and businesses in a way that we've never done before. This could be a part of making innovations, as better things often come after disruptions," said Prof. Dr. Pattarachai Kiratisin, VP for Research, Mahidol University.
This event marked a new milestone for the participating startups who will continue to embark on a journey filled with challenges and many exciting opportunities toward making a difference through Food Tech. SPACE-F will be hosting a Demo Day for Batch 3 Incubator Startups in the coming months with more inspiring Food Tech initiatives to unveil.
To learn more about the SPACE-F program, please visit https://www.SPACE-F.co/.
About National Innovation Agency (Public Organization) 
NIA's mission is to support and develop Thailand's innovation system, in both the way of improvement and initiation, to promote economic restructuring and competitive enhancement. NIA functions as a focal facilitator driving national innovation by co-creation, networking, fostering, and partnering with different organizations from various fields such as academic, technology, industry, finance, and investment. Its focus is on utilizing knowledge management to achieve innovation, particularly to foster "innovation on cluster platform" which uses innovation as the principal tool in improving quality of life and driving toward an increasingly competitive economy.
About Thai Union Group
Thai Union Group PCL is the world's seafood leader, bringing high-quality, healthy, tasty,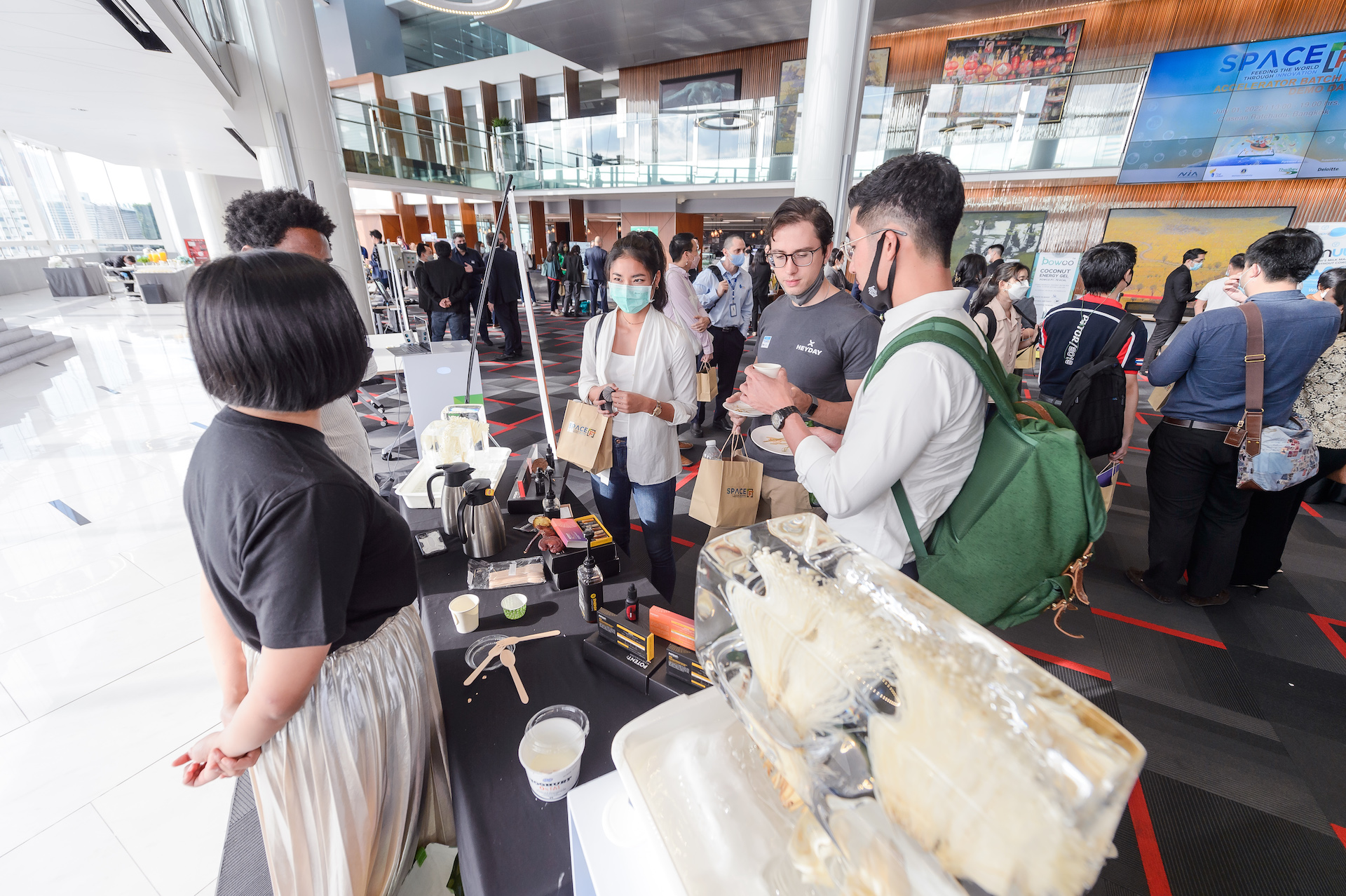 and innovative seafood products to customers across the world for 45 years.
Today, Thai Union is regarded as one of the world's leading seafood producers and is one of the largest producers of shelf-stable tuna products with annual sales exceeding THB 141.0 billion (US$ 4.5 billion) and a global workforce of more than 44,000 people who are dedicated to pioneering sustainable, innovative seafood products.
The company's global brand portfolio includes market-leading international brands such as Chicken of the Sea, John West, Petit Navire, Parmentier, Mareblu, King Oscar, and Rügen Fisch, Thai-leading brands SEALECT, Fisho, Qfresh, Monori, OMG Meat, Bellotta and Marvo, and ingredient and supplement brands UniQ™BONE, UniQ™DHA and ZEAvita.
As a company committed to innovation and globally responsible behavior, Thai Union is proud to be a member of the United Nations Global Compact, and a founding participating company of the International Seafood Sustainability Foundation (ISSF). In 2015, Thai Union introduced its SeaChange® sustainability strategy. Find out more at seachangesustainability.org. Thai Union's on-going work on sustainability issues was recognized when the company was listed on the Dow Jones Sustainability Indices (DJSI) for the eighth consecutive year in 2021 and ranked number two in the world on the Food Products Industry Index. Thai Union was also named to the FTSE4Good Emerging Index for the fifth straight year in 2020.
About Thai Beverage 
ThaiBev was established in 2003 to consolidate a number of leading spirits and beer businesses in Thailand belonging to our founding shareholders and other investors. In 2006, we registered ThaiBev's listing on the Singapore Exchange (SGX), and subsequently expanded to the non-alcoholic beverage and food sectors to diversify its product portfolio, enhance logistics efficiency, and mitigate business risks. Today, ThaiBev is not only Thailand's leading beverage producer, but also one of Asia's largest beverage producers. The business consists of four segments – spirits, beer, non-alcoholic beverages, and food.
About Deloitte 
Deloitte provides audit & assurance, consulting, financial advisory, risk advisory, tax & legal related services to public and private clients spanning multiple industries. With a globally connected network of member firms in more than 150 countries and territories, Deloitte brings world-class capabilities and high-quality service to clients, delivering the insights they need to address their most complex business challenges.
Deloitte Thailand 
Our Thailand practice has grown rapidly over the years to its current size of over 1,500 staff with over 50 partners.
Our Thailand practice, founded in 1939, is the first Thai accounting firm. With the depth of experience and quality of resources, Deloitte Thailand has been serving clients in Thailand, spanning various industries and sectors, for more than 80 years. Working as one Deloitte for the Asia Pacific marketplace enables us to leverage our size, scale and clients reap the benefit of our combined pool of expertise and specialist skills.
About Mahidol University
Mahidol University has its origins in the establishment of Siriraj Hospital in 1888 by His Majesty King Chulalongkorn (Rama V), and the hospital's medical school is the oldest institution of higher learning in Thailand. This diversified institution now offers top-quality programs in numerous social and cultural disciplines, including the most doctoral programs of any institution in Thailand, yet has maintained its traditional excellence in medicine and the sciences.
On 16 October 2007, the Thailand National Legislative Assembly approved Mahidol University as an autonomous institution. This transformation will enhance the university's efficiency, flexibility, and ability to innovate and standardize its practices with those of other world-class universities. The ultimate goal is to promote healthy living and well-being for the benefit of people based on research, technology, and innovation. Currently, Mahidol University is ranked No. 1 in Thailand by many internationally recognized institution rankings.
About Nest ASEAN (an XPDITE Company)
Nest is a global innovation platform with offices in Bangkok, Nairobi, and London. With a vision for technological disruption, and unconventional business practices, Nest ASEAN has supported over 50 corporate innovation programs that help corporations to engage with global deployable startups and drive ongoing commercial results. Nest ASEAN has been acquired by Xpdite Capital Partners in September, 2020. To find out more about how we expedite growth in Asia, please visit http://www.xpditecapital.com
Glife's Caleb Wu & Novitee's Benjamin Yang on the impact of data, AI & innovative financing on the future of food [Q&A]