Billionaire tech entrepreneur Elon Musk said on Friday the $44 billion deal to takeover Twitter is "temporarily on hold" as he awaits data related to the social media platform's fake account.
"Twitter deal temporarily on hold pending details supporting calculation that spam/fake accounts do indeed represent less than 5% of users," he wrote in a tweet on Friday. Musk has 92 million followers on Twitter.
Twitter's share price fell following his tweet. The counter was traded at $39.88 in pre-market trading session at the time of writing, down 11.54 percent.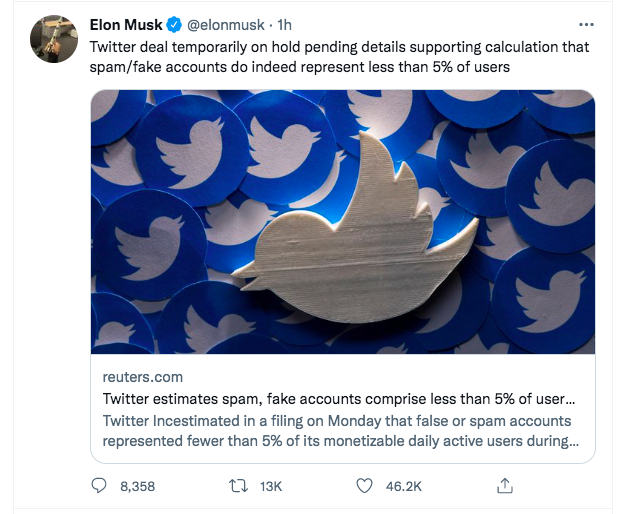 His latest tweet also referred to a Reuters' news report dated May 2 that said Twitter estimated that false or spam accounts represented fewer than 5 percent of its monetizable daily active users during the first quarter.
In his earlier tweet on May 4, Musk said Twitter will always be free for casual users, but maybe a slight cost for commercial/government users.
"If Twitter acquisition completes, company will be super focused on hardcore software engineering, design, infosec & server hardware," he said in a tweet dated May 6.
It was earlier reported that Musk raised around $7 billion from investors including Oracle co-founder Larry Ellison, crypto exchange Binance and asset management firms Fidelity, Brookfield and Sequoia Capital to fund the deal. Other backers include Dubai-based tech investment group Vy Capital, Qatar's sovereign wealth fund QIA, among others, Financial Times reported.
Musk had no financing lined up when he first announced the plan to acquire Twitter. Twitter announced on Apr 25 that it has entered into a definitive agreement to be acquired by an entity wholly owned by Musk, for $54.20 per share in cash in a transaction valued at approximately $44 billion.
Musk, who co-founded and leads electric vehicle manufacturer Tesla, aerospace firm SpaceX and neurotechnology company Neuralink, is the world's richest person, according to Forbes magazine. He emerged as the largest shareholder of Twitter with a 9.2 percent stake in early April. He was then offered to join Twitter's board but turned down the invitation before launching a surprise bid for the company on Apr 14.
Musk would need to pay a termination fee of $1 billion should he walks away from the deal, according to reports.
Elon Musk's $44B Twitter buyout challenged in shareholder lawsuit – report