The family office structure has existed since the early 19th century, but it only started gaining popularity in the 1980s. Now, it is seen as a massive source of capital with around $10 trillion according to rough current estimates and some $65 trillion coming downstream in the next 15 years.
Improving the family office is a serious concern since most of the 17,000 family offices are believed to be inefficient, siloed, and fragmented. The family office market is growing exponentially, and it would be greatly beneficial to have a way to raise its efficiency.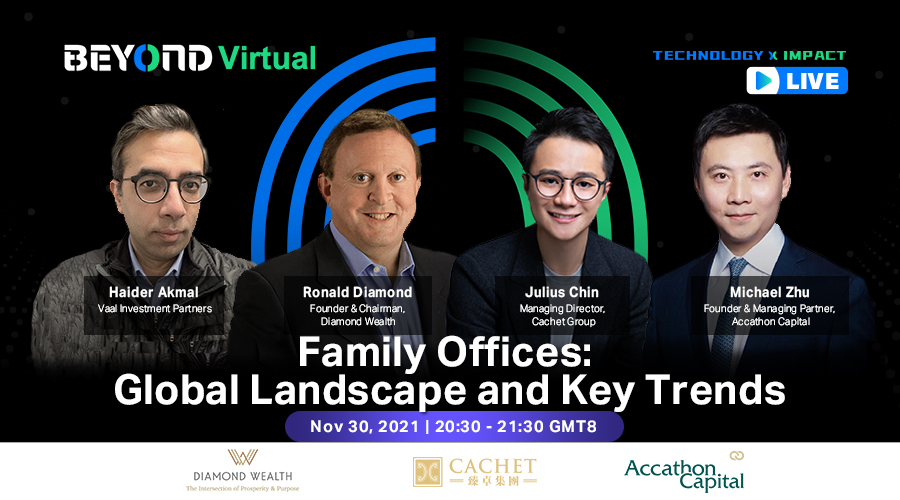 The panelists for this Beyond Virtual discussion are listed below:
Michael Zhu, Funder and Managing Partner, Accathon Capital (Moderator)
Haider Akmal, Portfolio Manager, Vaal Investment Partners
Ronald Diamond, Founder and CEO, Diamond Wealth
Julius Chin, Managing Director, Cachet Group
This session served as a way to exchange knowledge and insights on how to improve the family office in view of the new dynamics and developments in the current market and beyond, especially as the world moves towards recovery from the pandemic.
Some of the key takeaways from the panel discussion:
An overwhelming majority of family offices, at around 68 percent, only started in 2000. The idea of family office may have started decades ago, but its relevance is regarded as a relatively new phenomenon.
Family offices are generally inefficient, fragmented, and siloed. Accordingly, only 25 percent of family offices make it to the next generation. Meanwhile, only 10 percent make it to third and 5 percent make it to the fourth.
There is a concern whether the family office model is effective at all. It needs an overhaul to improve and reach its maximum potential. The capital from family offices can exceed the funds from entire private equities and venture capitals.
The future of family offices lies in collaboration. When family offices start collaborating, they are set to become less siloed, less fragmented, more efficient, and more institutionalized. They can compete directly with the likes of Blackstone, Apollo, and Carlisle.
Most family offices refuse to reach out to private wealth management platforms at a bank. They hesitate to trust such systems and many of them are also becoming more confident in their own abilities to deploy and grow their wealth.
The family office model is regarded as a "powerful arrangement for the preservation of family wealth." However, it is faced with a number of challenges including the uncertainties in the continuation of businesses, complexities of succession and wealth distribution to the heirs, and the prospects of expanding the businesses or growing the family's wealth.
Wealth planning is crucial for family offices, but it is not the only concern family should pay attention to. They also need to consult with a real estate planning attorney, ensure the proper governance of assets, and ascertain that the heirs or succeeding generation are educated enough to know what to do with the wealth and also have a sense of benevolence to maintain the reputation of the family.
It is also important for the family office to get the right network, expertise, and market edge to succeed with their wealth propagation. They may have good governance and real estate planning, but if they lack the network, it would be difficult for them to succeed in a specific market.
According to a Goldman Sachs survey, the family office asset allocation tends to have outsized exposure to alternative investments. On average, the family office portfolio has a 45 percent combined allocation to private equity, real estate, private credit, and hedge funds.
Family offices that tend to be sensitive about fees and tax efficiency are usually inclined to invest in private equity more than the public markets.
Many family offices, particularly in the United States, can tolerate investments that do not work. They can continue working with wealth managers for as long as their interests align. This alignment of interests fuels the prospects for improved success in other opportunities. Families trust their wealth managers and investment partners when they share common goals.
"Idealistic" investment goals such as sustainability and climate change mitigation and preparation matter for many family offices at present. This was not the case a few decades ago.
"The model as it is doesn't currently work. I think going forward, we're at a tipping point. We are at an inflection point right now. And soon, you're going to have more money in family offices than the entire private equity and venture capital combined." – Ronald Diamond

"I think that in the environment that we're in today, and particularly for family offices, whether they're new or they've been around for a long time, the number challenge they are facing is access … It's hard to access quality deals because private equity funds all the way from venture to buyout are deploying capital at an unprecedented pace and are often investing earlier and at a greater scale … It's hard to access quality fund managers because they have become capacity constrained." – Haider Akmal

"One of the trends that's happening is that family offices, individuals are coming together and forming their own kind of specialized tendency and really deploying their specialized skills, something many funds cannot do." – Julius Chin
---
BEYOND Expo on-site event was held on December 2 to 4, 2021 at the Venetian Macao Convention and Exhibition Centre.
You can still watch the panels here. Click to check out the FULL virtual programs.
To access all our BEYOND Virtual prime content, register a FREE account now. You will receive an email confirmation and signup guideline to replay the online sessions.
Game on – The evolution of eSports and gaming [Beyond Virtual Panel recap]