Much has changed in the gaming scene since the advent of the internet for the masses and the widespread use of web-enabled mobile devices. Gaming has already taken a wide range of forms and options. Digital technology is offering new ways to play and is becoming very popular, especially as the world is grappling with a pandemic.
Digital gaming and eSports continue to advance further and become more enticing for players. Their popularity, particularly in the midst of a pandemic, is also in a way blurring the lines between traditional gaming and digital gaming.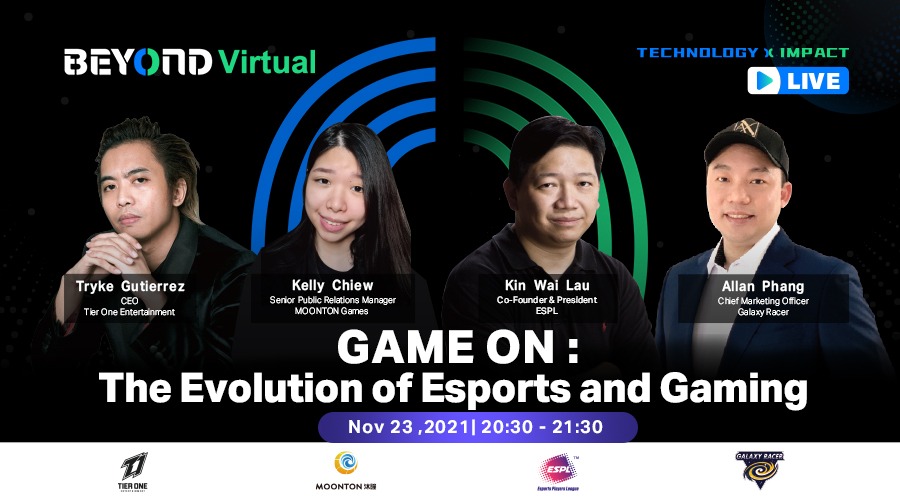 This Beyond Virtual session had the following participants:
This panel discussion featured experts in the field of modern gaming, representing successful and promising gaming companies that operate across Asia. All of them share the opinion that the pandemic may have been a struggle for everyone, but it has helped accelerate gaming over the past couple of years and digital gaming is set to grow further and evolve because of new technologies and competition.
Here are some of the key takeaways:
Japan is viewed as the "Mecca of gaming." Gaming companies see the country as a place not just for opportunities but also for knowledge about creating a vibrant gaming community and industry. However, massive growth in the gaming industry is expected in China, Southeast Asia, and Latin America.
Mobile eSports is considered to be one of the biggest factors of the success of eSports at present. Many eSports players have never played games on PCs but are passionate about mobile gaming and are involved professionally in eSports gaming. This is particularly true for younger players whose first gaming devices have been their smartphones or tablet computers.
More PC and traditional gamers are moving into mobile competitive eSports gaming. PC gaming giants are expected to shift towards mobile gaming.
eSports education or the sharing of knowledge about eSports is also a big reason why the industry is getting bigger and bigger. The popularity of video game streaming has greatly helped raise awareness about and draw fans into the eSports industry.
eSports and online gaming, in general, are viewed as a highly viable form of content to be offered to the younger generation because it defies the general observation that the new generation (Gen Z) has poor attention spans. Many young players can do gaming for hours, and with eSports, there's the sense of playing some form of sports on a platform that Gen Zs and millennials indubitably enjoy.
One of the panelists estimated that the pandemic has caused a digital behavior acceleration of about seven to nine years. This means that more people have learned to embrace new tech more rapidly particularly in the area of gaming.
This acceleration of digital adoption and behavior is blurring the lines between traditional and digital gaming. Many traditional games are now getting digital versions or digitalized adaptations. This does not mean that traditional sports will eventually go away, but there is a high possibility for hybrid sports to emerge and become part of the new normal.
Gaming and eSports companies need to innovate to become successful across Asia or at least in Southeast Asia. This is something demonstrated by Mobile Legends with its pioneering efforts at proper localization in different markets and partnerships with broadcasting platforms.
Gaming companies are taking advantage of other modern technologies and new internet products or platforms to advance. For instance, there are companies that use video-sharing platforms not only to promote their games but also to provide guidance or tutorials to players and create a sense of community among players. Online streaming, of note, plays an important role in the evolution of gaming.
New players in the gaming and eSports and industry are aggressively establishing their own communities or ecosystems to compete with established brands or leagues.
The internet and digital media are considered equalizers for content and gaming access, while eSports is fostering diversity in terms of demographics, geography, and accessibility.
"I think eSports is already mainstream today. It can only get bigger. There will be a lot of innovation going on. It's going to be really exciting in the next five years." – Kin Wai Lau

"We feel that eSports should be for all, not just catering to one particular group or segment. eSports should definitely be made widely available for all." – Kelly Chiew

"I think the general driver to why eSports is really getting bigger is because of education. And education is really coming from different points. So, for instance, one is streaming. I think streaming becoming a mainstream entertainment has really transformed education when it comes to gaming and eSports and how this community works." – Tryke Gutierrez
---
BEYOND Expo on-site event was held on December 2 to 4, 2021 at the Venetian Macao Convention and Exhibition Centre.
You can still watch the panels here. Click to check out the FULL virtual programs.
To access all our BEYOND Virtual prime content, register a FREE account now. You will receive an email confirmation and signup guideline to replay the online sessions.