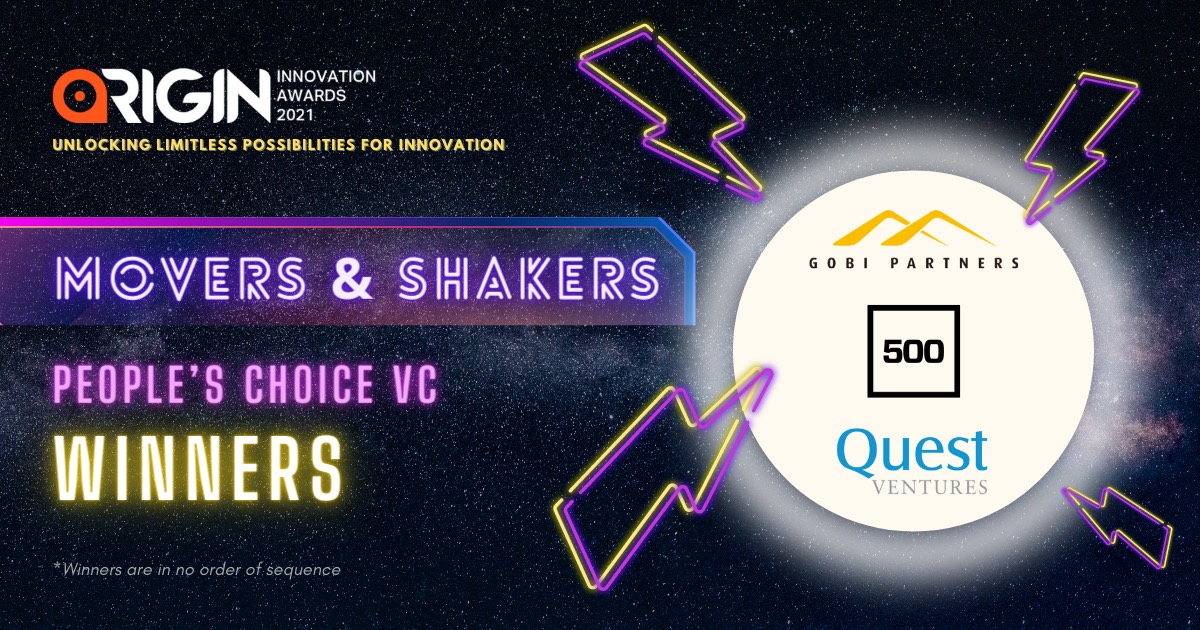 We are thrilled to announce the People's Choice VC winners for the second edition of the ORIGIN Innovation Awards.
The ORIGIN Innovation Awards recognizes outstanding startups, corporate innovators, and movers and shakers in the Asia Pacific region poised for growth. The awards celebrate the spirit of innovation and entrepreneurship, and also seek to inspire the dreamer in all of us.
We'd like to express our deepest thanks to everyone who participated. All the nominations are truly inspirational, and we would like to congratulate everyone for your efforts and nominations.
Nominations for the ORIGIN Innovation Awards began on June 15 and ended on September 15, 2021. The eligible nominees for the Startup Awards were put up for judging and public voting from September 16 to October 31, 2021. The finalists and winners for Movers & Shakers – People's Choice VC were determined by public voting.
Here are the winners for Movers & Shakers – People's Choice VC:
500 Southeast Asia. 500 Startups is a global venture capital firm on a mission to discover and back the world's most talented entrepreneurs, help them create successful companies at scale, and build thriving global ecosystems. 500 Startups is ranked as the most active global venture capital firm of 2019 in exits and by deal VC count (as of February 2021). To date, 500 Startups has invested in over 2,500+ companies across 78+ countries.
Across Southeast Asia, the 500 Southeast Asia family of funds has backed over 240 companies across multiple sectors from internet to consumer to deep technology. 500 Southeast Asia looks to connect startup founders with capital, expertise, and regional and global networks to help them succeed.
Gobi Partners is a leading venture capital firm investing in emerging and underserved markets across Asia, with US$1.1 billion in assets under management. Since 2002, the firm has backed over 270 startups across 13 countries with 9 unicorns in Southeast Asia, the Middle East, South Asia, and North Asia.
As an ESG champion and United Nations Global Compact participant, Gobi Partners is committed to the universal principles on human rights, labor, environment, and anti-corruption. Its entrepreneurs have created thousands of jobs, uplifted their local communities, and reached millions of customers beyond the continent.
Quest Ventures is a venture capital firm founded in 2011 by James Tan and Wang Yunming in Beijing, China. The firm mainly focuses on digital commerce investments and has an office in Singapore. The firm deploys funds across Asia in countries such as Singapore, Malaysia, Vietnam, and Indonesia.

Quest Ventures has focused on an overarching 'digital economy'​ strategy across Asia and is one of the largest early-stage technology investors in artificial intelligence, e-commerce and marketplaces, entertainment, finance, food, insurance, logistics, media, property, sports, and the Islamic digital economy. Portfolio companies include industry leaders such as 99.co, Carousell, Carro, Ethis, Glife, MGAG/ PGAG/ SGAG, Oddle, Shopback, VulcanPost, Xfers, and Yummy Corporation.
Congratulations to all the winners.