Soonicorn, a portmanteau of "soon" and "unicorn," sounds like some whimsical coining of a new word, but it is a concept that merits attention. Thailand has seen a handful of these soon-to-be-unicorns with its thriving startup ecosystem that benefits from its strategic location, good infrastructure, and the availability of low-cost skilled labor.
This BEYOND Virtual Panel held on November 12, 2021, shows a sharing of updates and ideas concerning the state and progress of soonicorns in view of the current condition of Thailand's economy. Will Thailand see its second unicorn soon? Or do startups really have to strive to reach that $1 billion capitalization milestone?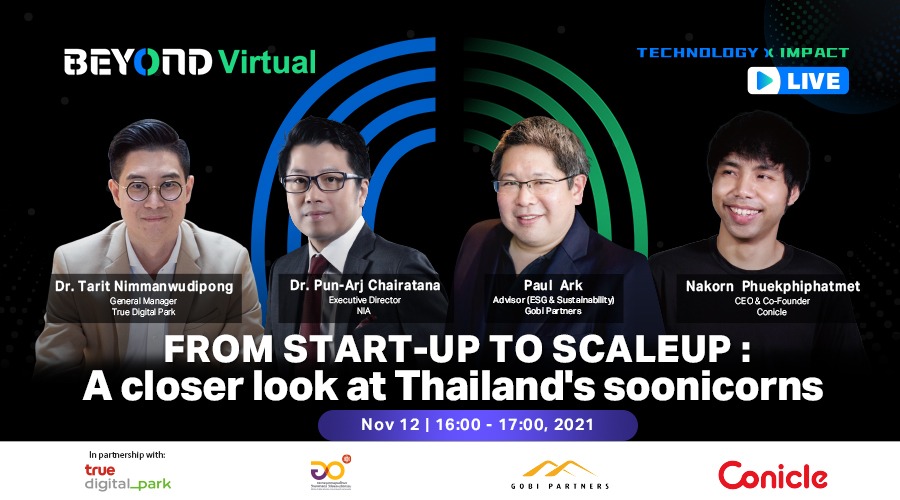 The panel members for this session were as follows:
Here are the highlights of the panel discussion.
Thailand's government, particularly through the National Innovation Agency, wants to help startups grow through a special program aimed at getting them publicly listed in the Thai capital markets.
Reaching unicorn status is not that important and can be regarded as an unnecessary obsession. Having a startup ecosystem that is more accessible is a better goal.
Likewise, entrepreneurs creating liquidity for their businesses and investors seeing exits for their investments would be a better gauge for success.
Thailand already has several soonicorns, but the country could have many unicorns if businesses don't only focus on the local market and consider the external market. Thailand has room for improvement in terms of talent and technology.
Scaling up across the ASEAN region is a lot easier as a B2B company. Businesses that seek to grow bigger should consider going regional.
The hottest sectors that can help businesses grow bigger and faster are e-commerce, FinTech, EduTech, micro-finance, food delivery, and B2B solutions. Post-pandemic, the travel industry is also expected to be highly attractive for entrepreneurs.
5G and sustainability are projected to become key investment drivers for the next decade.
Thailand's NIA is trying to prop up investments and developments in the field of space technology, robotics, AI, and immersive technologies. The agency is targeting 100 deep tech startups in the next three years.
Thailand is also seeing growth in the content creation market, which includes music, TV series, and online shows.
"I believe that you may have a unicorn easily with really strong investors, institutional investors, or corporate investors. If you take a look at many cases all around the world, it's depending on valuations and the rounds of investments or ticket size. Some may take around less than 15 months or maybe two years to be unicorn." – Dr. Pun-arj Chairatana

"I think there is a big obsession about the term "unicorn," and particularly around the billion-dollar valuation mark, which is a fairly arbitrary number … But from the investor perspective, you know I think many of us see it as largely a bit of a vanity metric." – Paul Ark

"We have to find a scalable market. Thailand is a special market. It's not too big but it's not too small. It is not big enough to have many unicorns here in Thailand. We need to look overseas to scale up…Talent supply shortage is a key challenge…We also need to build technology in Thailand." – Nakorn Phuekphiphatmet
---
Watch the panels across the week here. Click to check out the FULL virtual programs.
To access all our BEYOND Virtual prime content, register a FREE account now. You will receive an email confirmation and signup guideline before the online sessions.
BEYOND Expo on-site event will be held on December 2 to 4, 2021 at the Venetian Macao Convention and Exhibition Centre. See you there!
BEYOND Virtual kicks off on November 9th with 'What's Next?' from global industry leaders & investors