Australian Securities Exchange-listed payment firm Novatti announced on Wednesday the acquisition of ATX Group Malaysia, a FinTech company that provides digital payments.
ATX Group provides e-wallet providers, traditional retail stores, and kiosks with digital payments through their extensive payments network in Malaysia including more than 31,000 touchpoints, Novatti said in a Linkedin post.
"In addition to welcoming the ATX team, Novatti looks forward to scaling the existing ATX business, introducing additional Novatti services, and further expanding across Southeast Asia," it wrote in the post.
Novatti said the acquisition is priced at A$8.4 million ($6.3 million), to be paid in cash and Novatti shares but could reach A$9.9 million ($7.4 million), subject to ATX meeting certain revenue requirements in the first and second calendar years post completion of the acquisition.
Completion is expected to occur by the end of November 2021, according to the presentation slides attached to the post.
Founded in 2011 in Malaysia, ATX has developed and monetized a B2B2C bill payments ecosystem, besides providing e-wallet partners, traditional retail stores, and kiosks with digital payment services. It is also a program partner for 62,000 prepaid cards and has launched eight e-wallet platforms. It processes more than 10.2 million transactions annually.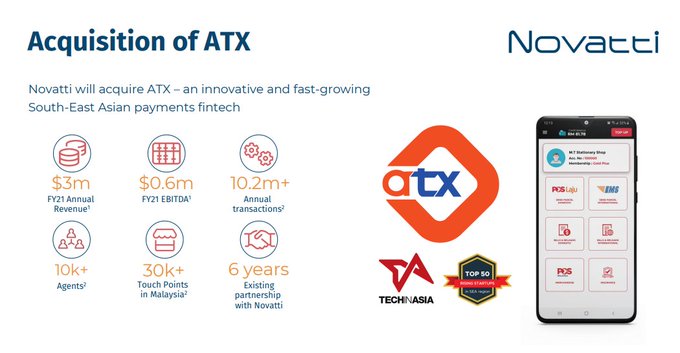 According to the presentation slides, ATX generated normalized revenue of A$2.8 million ($2.1 million) in the financial year 2020 (FY20) and A$3 million ($2.25 million) in FY21. It also produced EBITDA of A$0.4 million ($0.3 million) in FY20 and A$0.6 million ($0.45 million) in FY21, a 50 percent increase.
The acquisition price represents a valuation of 2.8 times normalized annual revenue. ATX has been a Novatti partner since 2015. As a result, the business is well known and understood by Novatti, de-risking the acquisition, the presentation slides showed.
Novatti said the acquisition creates an on-the-ground presence for the company in Southeast Asia, a key growth market going forward. This will also provide a platform for the potential expansion of other existing services, including Novatti's partnerships with Ripple.
The acquisition also provides Novatti with a physical presence in Malaysia. The country alone shows strong digital payments growth with a population of 32 million where digital wallets represent 13 percent of point-of-sale payments compared to 8 percent in Australia, Novatti noted. Mobile commerce turnover is expected to grow 100 percent by 2024, according to FIS World Pay 2020 Report. In Malaysia, the central bank is expected to issued up to five digital banking licenses in the first quarter of 2022.
The acquisition enables Novatti to scale existing ATX businesses while looking to introduce additional Novatti services to the Malaysian market, such as billing. Novatti will get access to ATX's leading technology, including e-wallets.
Novatti's acquisition came after its announcement earlier this month that it has closed a A$10.5 million ($7.87 million) Series A funding round for its new banking business. The COVID-19 pandemic has boosted the demand for digital payments and online banking services across the globe including Southeast Asia.
Novatti is a FinTech firm that enables businesses to pay and be paid, from any device, anywhere. Its solutions include issuing, acquiring, processing, and billing. Novatti has also applied to the Australian Prudential Regulation Authority (APRA) for a restricted banking license through its subsidiary Novatti IBA Pty Ltd.
Featured image credit: Novatti
29 Applicants to bid for 5 digital banking licenses in Malaysia, with national cooperatives group joining in