A mantra I live by: The more uncertain the situation is, the more it creates new opportunities. With 14 years of industry experience on my back, my career journey has taught me to embrace volatility and uncertainty because it compels me to improve myself. Unpredictability keeps me on my toes and encourages me to come up with dynamic and creative solutions. More importantly, I believe this attitude should apply to both individuals and organizations, hence, I try to encourage this mindset in the people I work with wherever I go.
As Chief Financial Officer at one of Indonesia's largest B2B e-commerce start-ups, I oversee finance operations, fundraising, and investor relations at GudangAda. GudangAda has raised over $100 million in its Series B funding round, exceeding our initial target of $75 million. This is a truly exciting time for the company and we are incredibly humbled and grateful to have received extremely strong support from our investors as we embark on the next stage of growth.
Going forward, we have ambitious plans to continue growing GudangAda through expanding our team across key divisions and executional capabilities, as well as building and strengthening GudangAda's ecosystem of service offerings, including Logistics, POS SaaS, Marketing Services, Data Services, and Financial Services. The end goal is to develop a comprehensive B2B ecosystem across all aspects of the supply chain, so as to generate enormous value for our customers while also building a highly capital efficient and scalable platform for all B2B stakeholders in Indonesia.
Having been in the corporate finance and capital raising industry for several years, I have become familiar with the intricacies when it comes to spearheading business growth and learned the importance of building strong relationships based on trust with key industry stakeholders.
While we are still in the midst of a long-drawn pandemic, I believe startups are still presented with advantages in this season as COVID has kicked off the acceleration of the digital economy, mostly arising from the shift in consumer habits from offline to online.
However, business growth, especially in the current economic climate, comes with challenges. While most start-ups focus on gaining market share, the mindset often neglected by entrepreneurs is that cost control and sustainable growth should be the vanguard of every fast-growing company. Moreover, though start-ups are considered more nimble and dynamic than larger companies and multinational corporations, and because it is considerably easier for founders to shift from the mindset of market share growth to one of sustainable growth, it is still a challenge for leaders to internalize this shift in mindset across the organization.
Having worked in various countries–Hong Kong, New York, Peru, Singapore, and Vietnam–my career journey and expertise extends to varied markets across the globe. Further enriched by the colleagues I've had the privilege to meet and work with internationally, I hope to provide insights and key learning points from my experience as a fellow business leader and innovator to inspire other entrepreneurs.
Embrace innovation. Even in this season, companies should not shy away from innovation. Innovation should be at the forefront of every company. Trust me when I say technology and artificial intelligence (AI) investments will separate the winners from losers going forward as technology gives companies a competitive edge. When I worked at Sendo, the company had invested strongly in AI and it boosted our conversion rates as well as delivery efficiency by more than 10 percent and 15 percent, respectively.
Set clear goals. Write up a recipe for what is going to take place presently, as well as six months and/or a year from now to keep employee mindset across the organization aligned. My experiences have taught me that organizations should be clear on what they are aiming for, especially during the current market situation–growth in market share or survival. This goal will determine your company's financial decisions. Most importantly, the goal you set should allow your organization to emerge stronger at the end of a crisis season.
Communication with stakeholders and investors is paramount. Given the current market conditions, unless your startup is already close to the finishing line, you must always be prepared to go back to the guys who know you best. That is why communication with existing stakeholders, both internal and external, as well as investors and partners is so important.
Fundraising is more heart than head. While market sentiments in some industry sectors may be dampened from the investor's end, fundraising is often more heart than head. You always want to raise more than you can, so timing your fundraising with key operational milestones would be most rewarding, even though it's easier said than done. Moreover, always look at the term sheet and always approach an investment with open eyes and look beyond the valuation to understand all the different terms you are entering into.
Gather a well-rounded team. It is important for a fundraising team to be well-rounded. You need not just people who are good with numbers but also people who are charismatic, who have the right connections to reach investors, both institutional and non-institutional. On top of that, a good lawyer is beneficial to help go over transactional documents. However, as a leader, it is crucial that you do not fully rely on your lawyers when going over term sheets as you should also know the terms you enter into and how to negotiate them.
Build up employee motivation. Though there may be a larger pool of prospective hires now, the focus should be on employee motivation and communication as well as retention, instead of hiring. Communication with your team is important but leading by example is key. Being a leader is a balancing act of communicating right, delegating fairly and at the same time, empowering your followers. Even when hiring, go beyond just picking someone for a specific skill set. I think the most important skills that you should look for in employees are resourcefulness and a problem-solving ability.
With practice, these values of how to spearhead business growth will help your startup scale up throughout its different stages of growth. My experience working at different companies across the globe has taught me plenty, but I continue to learn from my colleagues and partners to keep up with the dynamic B2B e-commerce industry. I hope that my experience and insights will help inspire, encourage and steer other young business owners in the direction of success.
---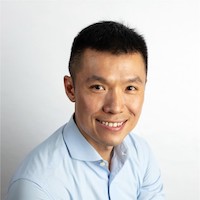 JJ Ang is the Chief Financial Officer of GudangAda, an Indonesia B2B e-commerce company in the fast-moving consumer goods (FMCG) industry. He has over 14 years of experience in investment banking, private equity, capital raising, and corporate management and has held roles in the US, South America, Hong Kong and Southeast Asia.
As Chief Financial Officer, JJ oversees financial operations, fundraising, and investor relations at GudangAda. He is also in charge of strategic management and financial communication between the company and its investor community.
Prior to joining GudangAda, JJ was the Chief Financial Officer at Sendo, a leading Vietnamese consumer e-commerce marketplace where he was responsible for the company's operations and financial management. Prior to that, JJ co-founder a merchant bank Emergebridge based in Singapore focused on cross-border capital raising and private placements across Series B-E transactions, with strong access to both institutional and family office capital.
A prolific investment banker, JJ also held the role of Vice President at The Royal Bank of Scotland based in Hong Kong, for four years. He began his career as an Analyst at Bank of America Merrill Lynch in 2007 with a focus on M&A, Equity Capital Markets (IPOs and follow-on offerings), as well Debt Capital Markets.
JJ graduated from the University of North Carolina at Chapel Hill with a double Bachelor's Degree in Business Administration and Asian Studies.
TechNode Global publishes contributions relevant to entrepreneurship and innovation. You may submit your own original or published contributions subject to editorial discretion.
Digital transformation has accelerated the warung ecosystem in Indonesia, says Warung Pintar's Agung Bezharie Hadinegoro [Q&A]