RHL Ventures, which has been selected by the Malaysian government for its Dana Penjana Nasional (DPN) Program, has chosen three main themes for its Hibiscus Fund which is targeting a final close of up to $100 million, a top executive said.
The Hibiscus Fund is a venture capital fund managed by RHL Ventures and South Korea's KB Investment Co Ltd., which forms part of the DPN program, an economic recovery initiative by the government. Under the program, foreign and private VC fund managers will match, on a 1:1 basis, with the Government of Malaysia in investment allocations of up to 1.2 billion ringgit ($290 million).
"Initially, we targeted $50 million as the fund size and we wanted to target a bigger close if we have demand for it. Over the past few months, there was strong interest in the fund, in getting exposure to Malaysia and the Penjana Kapital program," RHL Ventures Co-founder and Co-Managing Partner Raja Hamzah Abidin said. "We've done the first close of $50 million and we are targeting a final close at $80 million to $100 million."
While the fund is sector agnostic, allowing it to take opportunities from various sectors, the firm has narrowed down to three sectors it focuses on–food, healthcare, and mobility, he added.
"There are three main themes that we see into the future. The first is the future of food, whether it's alternative proteins, distribution, and supply chain-related. Cloud kitchens and deliveries also come into play," Hamzah told TechNode Global in a recent interview.
Given the scarcity of resources and based on the technology trends, he said the type of food to be consumed will be different. "Food will be consumed in a very different way from the past."
Hamzah said being in Malaysia has a clear advantage in developing the food sector as the country has good space for manufacturing and has developed proper supply chain infrastructure.
"The story is not only for the next few years but for the next 10 to 20 years. Malaysia can be a key hub," he said.
On healthcare, Hamzah said RHL Ventures have completed a few investments in the sector including Malaysia-based digital health startup Naluri and employee healthcare SaaS platform HealthMetrics.
"They have been successful, using Malaysia as a base. Malaysia has a deep, healthcare system, especially in the private sector. You see the likes of IHH Healthcare, Columbia Asia (backed by alternative firm TPG). There's a lot of private sector appreciation of healthcare opportunities. It's the same in the startup space," he said.
Another sector that RHL Ventures will look for opportunities is in the mobility space.
"Carsome is one of the companies that has done well here. We find that there's an ecosystem of cars, dealers, and maintenance that can be started in Malaysia. We are finding opportunities in this space," he said.
The Hibiscus Fund is about 20 percent deployed. "Maybe by the end of the year, we'll be 30 to 40 percent deployed. And then next year, we will slow down slightly, depending on where we see opportunities," Hamzah shared.
Closing deals in cloud kitchen, FinTech, supply chain
"We are in the midst of closing a few deals, one deal is in the cloud kitchen space. We are looking at a Malaysian deal in the FinTech space, another Malaysian deal in the supply chain space. We are actually committed to do another five investments," he said.
Asked about the cheque sizes for the Hibiscus Fund, Hamzah said it is flexible, ranging between $500,000 to a maximum of $5 million per check.
"If we are bullish, we could go higher and vice-versa," he shared.
The Hibiscus Fund is RHL Ventures' second fund. Its first fund, which was reportedly at $26 million, has already been fully deployed. Its portfolio companies include snacks e-commerce firm Signature Market, dating app Coffee Meets Bagel, interior designers platform Atap, Korean beauty products platform Althea, Indonesian shariah FinTech firm Alami, among others.
Penjana Program attracting 'blue-chip' foreign investors
The DPN program has managed to raise 850 million ringgit ($203.67 million) for its first close at end-May. Of the total raised, over 55 percent was from foreign investors, including from Hong Kong, South Korea, and Singapore. Out of the eight approved foreign VC fund managers and their Malaysian partners selected as part of the DPN program, three have successfully reached their final close target ahead of the deadline.
DPN aims to bridge the funding gap by incentivizing private capital to facilitate the growth of start-ups and create an enabling environment for these start-ups to scale and internationalize. Beyond being a vehicle to attract foreign capital to Malaysia, it is also a crucial lifeline for start-ups.
"The program enables us to bring in some strong, blue-chip investors that normally wouldn't look at Malaysia yet. Now with this program, the value of some of the startups has magnified, and the flow of capital will improve. In fact, we have already seen improvement. It will improve in the next six to 12 months," Hamzah said.
Based in Malaysia, RHL Ventures is a multi-family private investment firm focusing on Southeast Asia. Founded in 2016, the firm is currently led by Rachel Lau, Hamzah, and Jo Jo Kong. The firm typically invests in early stages companies (Series A/B fundraises) and it also participates in later-stage rounds. Besides Southeast Asia, it also invests opportunistically in other regions.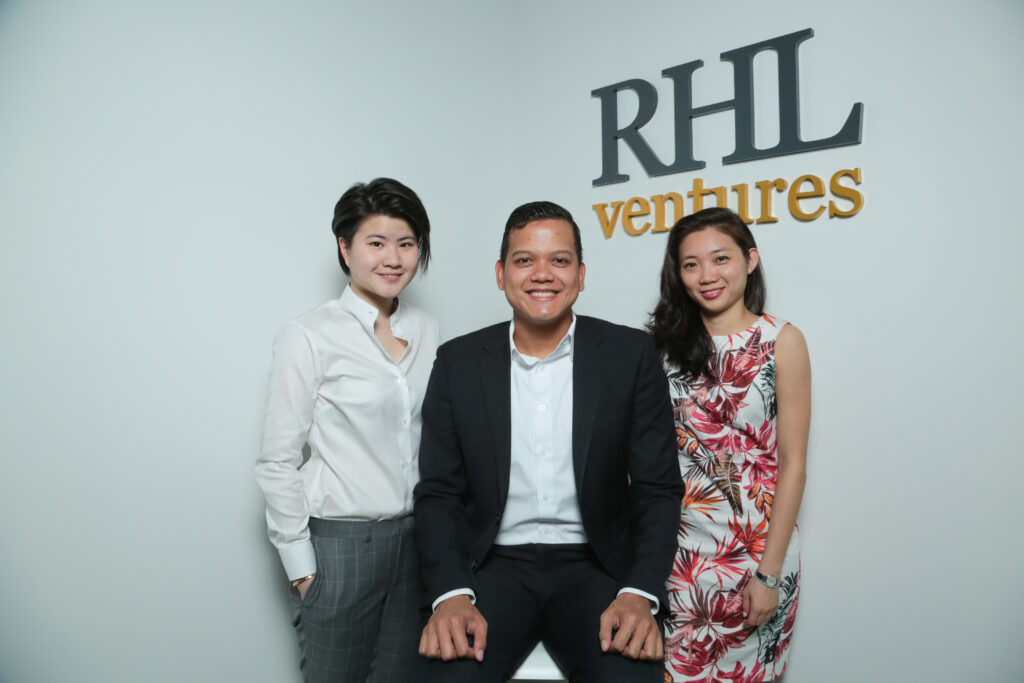 The investment firm has attracted attention when it was first set up, mainly due to the family background of its partners and the advisors it managed to put together. Lau is the daughter of the late property tycoon Lau Boon Ann, who was a non-executive director at Malaysia-based Top Glove Corp, the world's largest glove maker. Hamzah is the son of former Federal Territories and Urban Well-being Minister and Rasma Corp founder Raja Nong Chik Raja Zainal Abidin. Kong is the daughter of David Kong Hon Kong, who founded Nirvana Asia Ltd, Asia's largest funeral services firm.
On top of the network and family background, the partners also have experiences in investment management as well as the operations of businesses, among others. RHL Ventures' advisors include Raja Nong Chik, David Kong, Top Glove founder and chairman Lim Wee Chai, Khazanah Nasional board member Zainal Abidin Putih, Swiss-based private equity firm Partners Group Asia Chairman Kevin Lu, Deutsche Bank Managing Director Marlon Sanchez, among others.
Exit strategy
Hamzah said the firm does have a holding period of three to five years for its investments.
"Our target IRR (internal rate of return) is 25 percent. So it's 3x on our deals. We have a seven-year fund line. That's the broad parameters," he said. The firm may look to exit after three years, but in general, it has a holding period of three to five years, slightly shorter than a typical venture capital fund.
"We cannot go in super early because I need to come out after year seven," he said. "Secondaries are a lot more liquid compared to a few years ago. So I'm not too worried about exits."
Commenting on which are the areas Malaysian startups could improve, Hamzah pointed out that local startups are still poor in marketing and public relations, which is important to get traction and to get the right investors on board.
"There should be a more concerted effort by all parties to sell the story when we have good achievement. In fact, there are a lot of positive stories coming from Malaysia [despite earlier political turmoil]. Carsome's a unicorn and quite a few companies that got into 'a couple of hundred million' range. PR is something that we've to focus on," he shared.
Hamzah opined that the Malaysian startup ecosystem should also tap more into public-private partnerships.
"A key to any good startup is how do you grow quickly through partnerships, whether it is a partnership with corporations or partnership with the public sector. We've been slow to embrace that. Corporate and startups should be working hand in hand, coming in as partners rather than competitors," he said.
"Our corporate ecosystem has also been slow to embrace that. But now with COVID-19, everyone is more open to partnerships. There's a golden opportunity for corporations to step up," he said, adding that he noticed there is more corporate interests than before seen during investors' briefings.
Hamzah said startups also need to realize that they will need to "grow some scale" before they can justify their valuations accordingly.
"Being a Malaysia-only company limits you in terms of valuation upside. You do need to find a way to sell a regional story. It doesn't need to be now but there has to be in the short to medium term," he said.
Malaysia's private equity and venture capital markets have been lagging as compared to its peers. According to DealStreetAsia's report SE Asia Deal Review: Q4 2020 published in January, total deal value raised by Malaysian startups dropped to $146 million last year from $171 million in 2019, the report which tracks fundraising by startups in Southeast Asia showed.
This was despite a jump in the number of deals. Malaysia registered 79 deals in total in 2020, more than double the 36 inked in the previous year. In comparison, Singapore recorded 280 deals with a combined value of $3.66 billion, followed by Indonesia with 134 deals and $3.37 billion in total funds raised.
Malaysia yet to see agri-fishery startups like e-fishery, Aruna in Indonesia
Hamza noted that Malaysia has yet to see agri-fishery startups such as aquaculture tech platform eFishery and integrated fisheries commerce startup Aruna in Indonesia.
"Given that we have sea around us, there must be some space that we can do that, whether it's lending to scale up small agricultural farms, small fish farms to maybe some technology that helps with tracking and production," he said.
Malaysian companies should also leverage the country's manufacturing sector and find business opportunities such as selling products directly to consumers through online platforms, Hamzah opined, taking a cue from the sterling performance of portfolio company Signature Markets, which sells healthy snacks online.
"Malaysia does have a good manufacturing sector, whether it's OEM (original equipment manufacturer) base for food or electronics products. It's not really a tech play. But I think that there's a way to lay on tech and sell it directly," he said.
Political uncertainties in Malaysia seen as 'short-term risks', say tech investors