In August this year, Singapore-headquartered digital health platform Doctor Anywhere (DA) announced the completion of its S$88 million (US$65.7 million) Series C funding round led by growth equity investor Asia Partners, bringing its total fundraise to at least S$140 million ($103.43 million). The round also attracted other new investors including Novo Holdings, Philips, and OSK-SBI Venture Partners. Existing investors also participated in the round, including Singapore-based global investor EDBI, Square Peg, IHH Healthcare, Kamet Capital, and Pavilion Capital.
Since its launch in 2017, DA has grown to serve more than 1.5 million users across Southeast Asia. It saw a 500 percent growth in the business since the start of 2020. With the investment, the company plans to further deepen its presence in its existing markets. It will also allow the group to expand into new markets and drive its mission of transforming the regional healthcare landscape through technology.
In this interview with Lim Wai Mun, Founder and Chief Executive Officer of Doctor Anywhere, we learn how digital solutions are changing the habits of Southeast Asians when it comes to health. Whereas previously we only sought medical attention when we encounter major health issues, the availability of digital solutions has become an empowering tool for us in seeking professional help when needed.
Lim Wai Mun also shared on how the pandemic has accelerated the digitalization of health services. However, Doctor Anyhwere has also realized that there is demand for offline facilities, such as delivery of medication, as well as tech-enabled clinics and pharmacies.
With more than 10 years of experience in the investment and startup space, Lim Wai Mun launched Doctor Anywhere as a regional tech-led healthcare company that harnesses the power of tech and connectivity to combine a holistic range of health and wellness services Into a single connected platform.
Before DA, Wai Mun spent three years in private equity before devoting close to a decade to Temasek Holdings, where he was instrumental in the conceptualization and establishment of Pavillion Energy, a Singapore-based LNG company with significant stakes in the global energy market. This experience equipped him with the essential insights and acument to lead a team through the complexities of the healthcare landscape.
Born and raised in Singapore, Wai Mun graduated with a Bachelor of Mechanical Engineering at National University of Singapore.
Below is the TechNode Global Q&A with Lim Wai Mun, Founder and CEO of Doctor Anywhere.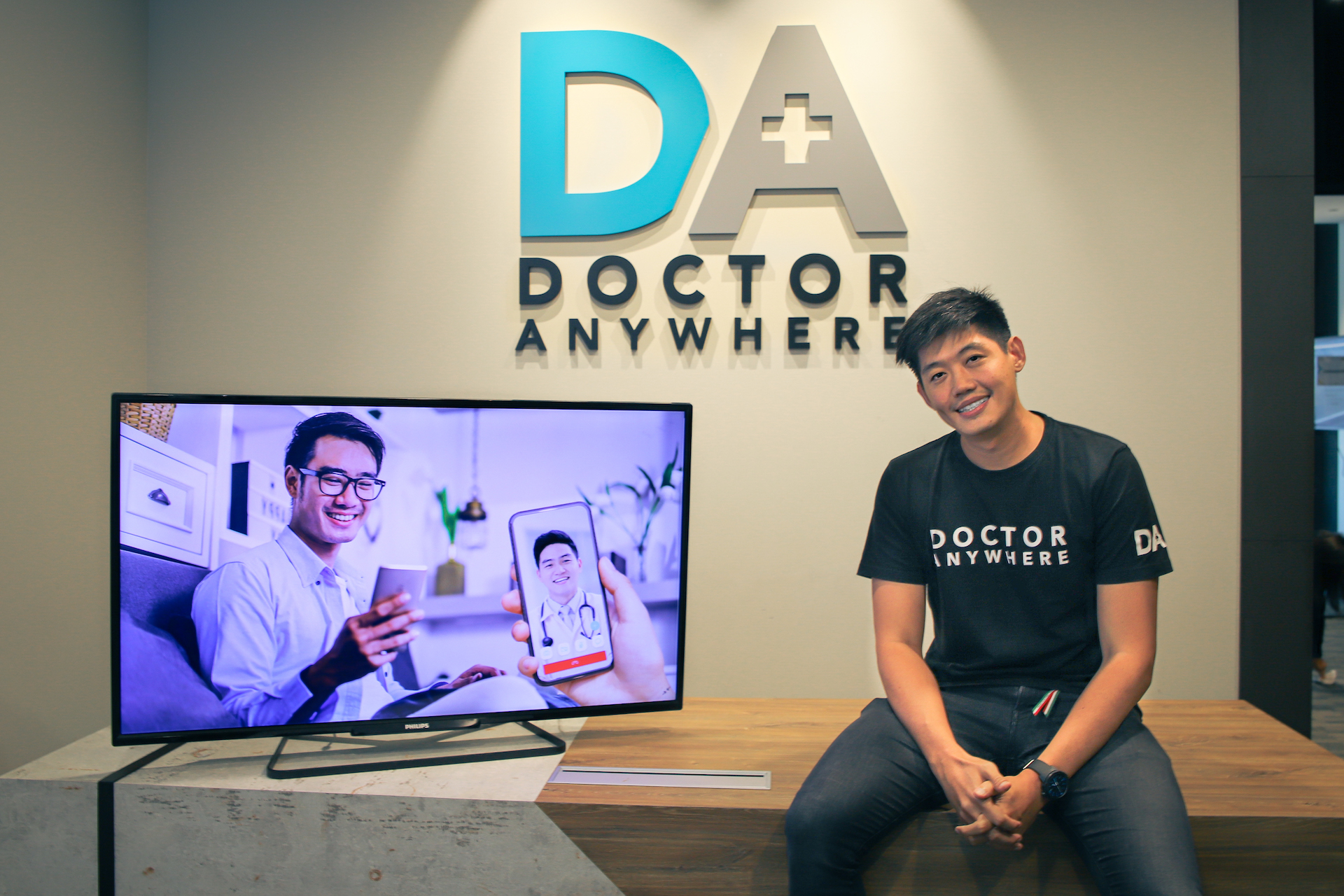 What are the trends driving innovation in the healthcare industry in Southeast Asia? How are tech investments accelerating such innovations?
There are a few trends driving tech and business innovations in the healthcare industry in SEA: (1) online pharmacies, (2) telehealth, (3) home-based services, (4) connected medical devices–all at various stages of development.
At the current stage of innovation trends in SEA, we believe telehealth and online pharmacies are changing and leading the healthcare industry growth, and adoptions have been accelerated by the pandemic.
In the newer healthcare world, the industry is also figuring out how to be more connected, omnichannel-enabled, and interoperable. This has presented opportunities to the industry to go digital on many fronts, going beyond simply offering virtual consultations.
At DA, we've been able to diversify our innovation pipeline to meet the pressing needs of our users by launching useful services such as COVID-19 Medical Advisory Clinic, and specialized modules for nutrition and fitness, mental wellness, and medical specialist consultations. We have also been connecting devices to our ecosystem to enhance user experiences.
Across the region, HealthTech investments have been exceptionally prolific. Prior to the pandemic, the HealthTech sector had already seen record funding levels in 2019, with deal volumes rising at a 63 percent CAGR according to INSEAD. As of July 2021, it was reported that over $276 million was raised from 16 deals. The confidence of tech investments is perpetuating a continued cycle of capabilities expansion, which in turn drives innovation and accentuated growth of the digital health industry. DA's latest funding round will support the upscaling of our tech infrastructure and big data capabilities to drive new innovation and enable us to attract the best talents in the industry to support our growth.
In terms of digital transformation, what is the impact of the pandemic on an otherwise traditional industry like healthcare?
The pandemic has definitely catalyzed the adoption of digital health solutions, by at least 5 years in our estimate. User adoption of online services rose tremendously across all sectors–we experienced an accelerated uptrend in online medical consultations and a big uptick in our home-based healthcare services such as health screenings and vaccinations. Across our platform, we achieved a 300-400 percent year-on-year growth in the past year alone.
What are the three key challenges faced by healthcare providers, doctors, and medical institutions in adopting digital strategies?
The first challenge would be user mindsets. In certain countries, seeking timely medical attention is not an ingrained habit, with patients only choosing to see a doctor when they encounter major health issues. At this stage, digital strategies might not be sufficient to support the patient's recovery journey.
Secondly, infrastructural and logistical challenges prevail in certain regions, making it difficult to deliver medical care on time.
Thirdly, the rates of technological adoption across different regions hamper the adoption of digital solutions. Without the strong technological infrastructure and the use of data networks, the benefit of digital solutions cannot be maximized.
How is Doctor Anywhere providing unique solutions for such challenges?
We adopt the omnichannel approach to introduce telehealth services and build trust with our users. As a tech-enabled healthcare company, DA is the only regional telemedicine platform with consistent, yet localized operations across Southeast Asia. In every country that we operate in, we have a local team to provide healthcare access to our users via our (1) on-demand virtual GP clinic, (2) home-based healthcare team/e-pharmacy medication delivery service, and (3) tech-enabled DA Clinic and pharmacy chain outlets.
We also work with strong local partners with established track records and have established good relationships with the local government and healthcare ministries. For example, in Malaysia, DA is part of an advisory team working closely with the Malaysian Ministry of Health to provide our insights and best practices for their telemedicine regulatory framework.
What is the importance of the omnichannel approach in providing digital healthcare services?
Our services were purely online when we first started out, but we quickly realized that physical interactions remain an indispensable part of the healthcare journey. The physical presence enables us to establish trust amongst our users, and it is crucial for us to ensure that our online and offline services integrate seamlessly. This meant building an ecosystem of telehealth, home care, and clinical services that our users can access regardless of preference or circumstance. Today, we run a chain of DA-owned physical clinics and pharmacies in selected countries that we operate in, and we also offer home care services such as home-based health screenings, vaccinations, and mobile doctor and nursing services.
What will be the impact of increased telehealth on Southeast Asians' view of healthcare? Are there cultural challenges or differences that telehealth can adequately address?
Back in 2017, the concept of telehealth was almost unheard of in the region, despite proven models in the USA, UK, and China. Fast forward four years, we've seen a wider acceptance of a hybrid model of accessing healthcare in the region, where users are now more receptive to healthcare being delivered via traditional and online solutions.
This is in part due to strong support from our partners and network. As a B2B2C company, we have very close working relationships with companies, insurers, and insurance brokers, which has also helped us to grow our user base significantly in the past year. We currently run programs with many of the largest MNCs, insurers, and insurance brokers in the region.
In the past year, we have also more than doubled the size of our healthcare providers network, from around 1,000 providers at the start of 2020, to currently close to 2,800 medical professionals across Southeast Asia.
Why it's time to sustain the telehealth momentum gained during COVID-19