Singapore's state investor Temasek is establishing a suite of its own in-house startups that are bolstering the city state's tech ecosystem and point to a new strategy that will be keenly studied by other state-owned investors (SOIs), according to data platform Global SWF.
In August, the Singaporean investor has launched Aicadium, an AI tech and solutions operation based in Singapore and San Diego, California. The company is set up to support business outcomes for Temasek's portfolio companies through achieving operational artificial intelligence within their organizations.
Aicadium later announced the acquisition of BasisAI, a Singapore-based provider of scalable AI software. After receiving $6 million in Seed funding from Temasek and Sequoia India in 2019, the firm launched its proprietary end-to-end machine learning platform, Bedrock, which enables organizations to rapidly deploy responsible AI solutions. The acquisition of BasisAI indicates that Aicadium will not focus solely on firms in the Temasek ecosystem, but has plans for growth in the global marketplace.
The new entity will further Temasek's strategy of deploying capital to catalyze innovative and transformational technologies, such as AI, to enhance businesses and build a more inclusive, resilient world, Temasek Head of AI Strategy & Solutions Michael Zeller said.
Temasek's other in-house Singaporean startups include Affinidi, a travel pass software developer, and Istari, a cybersecurity company.
Affinidi's services are used by another Temasek portfolio company, Singapore Airlines, which uses the pass to verify COVID-19 test results. Istari develops cryptography technology, provides incident response, and monitors hacking activity and trends.
Temasek's drive to support domestic VC is accompanied by the government's bid to support local startups via SG Equity, which supports startups involved in biopharmaceuticals, MedTech, advanced manufacturing, and agri-food tech, Global SWF, which tracks over 400 sovereign wealth funds, wrote in a post published last week.
This year, it noted Temasek has so far deployed more capital into the city-state's tech sectors than in any previous full-year.
"The strategy chimes with the Singaporean government's bid to boost sectors like e-commerce and FoodTech. The $283 billion investor is always on the lookout for the next big thing emerging from Singapore's entrepreneurial milieu, including: seed funding in Singaporean plant-based food startup NextGen; backing Big Ideas Ventures' New Protein Fund 1 as it strives to develop alternatives to meat; and a joint venture deal with Nanofilm Technologies to create Sydrogen Energy, which will market parts used in the production of fuel cells and electrolyzer systems in hydrogen production," it wrote in the post.
Global SWF said that the Singaporean investor is a "voracious venture capital investor and its appetite is growing ever stronger."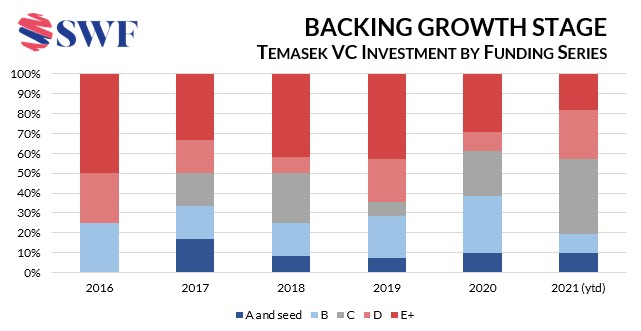 Year-to-date, Temasek's investment in VC rounds is estimated at approximately $4 billion, up nearly 75 percent from the whole of 2020. The number of VC transactions is in excess of 70–more than double the level seen in 2020.
The US is its biggest target for VC, comprising 32 percent of its volume of investments, followed by China (21 percent), India (15 percent), and Singapore (13 percent)–excluding its in-house startups.
In-house startups demonstrate Temasek's desire to invest at an early stage in order to realize maximum potential asset growth. So far this year, 10 percent of the state-owned investor's VC deals have been in seed and Series A rounds, unchanged from 2020. The proportion of Series B investments has reduced, while C and D have increased. However, the level of late-stage investments has reduced, indicating growth preference for growth-stage investment, Global SWF added.
"While VC is seen as high risk, the level of VC investment is still only a small portion of the total portfolio. As one of the pioneering VC investors in the state-owned investor sector, Temasek has demonstrated it is assiduous in its VC decisions and, despite some setbacks, has backed winners," the financial boutique said.
Global SWF is a financial boutique with a presence in New York and London. Its data platform tracks over 400 Sovereign Wealth Funds (SWFs) and Public Pension Funds. The interactive tool provides insights into the portfolios and executives of the Top 100 funds, in terms of size, investment activity, and market interest.
Temasek-backed payments firm Nium raises $200M in Series D funding, now a unicorn
Featured image credits: Unsplash