Malaysian budget carrier AirAsia Group has launched e-hailing services, AirAsia Ride in the capital city Kuala Lumpur to take on prominent regional ride-hailing giant Grab with more competitive fares for customers and lower commission on drivers.
AirAsia Ride was officially launched during an online event on Tuesday. Services are currently available in the Klang Valley, with expansion to more cities in Malaysia planned throughout the year.
AirAsia plans to rollout the e-hailing services in other countries including Thailand, Indonesia, the Philippines, and Singapore.
"Malaysia is the first step. Thailand will be next and then into Indonesia, the Philippines, Singapore, etc. There will be two rollouts. [One] in Malaysia and the Asean rollout. The response from drivers has been tremendous," AirAsia Group Chief Executive Officer Tony Fernandes said in a virtual press conference.
"What sets AirAsia ride apart from others in the market would be the unique insights and data that we have due to our position as a Super App that owns an airline, and have strong vertical products on e-commerce, FinTech, logistics, and now e-hailing," AirAsia Ride CEO Lim Chiew Shan said. "This enables us to leverage on AirAsia Group's rich and vast data and algorithm to provide a seamless and connected journey experience for our passengers where they will be able to perform in-path booking for both their flights and pre-book their ride to the airport and even for their return journey at the same time, all within the convenience of one single itinerary and without having to leave the AirAsia Super App."
"At the moment, we have about 1,500 registered drivers and with our nationwide expansion, we expect 5,000 more to come on board in the next 6 months," Lim said in a statement.
For its e-hailing services, AirAsia Super App CEO Amanda Woo said it will inherit the DNA of running a low-cost model which enables savings to be passed on to guests and strives to offer the lowest fares on the road.
"There is also the potential for AirAsia ride to integrate with Teleport, our logistics arm to complement the logistics and delivery services, tapping into the same pool of drivers for maximum efficiency and cost savings, apart from synergizing with our e-commerce verticals, supplementing our existing last-mile delivery capabilities with greater capacity and reach. Another exciting product innovation in the pipeline is partnership with electric vehicles, to spearhead the drive for sustainability in mobility for ASEAN," she added.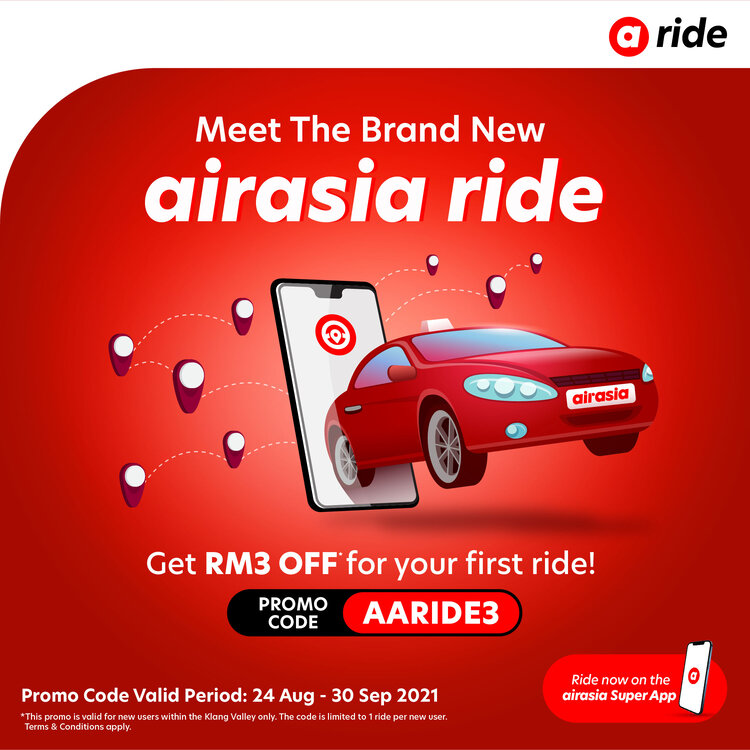 AirAsia said drivers will take 85 percent of the net fares (excluding toll charges), higher than other ride-hailing providers in the market, making it a viable part-time job option and side income opportunity.
Fares on AirAsia Ride are set at an average of 1 MYR ($0.4) per kilometer, excluding toll charges, and for added convenience passengers are able to book on-demand rides, or even pre-book their rides in advance, it added.
AirAsia's e-hailing venture came as the aviation group is in the midst of building its digital businesses and its ASEAN Super App when most of its planes were grounded due to the ongoing COVID-19 pandemic. It has introduced food delivery, beauty e-commerce, among others. Its FinTech unit, BigPay, has also submitted its application to secure a digital banking license in Malaysia.
The group has hoped to build its Super App, modeling regional tech giants such as Grab's and Gojek's super apps which offer a variety of services including ride-hailing, food delivery, and payment services. Yet to be profitable, Grab, Southeast Asia's biggest ride-hailing-to-food delivery group, expects to complete the merger with Altimeter Growth Corp special purpose acquisition company (SPAC) by the fourth quarter of this year in a $40 billion deal.
Fernandes said AirAsia is also looking for four or five acquisitions while the group continues to develop its Super App to include products and services under travel, delivery, wealth management segments, among others.
His comment on more potential acquisitions also came after the acquisition of Gojek's operations in Thailand and food delivery platform Delivereat.
Last month,  AirAsia Group's digital arm, AirAsia Digital announced it will acquire Indonesian ride-hailing giant Gojek's operations in Thailand for $50 million in a share swap deal which valued the AirAsia Super App at around $1 billion.
AirAsia's logistics arm Teleport announced last week it is acquiring Malaysian online food delivery platform Delivereat for $9.8 million.
Besides offering loans for drivers, customers, and small and medium enterprises, Fernandes said AirAsia is looking at offering customers to invest in Bitcoin, unit trusts, stocks at an affordable rate.
"Aireen [Aireen Omar, President of Airasia Digital] is also working on a 'fantastic' education product. And we also have health products coming. We are in discussions and looking at next acquisition," he said.
The group is also working on parcel delivery, grocery, content creation, and finalizing its reward program in the Super App.
"We have created Japanese Anime projects. There will be a lot more content. We have a fantastic messenger coming out," he added.
"We'll never be complete [in building the Super App]. We'll always be changing, adding but the bulk I talked about will be ready by November and December," he said.
Spinning off digital businesses 'at some point'
Fernandes said its airline and digital businesses could be split "at some point" as he opined the stock market has not been giving its digital product any value.
"This is for the board to decide. But certainly, if you look at the way we are positioning ourselves, there will be a split at some point, for sure. The stock market isn't giving us any value for the digital product. And so we'll have to look into that," he said.
The group logistics unit Teleport was valued at $300 million. BigPay, which recently raised $100 million from South Korea's SK Group, was valued at close to $200 million while its Super App has been valued at $1 billion, according to Fernandes.
"That's more than our entire market capitalization," Fernandes added. "We have an engineering company, food company, airline services group. People have too focused on the airline business. But AirAsia Group has become a multi-company, valuable, data-driven tech company."
At the time of writing, shares of AirAsia were trading at 0.86 MYR ($0.20), valuing the airline group at 3.33 billion MYR ($789 million).
AirAsia saw its net loss narrow to 767.42 million MYR ($181.59 million) in the first quarter of 2021 (1QFY21), from 803.85 million MYR ($190.22 million) a year earlier while quarterly revenue slumped 87.1 percent to 298.22 million MYR ($70.57 million) from 2.31 billion MYR ($546.62 million) in 1QFY20, as travel demand was curbed by the travel restrictions imposed by the government in January. The group announced on Monday it has postponed the release of its financial results for the second quarter ended June 30, 2021 (2QFY21) by a month from August 31 to September 30.
In an interview with Reuters last month, Fernandes said AirAsia is considering a listing of its digital arm via a special-purpose acquisition company (SPAC) in the United States to raise at least $300 million.
A few SPACs focused on technology have approached the group, and AirAsia has engaged auditors for the deal, he was quoted as saying then.
AirAsia's logistics arm Teleport to acquire food delivery platform Delivereat for $9.8M