Malaysia's low-cost airline AirAsia Group Bhd's logistics arm Teleport has signed an agreement to acquire Malaysian online food delivery platform Delivereat in a deal valued at $9.8 million.
The deal values Teleport at $300 million and welcomes investors, including Kuala Lumpur and Shanghai-based venture capital firm Gobi Partners onboard, AirAsia said in a statement on Wednesday.
As part of the acquisition, Delivereat's founders Leong Shir Mein and Tan Suan Sear will be joining the management team at Teleport and AirAsia Digital. Subject to final approvals, Teleport expects the transaction to close by the third quarter of 2021.
"With Delivereat joining forces with Teleport, we will be able to drive further growth of fast and affordable delivery transportation options within our key markets as e-commerce continues to surge," AirAsia Group Chief Executive Officer Tony Fernandes said.
"As a long-time investor of Delivereat, Gobi Partners will also join Teleport's cap table and we are proud to welcome them onboard. With a valuation of $300 million and the support from a growing list of strategic partners and investors, Teleport is well on its way to become the leading logistics player in the region," he added.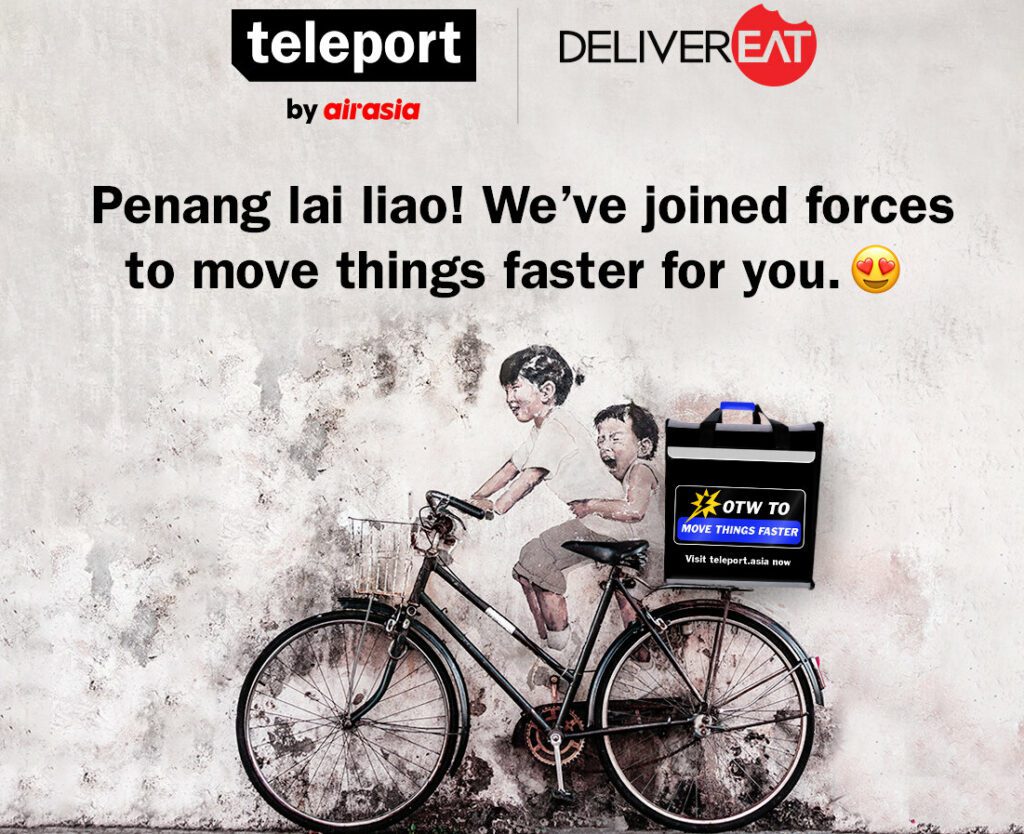 The acquisition of Delivereat comes as AirAsia launched food delivery services AirAsia Food in Penang, the home of Delivereat, and soon to expand to Johor Bahru, Ipoh, Kuching, and more, according to AirAsia Super App CEO Amanda Woo. "We are happy to welcome them into the AirAsia family and we look forward to working with Suan Sear and Shir Mein to grow and expand our merchants in AirAsia Food in these cities when we onboard Delivereat's merchants to our platform in the months to come."
The acquisition also came after AirAsia announced it will acquire Indonesian ride-hailing and payments giant Gojek's Thailand business in a stock swap last month. The deal will give Gojek a 4.76 percent stake in the airline's lifestyle platform.
AirAsia has shifted its focus towards digital business and building its Super App as most of its fleet remains grounded amid coronavirus restrictions. Its FinTech arm BigPay has also applied for a digital banking licence in Malaysia.
Founded in 2021, Delivereat has since grown to deliver more than one million orders to date, and offers food and express delivery services on an on-demand basis from more than 4,000 merchants (consisting of restaurants, wet markets, pharmacies and groceries), carried out by its fleet of up to 4,000 registered delivery partners.
Delivereat covers Penang and the Klang Valley, leading the food-delivery space with the largest selection of hawkers in Penang with up to 1,000 hawkers, and is the first to allow customers to combine multiple orders within the same delivery. Delivereat announced in 2017 that it has raised a $450,000 pre-series A funding round led by Gobi MAVCAP's ASEAN Superseed Fund.
Founded in 2018, Teleport is a venture under Airasia Digital. Leveraging on AirAsia's network, Teleport's ambition is to deliver door-to-door in under 24 hours across Southeast Asia. Currently, Teleport is present in Malaysia, Thailand, Indonesia, the Philippines, India, Singapore and China.
Teleport posted an EBITDA of 3.17 million MYR (~$748,500) in the first quarter of 2021, down from 63.18 million MYR (~$14.9 million) in Q1 2020, according to AirAsia's financial statement. The other businesses under AirAsia Digital including AirAsia Super App, BigPay and other digital entities were still loss-making.
AirAsia to acquire Gojek's Thai operations for $50M via share swap deal