Malaysia's low-cost airline AirAsia Group Bhd has partnered with InsurTech startup PolicyStreet to introduce digital car insurance service on the airasia Super App and its financial marketplace AirAsia Money.
The digital car insurance service includes insurance and road tax renewal and allows car owners to make price comparisons of various insurance providers.
It also offers add-on coverage such as windscreen, flood, extra drivers, and road tax home delivery service.
The development also came as AirAsia is in the midst of building its non-airline, digital businesses, and Super App as most of its planes were grounded due to the ongoing COVID-19 pandemic. Its FinTech arm BigPay has submitted its application for a digital banking license, forming a consortium with Malaysian Industrial Development Finance Bhd (MIDF), private equity firm Ikhlas Capital and a foreign conglomerate with fintech expertise.
"Customers can expect more FinTech offerings on the AirAsia Super App as we continue to strengthen, innovate and stay relevant in the market through AirAsia Money," AirAsia Super App Chief Executive Officer Amanda Woo said in a statement on Tuesday. "Much like how AirAsia has allowed everyone to fly, AirAsia Money will give the common man accessibility to some of the best financial services available in the market."
The partnership with PolicyStreet allows Airasia Money to offer digital car insurance from underwriters in Malaysia such as Tune Protect Group Bhd, AXA Affin General Insurance Bhd, among others.
PolicyStreet also complements AirAsia Super App's strategy with its digital platform powered with API, real-time technology, and integration with 10 insurers, AirAsia said.
"With this integrated solution, AirAsia customers can seamlessly buy insurance policies at their fingertips. We have also partnered with insurers to bring down the cost of insurance exclusively for AirAsia customers," PolicyStreet CEO Lee Yen Ming said.
PolicyStreet, an online insurance platform based in Malaysia, is the first and only InsurTech approved by the central bank Bank Negara Malaysia with a Financial Adviser and Islamic Financial Adviser license.
"AirAsia Money expansion plan is on track as we will be launching our offerings in Indonesia in the fourth quarter of 2021 (Q4 2021), insurance and investment services in Malaysia in Q4 2021 and digital car insurance premium installment plans in Q1 2022," Mohamad Hafidz Mohd Fadzil, Head of AirAsia Money said.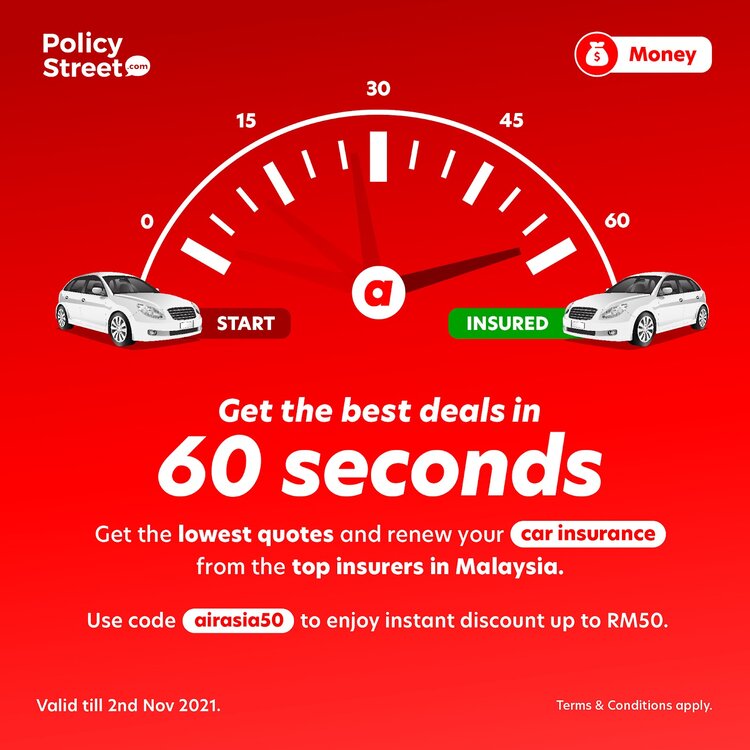 AirAsia launched AirAsia Money in April, partnering with financial comparison platform RinggitPlus to provide financial products and services in its Super App.
Last year, Malaysia-based PolicyStreet raised $ 1.8 million in a Series A investment, led by Singapore-based KK Fund, an existing investor of PolicyStreet. The investment round also saw participation from Singapore-based venture capital fund Spiral Ventures.
Featured image credits: AirAsia
AirAsia's BigPay teams up with state-linked MIDF, PE firm Ikhlas Capital for digital banking license in Malaysia